Quickfire round of questions by Coach Stephan with Irish World Championships Team member Andree Walkin: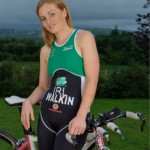 • How long have you been involved with triathlon and what got you into it?
This is my 4th season racing so 4 years.  I met LTC legend Eamonn Horgan at an Adventure race got chatting and he sold it to me

• Some things in life just don't come easy, how hard has the training been for the triathlon worlds??
Pretty full on at times!!  I put a lot of work in over the winter, but what else would I have been doing while my other half was rowing the Atlantic!!
• What is your most enjoyable training session?
Love a good hill run on a frosty morning up Crag Hill Killaloe…my playground.  Also love the early morning pool sessions in UL something about getting a session in while most people are still asleep.  A wise triathlethe once said to me "Training is what you are doing while you opponent is snoozing"

• What are your personal goals for the race in Budapest?
I've never raced abroad so I'm not really sure what to expect but I'm aiming for pb's in all disciplines & really want to make everyone that has helped me get there very proud and of course enjoy the race and the buzz of it all.
• What is your favourite triathlon gadget or piece of kit?
Have been know to steal Mikes Garmin which is a pretty useful gadget, Do love my TT helmet that all my college friends chipped in for as a 30th bday pressie even though none of them are triathletes or cyclists they know me pretty well or else they were tipped off;-) also love my new sailfish wetsuit as it was a present from Mike for making it to the Worlds and was a complete surprise.
• What is your favourite race on the triathlon calendar?
I'd have to say the Salmon Run in Ballina as it's my Dads home town and we used to spend our summers there so the area has some good memories, also it helps that I've had some good results there too.
• What piece of advice would you give to other female athlete's wanting to take up triathlon ?
Go for it!!! You won't be last and if you are so what!
• Aims for next season?
Mmm that's still up in the air at the mo, depends on what adventures my husband has got planned

ask me at the end of Oct!! But whatever happens I know Triathlon will always play a big role in my life.
• What training session do you hate the most?
I really hate when it rains on the bike cos I just can't get/stay warm then…guess I'm in the wrong country.
• Favourite quote?
I love quotes and I've got lots of them, when Mike was on the Row I used to send him a quote a day to help him and the crew on their way:) but here is one of my favourites:
"Sometimes…the one strong wind that catches us off guard is all we need to discover the power of our sails"
Things triathletes will never tell you….they speak Flim-flam* meaning if they say they are not doing enough they are doing a lot and if they say they are doing a lot they are doing just enough haha!!!
*Flim-flam*: Comes from the 80's tv show Fortycoats & Co, the characters used Flim-flam which was their own special language when evil was about, it worked entirely on the basis that you said the exact opposite of what you meant