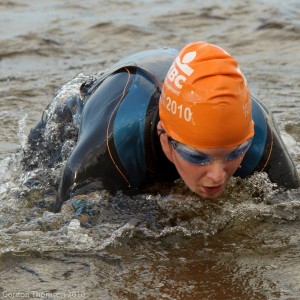 On exiting the water there should only be one thing on your mind – a fast transition.  How is a fast transition done?
Run and keep running
Lift your goggles up so you can see where you are going and what you are doing – DONT TOUCH ANYTHING ELSE ON YOUR HEAD – leave all as is.
Reach for the chord on your wetsuit and unzip( if you place your cord in under your hat-you will always know where it is, this depends on the type of wetsuit you have)
Slide the wetsuit down over your arms and move the suit down to your hips-while running
You have an option here to take off your hats and goggles and as you take off your sleeves of the wetsuit leave the hat and goggles in the suit, this way they will not get trampled on in transition.
You can then take off your hat and goggles and by this stage you should be at your bike/or in our case for the Aquathon at your runners
Throw your hat and goggles down beside your bike/runners
Give you strong pull downwards and your wetsuit should be half way down your legs
Flick one leg out at a time with a strong kick of the leg and congratulations – you are out!
Now – pick up your bike/runners and GO!!!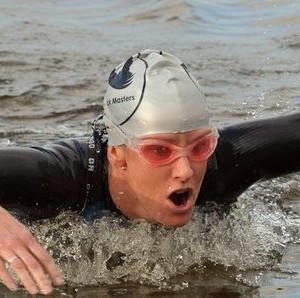 Preparing for the transition, what can I do that can help me have a quick transition?
• Body glide or other wetsuit friendly lubrication to help the wetsuit come off quick
• Put the body glide on the areas that potentially could snag on the wetsuit, for example your wrist, your knees your shoulders
• Be careful to have applied sun cream before putting on any lubricants
• Lock laces or fast laces will help you with putting your running shoes on quick
• Add talk to your shoes to help with friction and moisture so you don't get blisters

Training League Heat one
Ross Higgins 15:44
Shane scully 15:46
David Richardson 16:28
Adam Mcevoy 16:40
Ailbhe Carol 16:50
 Albert Quigley 16:52
Shane Geary 17:10
Ferdia Kenny 17:11
Barry Murphy 17:12
Liam Kennedy 17:20
Darren Dunne 17:22
Alan Webb 17:36
???             17:41
Olivia Hayes 17:44
Ciaran Gallagher 17:48
Kevin Doyle 18:03
Eoin Woolley 18:11
Nigel o Brien 18:27
James skehan 18:31
John Kelly 18:39
Steven Nagle 18:40
Ivan Yelverton 18:41
Alison Rooney 18:54
Michelle o Sullivan 18:55
Ray Hickey 19:07
Dave Fitzgerald 19:18
Carol Larkin 19:25
Rebecca Berkery 20:34
Andrew Holmes 21:02
Keith Butler 21:05
Eva Barrett 21:15
Frank O Grady 21:15
Catherine Corby 21:16
Training League Heat two
David Richardson 15:43
Ross Higgins 15:57
Adam Mcevoy 16:15
Ferdia Kenny 16:34
Ailbhe Carroll 16:36
Shane Geary 17:29
Alan Webb 17:41
Barry Murphy 17:54
Liam Kennedy 17:55
Darren Dunne 17:56
Keith Butler 17:59
Richard Greaves 18:06
Paul Horan 18:10
Eoin Woolley 18:35
Albert Quigley 19:04
Michelle o Sullivan