Some Great pics from the masterful Seanie Power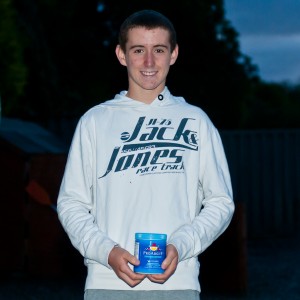 Chris Bryant Olympic Hopeful Presenting Ferdia Kenny with the Kilkee Bay swim Trophy.
A Big Thank You To all the Staff at Rocketsciencesports Ireland. Check out the Webshop on Gotri for some of their amazing Products
With the Great help of Rocketscience Sports, Fitzgearld Flowers and Gotri we are able to support some great athletes. The Brothers Rooney will be even faster now in their Rocketscience Elite wetsuits……
Please check out Sean Powers flicker site for more great snaps. Sean, thanks a million for coming out to the Training League your pics really make for happy memories and paint a thousand words. Snap Happy sir.
http://www.flickr.com/photos/seaniepower/sets/72157627280627191/
Results…..
all 3 weeks best improver standings
| | |
| --- | --- |
| Darren | Dunne |
| Ferdia | Kenny |
| Eva | Barrett |
| Ailbhe | Carol |
| Barry | Murphy |
| Nigel | O'Brien |
| James | Skehan |
| Frank | O'Grady |
| Shane | Scully |
| Michelle | O'Sullivan |
| Liam | Kennedy |
| Richard | Greaves |
| Olivia | Hayes |