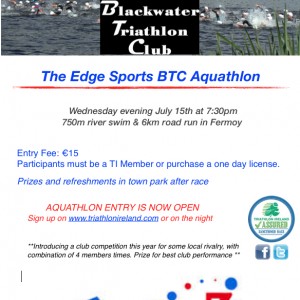 Club Member and Huge Ladies team points scorer Mona Sexton has invited us all down to take part in her local Aquathon event
Check out all the details.
Let us know if you can make it, Car pool and have some team fun
STL
Hi all,
I hope you have enjoyed the weekend.
I have attached a flyer for the Blackwater Aquathon which is running on the evening of Wednesday the 15th of July. It is also on the Blackwater Triathlon Club's facebook page so can you please share it with your networks so that as many people are aware of it as possible and of course if you can use your persuasive skills to encourage people to take part that would be fantastic and greatly appreciated.
It would be great to see everyone taking part and for those of you that feel it might be a stretch to do it all but would like to do one aspect of it as a relay team let me know what you would like to do, i.e. the swim or the run and I can collate who else is looking for a partner in a relay and relay teams can be setup which is a very active part of the race.
We are including a 'Best Club Team Performance' competition this year, which is going to be a combination of the 4 times of each individual nominated in the team from the same club, the idea being to create an increased team spirit and a bit of rivalry during the event, so if you are doing the event find out who else is doing it and send us the 4 individuals that are in your team so you can be entered in this aspect of the competition. Each person in the team must also complete the individual competition.
If anyone has any questions let me know or give me a ring and I am more than happy to discuss with you.
Happy training and please do give serious thought to entering the aquathon either as an individual to complete the entire event or as part of a relay team.
Thanks a million
Shane