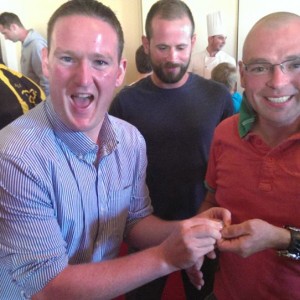 On reflection the toughest race I've ever done .
It all started on the Friday. Barney the bomber McCullough collected me at my house and we set sail for the big smoke and the national duathlon champs in skerries.
As usual I was in giddy form the day before the race. Some people stay quiet and introverted but not me I talk and talk and talk. Barney was not that up for the chat after a while and constantly gave out about me making car noises. He has the patience of a saint to be honest . I definitely tested that on the journey up. We pittstopped at junction 14 where we watched in horror and team Tilley athlete paddy Quinn scoffed down a supermacs . Don't know how he does it.
We arrived in the hotel and luckily laura had cooked an entire pasta bake , pasta party time in me and Barney's room. As The tiger would say 'there's no point ating shite the night before the race'. Anna and Becky were nicely relaxed well on the outside anyway but Barney was very antsy . A good night sleep and the form changed. Up at 630 no talking just out for the usual morning run and stretch .
Down for porridge and everyone is in good form chatting about who was going to be the one to watch . I had no aspirations but only to run a decent race.
The race started with the usual happy days . Before I start. I was told by Stl that it was a flat course which I like. This course was very hilly. Moral of the story never listen to Stl or at least filter out the crap.( I think he said to treat it like a "flat course" but ill give out anyways )
First run felt good just ran my own race. The bullet and myself changed positions a few times and we tried to keep an eye on Anna but she kept pulling away as usual . Onto the bike. 4 laps of a draggy course . Found it tough to keep concentration but got through it. Final 5 km run was torture . Ran it like a duck.
Had a solid day out and good crack had by all the gotri crew .great support from Stl,Jen and Finn and nice cold beers with Steve Mac and Barney .
Duathlon season is over thank god . Bring on the tri season and open water. Well done to all the team who raced.
Onwards and upwards
Derek
Derek Tri a Duathlon Nationals Report