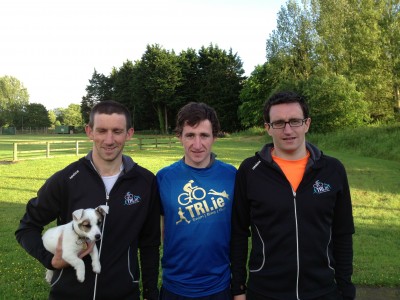 Night 1 of the ShannonRunningSeries with all roads leading to the 10k on the 26th of July 🙂
With the heavens opening up all day, expectations were very low for a good turn out. BUT……the taps were turn off above at 5:30 giving us just enough time to hope and with great surprise numbers started to show with just over 80 bodies turning out to have a crack at our very fast/very flat/very accurate 5km course. Before all that we had had the junior kids 1500m 1 lap gallop!!
Young Darragh O Neill was first home being chased all the way to the line by Luke O Shea and Dylan Coghlan – Amazing to see the next generation of talent coming through out there with young athlete from shannon/Ennis Track/BMOH/Boru Tri/LimTri all taking to the line to get some fun training in, in race mode.
First female junior over 1500m was Cluadia Demsey followed by Maddeline Horan and katie Branigan …. well done Ladies on a super effort.
The 5KM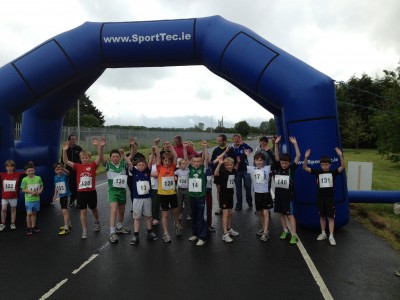 Athletes warmed up by cheering home the kids, a very impressive sight was Mark Jeffers running alongside the kids of GoTri and cheering them home — el presidente leading the way. Nerves were abound and hopes were high as rumours had gotten round that the course was a fast one. 3 Top Pups from the home Team were out to " chase a time' weather condition were not ideal with a strong head wind on the back side of the course but Rory Sexton was not to be deterred lapping in 8:08 for 2.6km. grimacing hard and not too far back was the Tiger Grealish from Ennis Track-gotri and just behind him the president M-Jeffers and then Anthony Boyle from BMOH and Jimmy macintyre Bmoh
Leading Ladies after Lap one were Rebbecca Coughlan Ennis Track and Andree Walkin GoTri/westLimerick who were just ahead of the 20min pacer Mike Heaney LTC (who at this stage was bang on 10min pace) Shoulder to Shoulder these two fine athletes chased down the men and hoping for a good time.
The marshals on the night were amazing and enough thanks can not be laid at their feet. Without them no race can be run and fingers and toes crossed they warm up and dry off before our Irish summer returns on the 12july for our next 5km event. They did look splendid in their highvis jackets and red flags.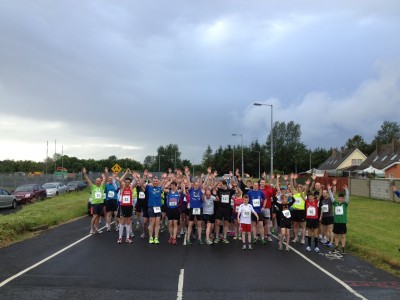 The Juniors in the 5km were not to be out done and after lap 1 Jaime Kelly was leading Luke O Niell – these two young triathletes were eating road instead of mars bars tonight. They were both out the night before taking part in the local cycling time trial and dishing out the belief to chase times again tonight in the run series.
Rory Sexton had broken well clear of all his challengers and was closing fast on the finishing line as our back markers with completing lap 1. Edging closer and closer to the line being roared on by some fella and a microphone (he shall remain nameless) and all the parents and children. Rory broke the tape in  15:52
Next home was Ennis track Hound Mairtin Grealish in 16:36 and followed home by Mark Jeffers in 17:03
The Ladies were not to be out done with Andree walkin leading home in 19:41 followed by Becky Coughlan in 19:54 and Sara Bowland in 21:13 all super fast times
The leading Juniors (5km)
Luke o Neill 21:24 —- Jaime Webb Kelly 21:34 —– = wowwowowowowowowowo fast times for young fella's
Annie Quinlan was our first female junior home
Full results are here         Race_ResultsFinal_13June.
A big thsnk you to all who took part our sponsors and supports St.senans RFC Trevor Askin from amber/cost cutter and to all our marshals.
A big thank you to BMOH athlete Richie o Donnel for all his help and to Stephan's poor family being roped in to marshaling again – thank you
The Next 5km is on the 12th july 🙂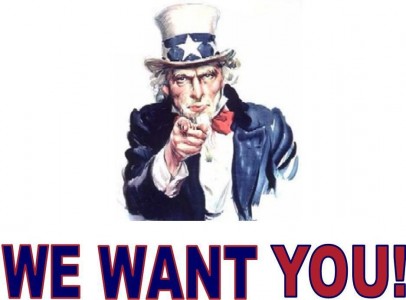 GoTri Shannon Running Series 5km Night 1