An emotional return to the starting line of The Liam Ball triathlon in Derry, The sprint triathlon used to be home to the Liam ball international a fierce fighting ground of home nations, some famous names have been to the shore to take on the green giants of Tri. The likes of Helen Jenkins and Olli freeman went head to head with Gavin, Brian cambel and Colm Quigley.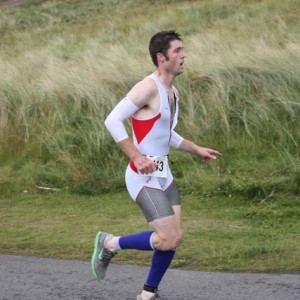 The last time I was at the race, I remember meeting Hugh in the hall with Caroline Kearney to sort through our race singlets. We used to have to travel to the North to race as all the best athletes came from up there,  the like of Ian Lyle, mark tosh, Trevor woods to name a few backed up by Brian cambel I used to travel home with a new lesson to bring to training every.
Times haven't changed much, I arrived home late last night trying to figure out why the body wouldn't answer the call "faster please" .The body is starting to come around after being sick for a week before valentia national champs and not getting the usual 7hrs of training, the body is still on the way back to regularity.
Racing pool triathlons is very different from racing the open water scene. You can neutralise the swim if your competitors are strong swimmers by taking the lead, or you can buy your train ticket by being smart about your entry. if you're a slow swimmer, the only thing you should focus on in a pool triathlon is using the walls, this is free speed!! I ask our training group why they don't push off and glide??? I now ask you why you don't use it to save energy for the bike and run.
The swim
Spoilt in a heated pool J I took the lead for the first 300m but mamma didn't raise no fool, I isn't bringing the kids to play on the bikes. 3 of us broke away in lane 3, Brian Alan and I and once I knew the boys could hold my pace, I let Brian take the lead.
Brian is in heavy Ironman training right now; personally I am really looking forward to seeing how this Legend of the Irish game goes over in Roth, Germany.
We were chatting before the race, as he took his dirty bike off the back of his car, telling me about his 140km bike the day before and complaining about not being able to push his run at the Belfast marathon., you take that extra breath when he tells you he ran a 2:49 sticking to an 80% to 85% heart rate target
We jumped out of the pool all 3 of us in 10mins more or less
The bike
Form, it is what every athlete talks about you never know when you have it but you always know when it's gone!!! I'm just not biking at the moment, thankfully I am busy and the bones of my biking program is 2 x 45min sessions on my fixie as I cycle to a running session I coach with the Ennis tri team.
The course is lovely, perfect for a big guy. The surface is nice and hills are gentle. a small cross wind on the day didn't cause any issues. I don't think i have ever seen so many marshals on a bike course. Well done to all who took on the job on the day.
Did I mention Brian ran a 2:49 marathon?? Did I ever mention he runs a sub 15 5km?? You need all your gears to be working if you're going to out run the whippet.
I had a good transition from bike to run when you're the first bike back to the rack you can't complain. Well I can but you would be reading this thing all night…… the what if questions.
We have and will all do it, what if i did this what if that had gone my way?? Well that's what training is for and that why racing lessons are the number one learning ground for future personal best J
The run
Stuck in 3rd gear is how id describe the run. I found out after the race had finished that I over a minute lead on Brian off the bike. I just wish I was like Jens voight….. Screaming "shut up legs"
When you're not riding the cost to the other sections is high. I know I'm in good running shape at the moment, the test sessions show me where I am at and what I should be able to do.
Brian caught me at the start of the second lap, the true champion that he is encouraged me to keep going but the engine didn't want to go deep and I had to let him run to victory.
Overall a great racing experience, a great race steeped in history and home to a good friend who smiled upon the race with sunshine on the day. Colm Quigley made this race his own over the years and it was great to catch up with a lot of athletes that came along to share in his great memory.
A big thank you has to go my travelling team-mate for the weekend Jonny O Loughlin who himself had a great race and survived my attempted singing of Florence and the machine on one too many occasions.
To the Best Sponsor in Ireland Fitzgerald flowers for all the support and vehicle support. I'd be lost without you.