A man of few words but when he speaks, its only in sarcastic riddles..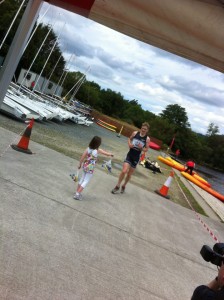 James Skeehan, the Bridgetown Barbados international triathlete is deep in prepartion for the New Zeland world Tri champs and Gael Force west sums up his win in his local adventure race www.loughdergmonster.ie
Before reading the below article, GoTri would like to apologise to Budgie on the abuse of his beautiful ride.
Your first time in the loughderg monster adventure race and your first win, congratulations what was it like to win on home soil?
Great on the soil thank God because I made a right balls of the water bit. It was like I had 2 tennis rackets as oars.
How did you find the race terrain?
Lovely, its my back yard I know it all too well. STL has often flogged us up the hills during the year for his own amusement.
Any special diet preparations for this sort of race compared to triathlons?
No same thing – force feed yourself porridge til it comes out your ears.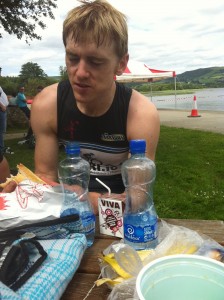 What was the best part of the race for you?
After taking a heavy crash on the bike and noticing that I had no big ring on the front anymore and there was a lot of creaking noises coming from the frame I was pretty relieved when it dawned on me that I was actually cycling someone else's bike so there was no need to worry about repairs, just cycle it on as hard as I could go, as if I stole Katie Taylor's bike and she was chasing me. "So what if I write it off Budgie would only be delighted to see me do well" I kept telling myself.
What equipment did you use?
Colin Bolger's bike – God rest her.
Any changes to your preparations for next years race?
No, ill be happy to use Colin's bike again if shes fixed.
What advice would you give to anyone wanting to do this race next year?
There's a big hole on the left hand side after the steep off road downhill, don't cycle in to it
Loughderg Monster champ : Skeehan Speaks