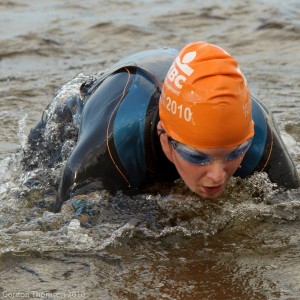 The i3 swim series is open to swimmers of all ages and abilities.  All you need to enter is a sense of adventure, a will to succeed and of course be able to swim.  You can pick your own distance and start time and take to the water with hundreds of other like minded people to experience the amazing sensation of open water swimming.
You can enter the 5km as Wetsuit or Non-wetsuit (skins). Non Wetsuit swimmers will be required to have some experience in Non-Wetsuit open water swimming. .
Each start wave will consist of 100-200 swimmers of mixed abilities.  A new wave enters the water every 30 minutes.
Swimmers will start on dry land and walk over timing mats, this is when your time starts so if you want to avoid the rush at the front you will still get an accurate time.  Swimmers will also finish on dry land by crossing timing mates in the finish area surrounded by cheering supporters…