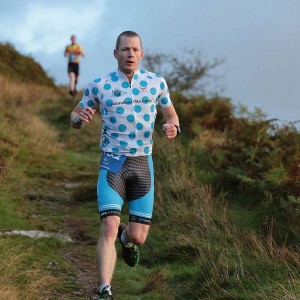 Having taken part in triathlons for the last few years I had always wanted to take part in an adventure race, namely Gaelforce West, but something always seemed to conflict with that weekend each year. When it was suggested that as a group we take part in the Killarney Adventure Race in October I was all for it, I didn't really know it entailed but a weekend away sounded good.
There were three race distances that we could choose from, the Sport (27km), the Pro (60km) and the Expert (70km). Paul Tierney, our fearless Go Tri Adventure leader and guru informed us that we should all be doing the Expert race and that it was about finishing the race and not to focus on trying to post a good time.
Ignorance is bliss as they say so the vast majority of us signed up for the Expert race.
Then came the training for the race, Paul did some trojan work in organising a training day in the ULAC, where we were put through our paces kayaking, cycling and running up Moylussa. Up to this point I had been training once a week in the Silvermines with the GoTri gang and found that I really enjoyed running up hills/trails and had a bit of a knack for it (It was also great craic to boot with people getting stuck in bogs etc. – Liam Kennedy being one of my personal highlights!).
As a result I went into the training day thinking that this adventure racing lark wasn't too bad, I was wrong.
The morning session of the training day comprised of training one the individual disciplines and the afternoon we had a mock race which comprised of doing all three. This was a different story completely and the cramps in my legs finishing the last run told me that this wasn't going to be as easy as I thought.
The next stage was getting gear for the race ready, anyone that knows me, will know that I can overthink these things. What clothing to wear, etc. Were you going to wear a hydration pack or not, were you going to use cycling shoes or not, what were you going to eat during the race. Again Pauls expertise was invaluable and I decided to go without a hydration pack in order to be as light as possible and went with a foldable water bottle for the run up Mangerton.
So to the race weekend itself, we had to arrive on the Friday to register and get our bikes racked in Kate Kearneys cottage. I had a bit of a panic moment on the Thursday night when fitting my double bottle holder to my saddle, one of the bolts sheared off and my saddle meaning my saddle was no more, thankfully Shane Collins (great bike mechanic) came to the rescue on Friday morning and let me borrow a saddle from one of his bikes for the weekend.
So Kiera and I arrived up to Killarney early on Friday, despite having no training done and having a dodgy knee Kiera had signed up for the 60km pro race. We registered, and brought the bikes up the Kate Kearneys cottage. The GoTri gang met up later that evening and some people were definitely more nervous than others, me being one of them!
Kiera and I went back to the hotel early and I set the alarm for 5am. I arrived down to the pickup point at 7 where we would be bussed to the start of the race at Kate Kearneys cottage. There were a good few GoTri competitors who were in the first wave and it was good to be able to have a bit of chat and banter with everyone before the race started.
Stephen Geraghty and I had said that we would try and stick together for the race and kayak together if we arrived at the kayak point at the same time. So the race started and we all set off up McGillycuddy Reeks for the first run section, Steve and I went hard enough for this section and came back to transition together and set off on the bike route. During our training Steve and I were fairly well matched in terms of speed with me being slightly faster on the uphills on the bike and run and Steve being faster on the downhills so we pretty much cancelled each other out. So we set off in that rhythm, with me going slightly ahead on the uphill sections through the Gap of Dunloe and Steve would fly by me on the downhills. I'm not a great descender on the bike and we had been warned of bad road conditions so I was taking it easy enough on the downhill sections. I was enjoying the uphill sections on the bike course but was glad to see Avoca which meant the worst of the uphill parts were over. By this stage I was a bit ahead of Steve but knew that he would make it up on the downhill, and so it was, we met up after a couple of kilometers and made our way down through the windy road back into Killarney. We had gone past Ladies View and were maneuvering through the tight corners on the way down, with about 7 or 8 kilometers to go to transition, I came into another tight bend, I was probably going a bit too fast and the my line into the corner wasn't great, I saw the crash barrier, pulled my breaks and the next thing I know is I am taking a thump off the ground. I was quite disoriented and luckily a fellow competitor wasn't too far behind me and stopped and helped my get all my gear back onto the bike, most of which was strewn across the road after the fall. I hadn't been wearing gloves and my hands were cut up quite badly, but with all the dirt and grit covering them I couldn't really make out where exactly I was cut. My face was also bleeding but I couldn't tell how bad it was. (The first question I had asked the guy who stopped with me was how was my face, he said it wasn't too bad so I wasn't overly worried!). So once I had recovered all my gear, I got back on the bike, the hoods on the handlebars had bent and my saddle that I had borrowed was at an odd angle, but the gears and brakes seemed to be working ok, so I set my sights on catching up to the guy who had stopped with me. Steve had gone around the bend before I had my fall and I was hoping that I wouldn't be too far behind him so that we could still kayak together. I tried to concentrate on catching up to the guy in front of me, and knew that we didn't have too far to go to transition. I was bleeding quite heavily at this stage, probably due to my heart rate being quite high and used up one of my water bottles trying to clear the muck and blood from my hands and face, and was worried about not being hydrated enough going up Mangerton.
I eventually came into transition and was delighted and relieved to see Steve was still there, I cleaned myself up a bit, put on my gloves (a bit late!) to try and make holding the paddle a bit easier and we ran down to the lake to the kayak point. GoTri have a great gang of supporters and we met Gerry O'Brien and Joanne O'Donnell at the Kayak transition who cheered us on as we got into the kayak. (I tried to ignore their worried looks as I passed them!)
Steve took the back spot and we set off on the kayak. My hands were quite sore at this stage and was I struggling a bit with the paddling, but Steve was doing most of the work in the kayak and we ploughed on through and we could see that we were in a good position in the race. We hopped off the kayak and immediately I felt my legs cramping up. I walked a couple of steps and my legs seized up completely. I told Steve to go on and I hobbled over to Gerry and Joanne and tried to stretch out my legs a bit. After a minute or so, I decided to keep going in the hope that my legs would loosen themselves out. I walked to the bottom of the steps at Torc waterfall and remembered a tip from Mike Jones at the training day to take a dioralyte in case of bad cramping so I emptied a packet into my mouth and washed it down with water, not a pleasant experience! My legs started to loosen out a bit and I managed to catch up with Steve near the top of the steps and we set a steady pace to the start of Mangerton proper. From this point on it was more of a hike that a hill run but we kept the pace up as much as we could. I was continually looking for the leaders to descend to give us an idea of how close we were to the top, eventually I saw the race leader flying down past me, with Paul Tierney not too far behind and knew we didn't have too far to go. Eventually I arrived at the turn around point and dibbed in and set off down Mangerton. At this point Steve was a bit behind me but I knew he'd catch up on the descent in no time. I passed a good few of the GoTri gang who were making their way up Mangerton and we exchanged words of encouragement, there is a great team spirit in GoTri and the shouts of encouragement really make a difference. Steve had caught up with me and we continued down the straightest line that we could find through the heather. At the bottom of Mangerton with about 5km to transition, we took a bit of breather and stretched out the legs and took on fluids. We were both wrecked at this point so we took it fairly handy back to transition. When we arrived, I met Kiera, who was just starting the mountain run leg of her race, got a quick kiss, assured her I was ok, and Steve and I set off on the 6km bike to the finish. I was feeling the effects of the fall at this stage, and my hands were fairly sore so I tucked in behind Steve for the cycle to the finish. We dropped our bikes into the final transition area and ran the short distance to the finish line where he pipped me by a second 🙂 I went over to the medical tent, got a quick check to make sure no major damage was done and headed back to the finish line to cheer the rest of the GoTri crew over the line.
A massive thanks to Paul Tierney who organised so much to get us ready for Killarney, and undoubtedly cost himself a number of places in the race with the time that he sacrificed with our training. A big thanks to Stephen Geraghty too, it was great to have a companion for the duration of the race, and if I wasn't racing with him I probably would've quit after I came off the bike.
Adventure racing is a completely different experience to competing in triathlons, and was a bit of a revelation to me…I think I'm hooked!
Alan Webb -Talks us through his killarney adventure