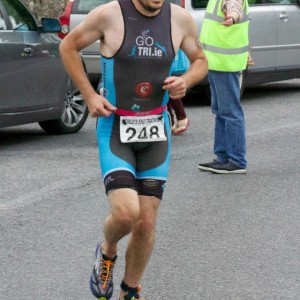 editors note: Dean's original report had tons of great photos
Starring : Various Go-Tri  athletes
I taught it about time to get a review of the Killarney Adventure race done, from my experiences anyway.
I came to the whole multi-sport races late this year, starting training with Go-Tri in August and as any of you who have met me so far, will know I am a quiet kind of guy til you get to know me and my athletic prowess still has a lot to be desired, that being said I am enjoying the entire journey and overcome my own little goals one stage at a time, after having only completed one Tri a Tri race and some 5k and 10k races the talk was about finishing out the season with the challenge that was Killarney, like most of us who signed up, thankfully  I was blind to the challenges that lay ahead as I may well have bottled out at the first hurdle.
Our mentor and training advisor on this quest was the commonly referred to Paul "the goat" Tierney and put us through our paces he did. Training encompassed running up the much loved by all the group, Moylussa, Silvermines and Keeper hill peaks and one exceptional full days training in ULAC, covering all aspects of technique for each element.
Many a night of dreading the upcoming up hill running but the self of achievement afterwards and the laughter, I have never had such a laugh with a good group of fellow athletes, too many funny comments, jokes to mention.
After the fun and games of training the real deal was upon us and for me it started the Wednesday before the race, I'm a list maker and make a list I did, what will I need for the weekend away, equipment, food, clothing – can't afford to forget anything. So I made my list, checked the mandatory kit, layed out everything in chronological order, tri-suit, socks, trainers, t-shirt, jacket, hat, gloves,helmet, water bottles, food and back pack, packed my bag when I was happy I hadn't forgotten anything, Friday rolled around and I had the day booked off, set to cleaning my bike and checking brakes, gears, tyres, and then re-checked my bag and packed the food stuffs for the weekend,  that was me ready to go. The only thing I was bringing along which I hadn't intended was a cough that would neither fully come on or go away, so plenty of lozenges and cough mixture were added to the list.
I travelled down with my good friends  Kieran and Sarah Boland, good company and these were my apartment buddies for the weekend. We left as early as we could to give us time to register, get our bikes and other equipment to transition.  The journey was uneventful with minor traffic conjestion on the way down, registration was quick and although parking was at a premium at Kate Kearneys cottage we had our bikes dropped off and back to apartment in good time. A quick unpack of the bags and that was it we were here, we were registered, we were ready – ish. We were out the door and over to the hotel next door to meet with our fellow athletes/idiots, dinner was had and the talk was about how we felt we would do and were we prepared, nothing we could do now, what was to come was to come and an early night was in order.
I sat my alarm early, although there was hardly a chance I would sleep in, I did the run through in your head as you try to sleep, I did sleep some what and when the alarm went I was up and out to the kitchen to have the breakfast, re-checked my back pack, got washed and dressed, ready to rock. I sat in the kitchen with Kieran and Sarah and the nerves were kicking in, I still hadn't dropped the cough that I had been carrying and the wise words of Kieran, suck it up and you will be fine, encouraging words indeed !!!. We got going, a short walk to the main hotel and meeting fellow competitors on the way, we were straight onto the bus and the bus was rolling as soon as our asses were on the seats, chit chatting with those around on the short journey to the start line.
After the drop off and we got to the starting area, we met up with our other go-tri team mates who were in the same wave, we chatted, we stretched, we tried to encourage each other, as we stood there we could see the wave ahead of us making there way up Strickeen and hearing the words you are thinking," jesus what have we let ourselves in for". This was it, this was my biggest challenge so far and I knew then I was going to finish this, cough or no cough, would my time be what I wanted, maybe not but I wasn't going home with a did not finish. We got called to the start line and our mandatory kit was checked and that was it as the last competitors equipment was checked we were off !!!
Section 1 – 7k mountain run
The initial burst of speed as we all headed out, jostling for position and space, heart racing and then within ten mins, settling down to race pace and coming off the short section of tarmac and up the path cut into the mountain by many feet, the terrain was what we had expected, rocky in places, with competitors from the waves ahead coming back down the same trail, overtaking slower runners was a challenge at times, remembering the training and trying to bring it all together keeping a good pace, moving forward at all times, the speed being dictated at times by those in front and walking  at times when the terrain lent itself to running, still it was early days and the pack would stretch out soon enough, the focus was on maintaining a steady pace going up and maybe making up some time coming back down as I was confident in my down-hill running, the run to the top on this section was ok, steady climbing but no real hard inclines, just as I got to the top check in point it started to rain, I took a few secs to retrieve my rain jacket, put it on as didn't want to be too wet and cold at this early stage, I headed back down the same trail and picked up speed, passing competitors I know are generally faster then me at running but my down-hill was allowing me make up some ground, entering transition I found my bike easily, having taken time the night before to check and recheck my racking station and the way in and out, I had left my water bottles on the bike from the night before, I mixed my energy tablet into one of my bottles, took on some food and water, got my helmet on and out of transition.
I headed out by myself, my cough was lingering and I knew my breathing was a bit laboured. The section out from Kate Kearneys was straight forward, keeping a steady pace and coming onto the gap of dunloe,I was looking ahead and seeing some of the challenging inclines ahead, Sarah Boland who I had met in transition soon joined me on the bike, but I knew my biking was weak on the up hills and Sarah would leave me at some point, we charged on together for a while, keeping a steady pace and both taking the lead at times, soon enough we got to the more challenging climbs and sure enough that was the last I saw of Sarah as she powered up and over, I kept my legs spinning and took advantage as much as I could of the flats and down hills, passing more competitors then were passing me. I powered on and remembering to drink and eat at regular intervals, I had to stop at two points to eat as I just couldn't get my breathing, eating and keep my legs spinning, I powered on as best I could and up through molls gap again some of the climbs here were challenging enough but keeping the legs spinning and get up and over was well worth the down hill section towards Killarney, although the road was wet and I couldn't gain as much speed down hill as I could, I still enjoyed this section down into transition, as I turned off the main road into the grounds of muckross house I stood up on the bike to push on a bit and my left leg locked up fully, there was no releasing it, I couldn't pedal, I couldn't sit down, I was coming up on a few short sharp bends and couldn't do it in this position, what was I going to do, just as I was about to pull up and get  off bike using my right leg, the left leg just released, oh the relief, I sat down and took the corner sections up and into transition. I parked up my bike and saw that the water area was empty, I took my empty containers over, filled them up and took a drink, I went back to bike put my bottles back on bike and got some food out of my bag, I left my bag at the bike and headed down the kayak stage, I met a few of my fellow go-triers coming back from the kayak and a quick salute to each and carrying on.
I entered transition and none of my fellow go-triers were around, either on the water or had finished or still out on the bike, I buddied up with a guy from Mayo and as he had done several adventure races, it was the obvious choice to allow him in the back to steer the ship along, I sat a nice pace, one I could hold til the end or so I taught, the positions of having the legs stretched out in front, lent itself to cramps and I wasn't the only one, I could see several kayaker stretching there legs and even my new found buddy was suffering, having stretched as best I could we powered on, we made decent enough time on the kayak and that was the last I saw of the Mayo man, a quick run back to the transition area, again I took on some water, picked up my back pack and head off onto what we all believed would be the make or break part of this run, Mangerton mountain.
Section 4 – 19k mountain run
I started with a nice pace, a pace I knew I could hold on the flat sections anyway, I ran on and felt my legs started to cramp, I had taken plenty of water and had fuelled well, I powered on through these early pangs,  after I would estimate about 3kms running was wondering when would I ever see this mountain and mentally doing the math on how long the actual climb would be, as I came out of the woods and turned towards the mountain the true challenge revealed itself,  well distance is relative and going up Mangerton 1km may as well have been 3kms, there was no end in site, I had mentally prepared myself for this section knowing it would be tough and was not fooled by the comments of others, ahh sure your nearly there, its only around the corner now. I plodded on, hiking most of this uphill section and taking longer then what I had anticipated, approx 1 km from the top I stopped, my breating was very hard and a wheeze had come in, as being an asthma sufferer as a child but hadn't used nor needed my inhaler in over 3 years I knew I needed that boost and thankfully I had packed an inhaler in my pack, two puffs and about 10 mins to let that take affect, I marched on, rounding the final corner and seeing the check in point it was the most welcome sight I had ever seen, I knew I had the back well and truly broke on this run, it was more or less all down hill from here, I took the opportunity to take a drink from the lake, I met some of my fellow go-tri mates on the way down, passing some and seeing others still on the way up and thinking jesus I would hate to be still on the way up, I made decent time on the downhill section, well something had to make up for the poor climb up and I was taking every advantage I could, passing more and more people on the way down, I was landing heavier on the feet then what I wanted but I kept the pace going down, coming onto the flat sections again through the woods I did have to walk at some stages, just clearly out of puff and the early pangs of cramp had come on as full cramps but again still moving forward at all times and driving on in the small down hill slopes, eventually getting back to transition, I took on a good drink of water and a small bite, helmet on and I flew out of transition on the bike, I could smell the finish line.
The cycle back to Killarney was fairly uneventful, no climbs to mention, just a steady cycle back into Killarney town, again passing more competitors and none passing me, I felt good, I felt strong. I knew the end was in sight and coming up passed the Gleneagle and seeing the finish line and the crowds milling around, this pushed me on the last few hundered metres to the final transition. I got in racked my bike, again meeting some of my fellow go-triers collecting there bikes
 I pushed on out of transition, a nice paced run and seeing the scaffolding crossover I did think will my legs get me over this, I need not have worried, I was up, across and down the scaffolding with no issue,  running now at bit of a pace, wanting to finish strong and just thinking don't cramp now in front of everyone at the finish line, I powered on, I could hear my name called out by the team mates who had finished and the partners of other team mates who had travelled down for the trip.
Crossing the line and smiling, this was another challenge crossed off the list, a welcome drink and a bite to eat at the end and the taughts turned to a well earned shower a change of clothes and a welcome beer to come. Meeting with others later and hearing the tales from the day and sharing my own, a great run and if you haven't done it yet, put it in your calendar. Will I do it again…..  !!!! Watch this space
Dean Rudd – Go Tri athlete