Athlete interview with Ailbhe Carroll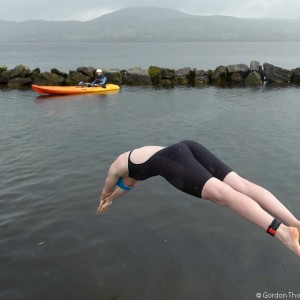 results 2011
2011 results
Joey Hannan Sprint – 1st
Tri-Athy sprint – 3rd
Gotri Aquathon night 1 – 1st
Fenit tri – 1st
Castleconnell tri – 3rd
Gotri overall – 1st.
Kilrush triathlon – 1st
Open water
Lee swim -1st
Camlough lake 5km – 1st
i3 Queen of the lake
i3 5km – 1st
Sandycove island – 1st
questions:
 
What is the one training session you hate to do but feel great about after doing it?
   Hate is a pretty strong word so I wouldnt quite say I hate it but a 90min run with hills is the one I love to hate but you feel like an animal after it cos you are starving.
 
we all have targets, when your setting your season out what races do you always put down first?
I dont think Im in the game long enough to answer this one properly but I do love Caroline Kearney. Iv only done it once and it was my first and only olympic race to date but I really loved it. Great race, great buzz.
 
favourite training treat ?
If by treat you mean food, then I dont have one. I always eat bananas and take a recovery drink of some sore after a tough ass session
. 
 

do you have a love hate relationship with the foam roller??

Of course, if you have a love love relationship with your roller you obvioulsy only use it as a piece of furniture in the sitting room! Who could love something so silent and deadly?! I love that it helps but I hate the way it does so.
what is your favourite quote for winter training?
I love Muhannad Ali's quote but its not just a winter training thing – I read it every day in the pool and every day im driven by it to do that bit more.
Champions aren't made in gyms. Champions are made from something they have deep inside them: A desire, a dream, a vision. They have to have last-minute stamina, they have to be a little faster, they have to have the skill and the will. But the will must be stronger than the skill." Muhammad Ali
 
how have you included the people closest in your life to be part of your racing goals?
My family and friends know my dreams are big. They know thatm to get to where I want to get to requires dedication and deteremination. They realise I need to paddle my own canoe and that sacrifices need to be made. They stand by me in what I do – in more an indirect fashion, but this works for us.
 
what is the best advice you can give those folks who wanna TRI but dont?
Why be afraid to do anything in life? Life is too short and you have to grab every opportunity that arises. Doing a triathlon is something alot of people think would be impossible but I did my first ever tri in Athlone 2007. I turned 16 years old the day before. I came from a horse riding and hurling background and I just decided that 'I can do it'… so I literally signed up, ran a few km's here and there before the race, swam 90 lengths straight through every saturday morning in Nenagh with Dad for about 6 weeks or so, bought a bike for €250 and off I went.  Dont miss the opportunity to be involved in something that has definetitly changed my life
.
Who's to say it wont change yours too?
you can check out more about Ailbhe on www.ailbhecarroll.com