Marshals where greeted with cloudy skies and damp weather for setting up of the course this morning, but just after all the riders and guests had penned their names, the pedalling gods pressed pause on their televisions to watch as the local gladiators pushed mans greatest inventions, the bike to the limits of metal and physical duress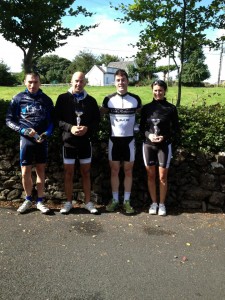 20 riders had signed up with 3 riders pulling out last minute ………
Favourites on the morning after sign up where Eamonn Morgan Planet Tri, Ger Bowen Gotri and Daithi Quelly west clare cc but the roads had other ideas. The test of truth never lies……..
Course route: Shannon to limerick radison round about and back x 2 loops using flyover to turn. 40.7km ……. and not flat, but not hilly a lot of places where power was needed and begged for
In the ladies event Guest rider Martina Burns from Tipp Wheelers cc pedalled a blinder of race beating many of the men on the day, Coming home in 1:9:52 a fffffffassssst time by any standards!
Female Overall Top 3
Martina Burns (TWCC) 1:09:52
Pamela O Brien (crns-gotri) 1:21:16
Patricia Haugh (crns -gotri) 1:39:34
Women's Clare TT Champion 2013 Pamela O Brien
In the mens event everything was to play for. With the absence of Mike Storan and Vincent Gleeson, everyone fancied themselves but no one was to see the winner on the day 🙂
Shane Geary from Sixmilebridge co.clare is having a great season in the Triathlon world and came home the clear winner on the day by almost 2 mins. Shane was the only rider to power his way to a very respectable and impressive sub 1hr — 59:42
The Sliver and bronze medals were all to play for and the battle went down to the last 5km where Stephan Teeling Lynch from promoting club CRNS got the edge over Eamonn Morgan from Planet Tri by only a handful of seconds.
A big THANK YOU 🙂 to our marshals on the day, without you these events do not happen. John O Gorman, Liam Kennedy, Mick Rooney, Evan O Gorman, Mags Jones, AND to our sponsor on the day Trevor Askin of Amber Cost cutter in Limerick
Male overall top 3
Shane Geary 59:42
STL 1:01:47
Eamonn Morgan 1:02:03
These three rider also finished 1-2-3 in the overall race 🙂
Clare TT champion 2013 is Shane Geary
Full results
1: Shane Geary LTC 59:42
2: Stephan Teeling Lynch CRNS 1:01:47
3: Eamonn Morgan PT 1:02:03
4: John O Shea LTC 1:03:01
5: Mark Jeffers CRNS 1:04:03
6: Ger Bowen CRNS 1:04:40
7: Daithi Quelly WCC 1:06:26
8: Richard Quinn CRNS  1:07:32
9: Niall O Grady CRNS 1:07:51
10: Derek Flanagan CRNS 1:09:33
11: Martina Burn TPCC 1:09:52
12:  Mike Heaney CRNS 1:10:21
13: Liam Liddy LTC 1:10:51
14: Pamela O Brien CRNS 1:21:16
15: Darragh Fahy CRNS 1:21:34
16: Patricia Haugh CRNS 1:39:34
17: Kiera Webb DNF Puncture
Club rider of the year awards
We worked this off a time handicap basis to make it fair to all, and it was a great success and two riders who have supported all the training events and sessions won in fine fashion.
Niall O Grady and Patricia Haugh were victorious after a hard fought battle
Congratulations to both athletes, fingers crossed we see you both out training hard to retain these title next season
Well done to all our riders who came along today and to all who took part in all or any of our training sessions. we look forward to welcoming you to our team meeting and planning session – date TBC – before the winter comes along. Until then enjoy yourselves — ride safe
yours in sport
STL
ClubRothaiochta Celebration 40k TT & Clare TT champs