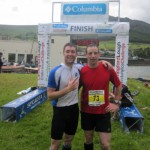 Interviewing the coaches!!
GoTri Founder and Coach Stl
What do you feel separates you from other coaches?
I just put everything in to it, it's not a case of I write a program and I send it off and hey ill talk to you in a few weeks. Those who know me well know that I wear my heart on my sleeve and that if you bleed I bleed too. For me to work with someone now on a goal is a big thing, that person has put a lot of trust in me to deliver the result. Coaching is to me about communication, understanding, balance and trust, both from the athlete and the coach. ! I have a solid group of athletes that perform week in week out; I have the easy job they have the hard work to do. I am just one card in a deck of 52 cards and I am very lucky that these athletes put their trust in me, as I do in them.
As a coach what is the biggest challenge you have with athletes?
Getting athletes to slow down!! More is not always best practice and understand what you are doing! The newer generation are great with txt but god I wish I could get them to fill out there training diaries!!
What are your coaching goals?
I am lucky on that front; I am working with Irelands future star tri athletes. We have a lot of work to do but are getting there.  We have got some great talent in Ireland and we need to start thinking like that, a lot of folk out there don't believe we can compete at the top and carry this burden of disbelief on their shoulders. This season and last season has or at least should have changed many views of the Irish public that Irish athletes can compete and win. We see Aileen Morison podium across the world on the biggest stages and young Con Doherty winning against some of the best in Britain this summer, but not only that Irish athletes are placing on age-group podiums in big international events such Andree Walkin and pro podium Owen Cummins. For me as a coach I want to help athletes to the highest level, it will be a great journey and I believe it has already begun.
Coaching advice for those wanting to reach new heights?
Create a winning environment and a training environment to succeed. What does this mean?
support systems such as a reliable physio/therapist, bike mechanic, dietician, coach, team training sessions etc. you can't achieve great things on your own, you will need help and support be that from an emotional point of view or a practical point of view. Make an action plan and understand what you will need to achieve it. Include your friends and family in your team, you will need them and they will need to understand that from time to time you may get moody!!
For those new to Tri – do not let it take over!! I have been giving talks to clubs and groups and I speak a lot about second season syndrome. Athletes that have tried tri in the first year doing one or two races then the second year comes and we see them buy everything, new bike new kit etc and do every race and training session available to them and suffer huge burn out. We usually don't see them again for a few years. I believe older club/team members have a responsibility to new athletes. Tri is addictive with its huge sense of achievement and great friendly atmosphere we want to be involved in everything but slow down and enjoy things a little more. Do your research there is a huge amount of info out there and if possible sit down with a coach and have a chat about how to balance things.
What sessions do you think a lot of athletes over look in their training?
Sleep!! And the effects of the lack of sleep on training sessions!! This is a huge area of misunderstanding amongst the age-group community out there. look the biggest difference between being a pro and an age-grouper is the recovery time between sessions. I know a few of the top age-groupers that are training as much as the pro's at certain times of the year but don't take into account the recovery effects of their working life. This is where a good coach can help. Mind you some stupid coaches will just make you get on with it. Listen to the whispers before you here the screams!!!
What were your biggest coaching achievements of 2011?
Once again I don't think I personally achieved anything, the athletes did themselves proud. I am just a cog in the wheel a gregario in cycling terms I suppose. I am very fortunate to be involved with great athletes. Ailbhe Carroll late season form was great; Davy Richardson really took a big leap forward this year. The Rooney's have stepped into a new realm; Andree Walkin brought home our first European medal. Con Doherty made me cry with his performance in the UK. Maebdh Hurst returning from huge injuries at such a young age to take two great performances in the uk series with 2 top ten results, Rory Sexton grabbing a surf life saving medal in the Europeans, The Newcastle gang taking age group top ten placing, The gotri gang taking huge steps forward in the their training along with Davey Fitz taking a sneaky podium. There have really been so many that I have been lucky to be a part of, they have all worked very hard for, but if I was to name one, I would have to name 2 Andree and cons victories.
You know Steve Delaney and I were both in Sunderland in the UK with a lot of pressure on us to deliver results. I have been personally working with Con for a long time and he hasn't been lucky in many regards but I knew this result was coming, I knew in my heart he was on a good one, but I didn't predict a gold, when the kid ran over the line with Kieran Jackson coming home in third place, I had to walk away from the celebrations, the tears of pride begun to flow. That day to see 3 Irish athlete, Con Kieran Jackson and Stephen Rooney 7th commanding a great performance will stay with me for the rest of my life.
Andree's bronze was another heart breaker, a day of silence and waiting on the beep of my mobile phone as it would ring with another txt message from the Guru Jones, my internet was down so I couldn't follow anything on line, We knew Andree would go well, but we not expecting a podium, but this woman has put so much into her training this last 2 years with me and never gave up and ran herself into a moment of personal history. I spent that day smiling, I didn't say much to anyone but the smile across my face said a 1000 words. This was a great day for Andree a day that will give her belief to achieve things for the rest of her life. That means a lot to me as a person and a coach.
 Have you any more personal training goals? Are you still an active tri dreamer?
Ha-ha those that know me know I dream, most of the time I believe in the athlete more they do themselves, but that is just me. Yes I have a few personal goals both in cycling and tri and now adventure racing, in terms of coaching and that I want to see at some point a pro tri team take shape. This to me means a lot, a team of racers helping each other to achieve things, like in cycling believing and sacrificing their own ambitions for the greater cause.
This is the direction that elite tri racing is going and we have seen it work very well with the Canadian team at the last Olympics, the Brownlee brothers etc but it can work even better with the right management, it will take some time for it to come into Irish racing with our structures but I believe you will see Irish teams using tactics as our talent pool grows. A first glimpse was seen with Brian Keane winning in Athlone with Gavin Nobles help.
Believe me when I say this, this is the direction things are going to go!!
What is left in store for 2011?
I'll keep asking questions and keep chasing more education to help those I work with. Maybe become a preacher J
We have Talent i.d with triathlon Ireland and I am sure we will get some more new blood to the team and I know the GoTri Gang are hungry for more success and we have the Shannon Masters Swimming Club going from strength to strength with the local clubs coming a long way.
On a personal level I have a new therapy clinic opening up soon also which will be great I hope!!