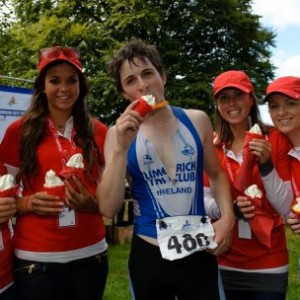 The Cat gets the cream 🙂
Q. Favourite training session?
My favourite session has to be the weekend cycles. They are good fun and the perfect start to a weekend is getting out on the bike on a Saturday morning!
Q. What is the one training session you hate to do but feel great about after doing it?
Swim – 12×200. Its long but fast….. Don't know how great I feel after it either!
Bike – 20min turbo Max effort! I actually enjoy the pain of this session. Sweat pouring off you and heart rate through the roof. The couch just feels so good after it!
Run – 8x1k. Ouch!!!
Q. Favourite training treat ?
That has to be a packet of Huncky Dory Salt and Vinegar Crisps after a hard turbo.I am very bad after races too….. I really stuff myself with junk!
Q. Do you have a love hate relationship with the foam roller??
Actually I don't use my foam roller much. Probably should use it more! My girlfriend is a physio so that helps when I need to be loosened out!!!
Q. What are your favourite races + why?
Each race has its own strengths and weaknesses. My favourite ones have to be,
The Tri anMhi swim. The swim is in the clearest water you have ever seen in Lough Lene Co. Westmeath. It was like an outdoor pool, perfectly calm crystal clear water.
The cycle in Dublin around the Phoenix park is my favourite cycle. With 5 laps the course does get a bit hectic, but there is a great buzz racing around the park.
The run in Kilkee has to be the best run in the country, not for hill, but the views out across the cliffs. You really don't get to see this when you are dying in the race looking for the next kilometre marker on the ground instead of looking out at the cliffs. The only way is to go for a few easy runs on the course. Then you really get a sense at how amazing the scenery is.
Q. What is your favourite quote for winter training?
Quote? None come to mind. I do love running in the cold weather but it does make getting up at 7 for swimming much harder!
Q. What are your main goals for next season?
The same as everyone really…. Get faster than last year!!!
Hopefully this year I can build on my performances over the past few months. The one thing that has eluded me is a win at a National Series Race. I have had a few podiums but never a win. Hopefully I can sort that out next year!!!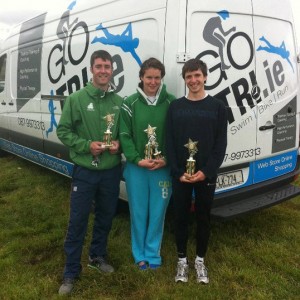 Another great season for Davy with some big performances, his 4th place in Kilkee "Hell Of the West" Triathlon this year was a huge step forward in HIS personal performaces, with Davy's work ethic I am sure he will go on to achieve great things. I am proud of everything he does, he aims high and is not afraid to fail. That to me somes him up and I love to work with him. Coach STL
Athlete interviews David Richardson