Limerick athletes dominated the Kerry race with a clean sweep of the poduim. Aaron O'Brien rode his Tri-bikes.ie bike to glory being chased all the way by GoTri captain David Richardson and top tri swimmer Ross Higgins splashed his way onto the poduim for the second year in a  row defending his bronze medal.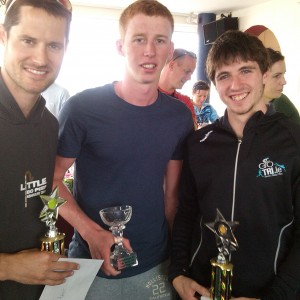 Aaron led from start to finish which delighted his coach Lynne Algar. A long season of "overcoming" for the young man from Co.Limerick dealing with a number of shin splint issues. But with careful management and personal desire the young man is coming of age over the last few weeks with wins in Kilkenny and Fenit he will be the man to watch as the racing scence heads to Castleconnel and the Worlds End Triathlon.
Davy Waffles as he hates to be called is winding down on another great year for the math genius. The young GoTri peformer has had a consistent year of poduims but to his utter disgust he has not cracked the Gold medal poduim spot on the national series races he has targeted. "Too many silvers and bronzes to my liking" as David says… cheers to another season now time for cross country and winter cycling miles, and some tinkering for STL.
Ross Higgins the super swimmer from Kerry has made this race one of his favorite year on year and never fails to hit the poduim. One wonders what could be if he hit the cycling consistently over darker months, this young man could and would be a huge factor at every race in the country. Put simply a good swim puts you in a position of control,one where you can use your tactics to race towards an outcome you want dictated by yourself. If you have a bad swim you race tactics are simply…. CHASE!!
Well done must go to the rest of the GoTri crew racing in Kerry, John, Jason, Brenda and all the gang put running smiles into action.
Fenit as usual put on a great show, even getting a road closer for the bike course and I am sure this race will continue to grow in popularity.
Yours in Sport
Victor Hugo