Race Report – Glin Sprint Triathlon (From the back of the pack!)
Glin Sprint Tri – just another local triathlon? Not for me….it was the first of many things….first time doing  Glin tri, first full sprint distance triathlon, first dry weather triathlon….& one more first I'll let ye know about a little bit later…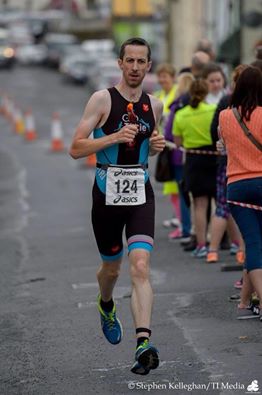 The lead-in was as per the little few triathlons I'd done so far; I was leaving things until the absolute last minute before signing up, weighing up family commitments, weather & last but not least – would I be able to do it?, while secretly hoping it would sell out early & I'd have an excuse! I was messaging STL the Sunday beforehand about something else, & he hits me out of the blue with: "all set for Glin Tri?". Don't know how he even knew I was looking at doing it or not (did he do a physic course recently?!), as I told nobody I was thinking of it. I told him I'd never done >300m open water before & he kindly offered to go for a swim with me the Monday night beforehand & to sign up.
After a 13km run on the Sunday, I met up with STL & Aussie Dave who was just off the back of Lost Sheep (& still could have rounded the lake 3 times compared to my 1!) on the Monday night for a trip around the lake in Quin (thanks again lads for the encouragement & the positive mental attitude). STL had left it too late to get an entry to Glin – I offered mine, but he wasn't biting…..no excuses for me L. After a 10km run on Tuesday & another attempt at improving my poor swimming ability, in the pool on Wednesday, I took a break before Saturday. Everything going ok, confidence on the rise…..until Thursday evening; the simplest of things – I just bent down to pick up my 4-year old daughter & snap, I felt something go in my back. I was in agony. I knew straight away things didn't look great for Saturday.  But, despite the doctor & the boss's (my caring wife's!) advice not to risk it on Saturday, an intensive dose of Difene, Voltarol gel & hot water bottles at every period in-between Thursday & Saturday & fingers crossed I should be ok. I was adamant I wasn't going to leave what little training I'd done go to waste!
Saturday morning arrived: 6:50am…..bloody, body-clock…..so much for a sleep-in. & here they come….the nerves. Would ye ever go away lads & leave me alone?! I thought to myself: I presume & hope it's the same for those at the front of the field? Judging by Greg Maloney's race report for Lost Sheep I'm not the only out there like that! On race day mornings I'm always a bag of nerves. I knew I could do the run & the bike no bother, but the swim was playing on my mind, despite STL & Aussie Dave's "ye'll be grand" reassurances the previous Monday! I don't fear swimming in open water as much as I used to at the start of the year (thanks to all the Monday murder sessions in ULAC with Ray Hickey & the Juniors!), but I suppose it's a fear that wasn't going to go away until I got the monkey off my back & actually did an open water swim at sprint distance.
Thankfully the back wasn't as bad….maybe the aul adrenalin, mixed with a bit of foolhardiness was taking over! After getting all the gear ready, & quickly dropping the kids off for swimming lessons (I'm not letting them turn out like me in 30 years time, & only dipping their toes in the water then!), I raced out to Glin. After registering I met up with & headed down to transition with Eimear Laffan (long lost, distant cousin…before you ask!). She knows the score with me:
…..bike….grand…..swim….not so much. The nerves must have been written all over my face at this stage, as Eimear asked how I was set for the swim, with a few more "ye'll be grand" reassurances thrown in for good measure!
Eimear told me she was only doing Glin caus her sister Niamh was meant to be doing it, but Niamh left it too late to register. Lucky Niamh, I thought to myself!
At the entrance to transition we met with Alan O' Brien & Joanne Flanagan. Alan won it last year & blew everybody out of the water as part of a relay team at World's End a few weeks previous….no fear of him. From what little I did know Joanne was on the way back from injury & in flying form too.
Went to rack the bike & low & behold who's Planet X was beside me, only Alan O' Brien. The 1st thought that came to mind? I hope to Jaysus his bike isn't there when I get out of the water, caus that'll mean one thing – he's the cycle leg done & I'm only heading out on the bike!
After a slight stretch & very, very light jog with the cousin (didn't want to be out of breath entering the water!) we lined up for the briefing, & then headed for the slipway. No going back now.
Sh*t. no mention of a cut-off time for the swim…..I had heard of it in other triathlons, so decided best to ask a marshall now before being hauled ashore half way through my swim, not knowing what's going on! No….she confirmed; no cut-off time. Phew. Yet another "ye'll be grand" reassurance (It wasn't any more reassuring coming from a stranger, but still nice to hear all the same!).
Into the water. Bloody googles…need a new pair. They keep fogging up, but I'm in the water now. How am I going to adjust them while treading & keeping my head above the parapet? I couldn't get over the buoyancy compared to a lake or river. I had my hands free to adjust my goggles, with minimal effort to stay above the water with my feet alone. I started thinking this whole swim malarkey mightn't be as bad after all!  Next was the temperature. I don't normally notice the cold, but I thought it was fairly cold in the water last Saturday. After a small amount of time I was acclimatised & ready for road. The marshall counted down from 10, & when I looked up around the 5-4-3 mark, I was the only one not moving, so off we go into the bluey, green darkness! Around 300m in & I was closing in on the turnaround buoy, but noticed it was just me & another lady left at the back of the field. F*ck it anyway…..Paddy last. Least in the Try-a-Tri's earlier in the year I wasn't the last person back out of the swim. My breathing was going ok. I have a tendency to breathe off my right only. I can breathe both sides, but I'm just not as comfortable off the left & it slows me down more….if that's physically possible. Upon turning back at the half way mark I was facing into the slight waves (probably only ripples for the lads up front!) now. Despite my best efforts, breathing off the right meant taking a few bucketful's of nice, salty seawater on board….great I thought….that'll season the aul gel + Lucozade sport later on! Neven Maguire/Rachel Allen would be proud of my culinary prowess, even in the middle of the sea!
I could see the buoy & slipway now. Do we have to go around the buoy I shouted to the lady beside me? "No", the answer came back from the nearby rescue boats. "Straight back to the slipway". I thought I'd never reach that bloody slipway. A few of those dolphin dives we practiced in ULAC, & I was home & hosed. My time? 23 minutes something. I know, I know. Talk about losing time hand over fist. Everybody up front could have done the course twice & still have time to spare over me. Without looking for excuses I'll give you mine anyway – I only seriously started swimming & running this year. Before that it was the odd cycling sportive here & there, so I'm getting there, slowly. Through transition & it was nice & quiet…..This is what it must feel like to be up front, I thought to myself.
On the bike & praying not to meet the leaders too early into it…..signalling my poor swim effort. Speedo not working – silly mistake….too busy chatting on the way down to transition earlier to notice it. Tried a slight on-board adjustment to the sensor on the front wheel. No good. Flying blind. Oh well.  In with the gel & a bit of diluted lucozade sport to wash it down.
Just going down the hill into Loghill & the leaders were on the way out. 6km down, so they're 12km ahead….at least I didn't meet them in transition!  I shouted a few words of encouragement to Alan & Joanne & then gave Eimear the thumbs up as I met her halfway between Loghill & the turnaround. 6km between us.
Out & back course's are great for giving you targets. I passed around 12 in total on the bike. Back in transition, runners on now & off up the hilly course at the back of Glin.  I was praying I'd have no cramps from the gel/liquid taken on during the cycle, as sometimes when I start running off the bike I get them. No such worries this time.
I know it sounds silly, but the temptation to stop for a breather was always something I had to fight when I first started properly running this year. No problem here & I kept going all the way, which I was proud of, considering there was some steep inclines on the run. I suffer from awful ear-worm some days. No it's not a physical ailment – its when you hear a song in the morning & it sticks in your head all day. Today's song of choice which wasn't bad by all accounts, was Billy Idol's 'Rebel Yell'. The chorus "More, more, more…" definitely got me up those bloody hills. I passed another lady out with a GoTri trisuit on. I shouted the club motto at her "together we push each other forward, eh?". She just laughed at me…"oh yeah" she said. Probably thought I was going a bit delirious from all the hills! She was probably right.
After the 2nd hill it's basically all downhill back into the village of Glin. There was great support at the finish line, just like there was coming out of transition the first time. Alan & Joanne were there waiting & cheering me on. I think the comradery with triathlons is one of the best parts of taking part in them. Modest as ever, I then asked them how did they fare, & congratulated them as I found they had a brilliant 2nd & 1st , respectfully in the bag! I then confessed my sin to them….as I hadn't told anybody up to that point – apart from the swim being my 1st sprint distance triathlon, it was also my first time ever swimming in the sea/salt water! I know this may sound particularly strange to everybody….a wasted childhood an' all that…we went to the beach when we were young, but never went in doing proper lengths. Paddling & playing in the sand was as far as we got & we were happy with that. We didn't know any different. Eimear I found out came home a great 4th, narrowly missing out on a podium spot.
All in all it was a great event, & nice to partake in (not race….yet). I've loads to improve on. From Paddy-last out of the swim I finished 99th, so passed around 20 between the swim & the run. Definitely one I'll be aiming to do again & not leave until the last minute to sign up for!
Glin race report by Nigel Laffan – A view from the back