GoTri Qualify for European mixed relay triathlon championships
On 4 October 2015, GoTri triathlon club will create history by being the first Irish triathlon club to take part in the European mixed relay triathlon championships in Nice, France.
Qualification for the Irish entry was based off the lowest combined time of a team's top two male and top two female finishers at the Acti-Snack Lough Neath Sprint Distance Triathlon on 15 August. GoTri were the top club at this qualification event with a combined time of 4:47:15 for their top four finishers.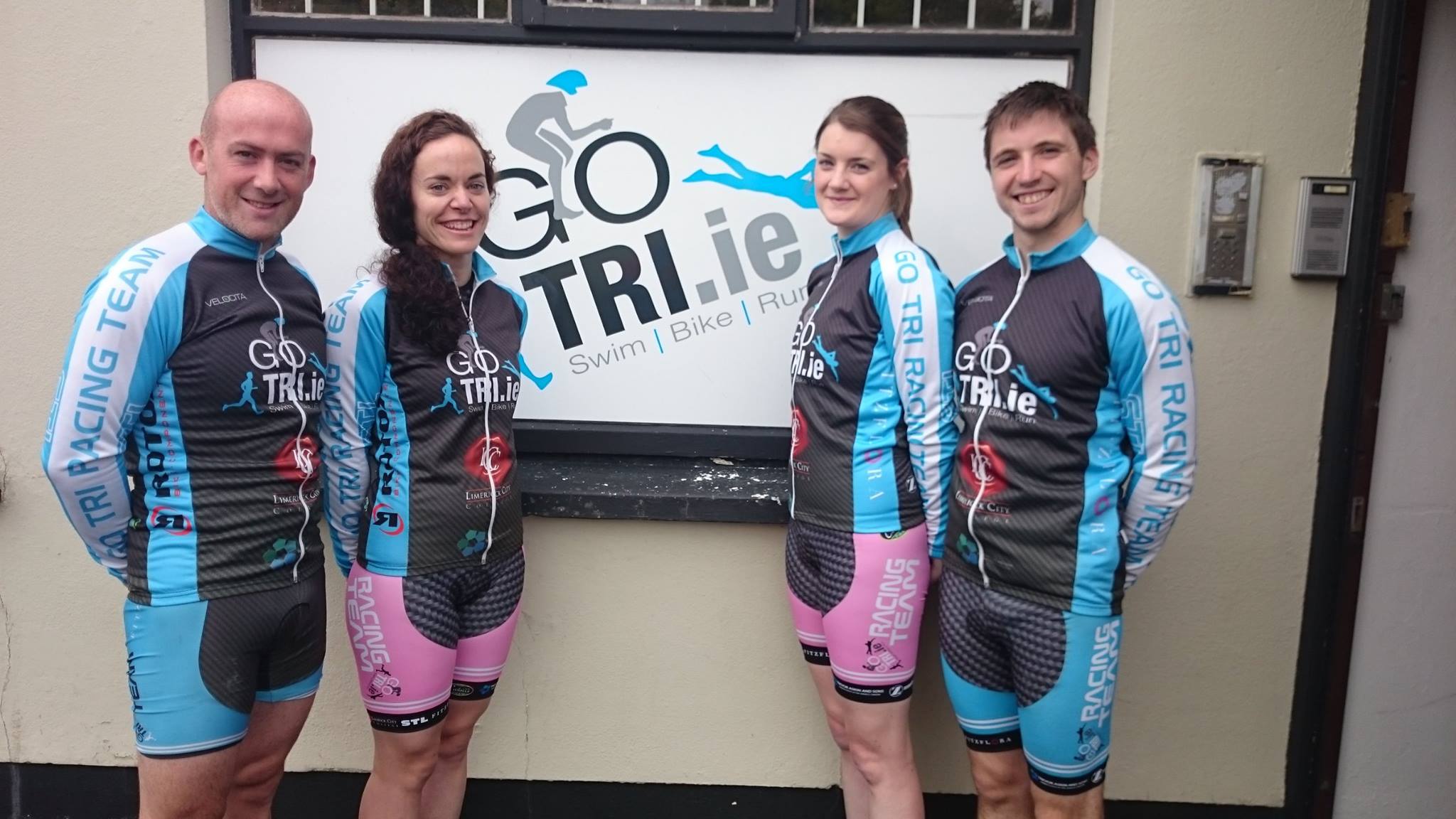 The top clubs from across Europe are now set to battle it out for the European crown with Ireland well represented by GoTri. At the event in Nice, 20 of the top European triathlon clubs will take part in a relay represented by a team of 2 women and 2 men each of which has to cover the distance (400m swim, 10k bike, 2.5k run) before passing the baton to his/her teammate.
The GoTri team consists of Ger Bowen, Mairead Elliot, Joanne Flanagan and David Richardson (L-R, pictured above).
Shannon based company, EI Electronics, an acknowledged market leader in residential fire safety products, and one of Irelands largest indigenous electronic companies, has come on board as GoTri's main sponsor for the event.
Michael Guinee, CEO, EI Electronics said: "We are delighted to confirm our sponsorship of GoTri for this prestigious event. We are proud to partner with GoTri and help them in the further promotion and development of triathlon in the Munster region. This is a real vote of confidence in what is one of the fastest growing sports in Ireland and we are thrilled to be able to assist them in their representation of Ireland in Europe. "
Thanking EI Electronics' for their support, GoTri's Chairperson, Joanne O'Donnell said ''We are delighted that a company such as EI Electronics has come on board and is willing to sponsor our team in attending such a prestigious event. EI Electronics is a major employer in the Shannon region and continues to grow and develop. In supporting a local club such as GoTri, the Company will ensure the growth and development of the local community."
Based in both Clare and Limerick, GoTri were winners of the Triathlon Ireland 2014 men's, women's and mixed Club Championship titles.
The club was founded five years ago by head coach, accomplished triathlete and Shannon man, Stephen Teeling Lynch, and currently boasts over 110 members from the Clare, Limerick and Tipperary regions.
Fundraising efforts are still ongoing and the club have set up a fundraising page where individuals can contribute towards sending the team to the start line in Nice on 2 October. http://www.gofundme.com/gq39hfnk .
GoTri will be shortly looking for new members for the 2016 season. If you wish to join, please email Info@gotri.ie. Details can also be obtained on the GoTri Racing Triathlon club Facebook page as well as its website http://www.gotri.ie.
Further details on GoTri's sponsor, EI Electronics, can be found on their website at http://www.eielectronics.ie/
Joanne O'Donnell
GoTri Chairperson
Email: joanne@gotri.ie