GoTri camp Super visor = All Talk Team captain Ciaran Gallagher www.cjm.ie project management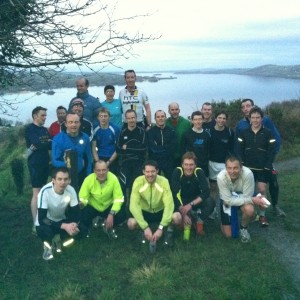 GoTri coaching Staff for the training camp
Stephan Teeling Lynch – David O Loughlin – Mike Jones
websites
GoTri Training camp March 24/25
Joey Hannon prep weekend and tri season prep weekend
Saturday morning 8:45 am meeting in the upper Ul car park, we will start with an Aerobic easy run session on the Joey run course, followed by a light stretch and into transitions practise,
Transitions we will start on the track or field and then move to the Joey transition area for some mental rehearsal- please note that after transitions we will be doing some field based core work J
11:30 we will head out on the bikes for our key session of the day with Cunga Cyclist Olympian David O Laughlin we will ride the bike course as a group, re-group for instructions and then head out for interval session on the course.
 Please be aware that roads are public and you are responsible at all times for your own safety and the safety of others on the group. You must obey at all times the rules of the road, no helmet, no cycling. Please bring spare tubes and pump with you.
Lunch: we will either eat lunch in the pavilion or the sports bar- we will confirm this on the day
After lunch we will have a chat about Joey race, racing strategies and racing scenarios that could be used for this race or other races.
Swim: endurance based swim 2hrs 3:45 to 5:45
Post swim coffee and snack, video analysis location to be confirmed along with a question and answer session, where we will ask some of the senor athletes to also field question
Sunday
Sunday morning 9am transitions practise on track
Key run session short hills before doing km repeats on the Joey course
Swim session: Joey prep swim J
Lunch
Bike session with an easy recovery run off the bike
Always be wary of a coach who doesn't give much information about the days plans – be afraid he something hard planned!!!!!!!!!!! But in a nice way
All the training will be race day specific and in planning on giving you that leading edge as you get closer to your racing season.
This year for most athletes, the season will begin with the nenagh pool triathlon on April the 14th from there to Joey hannon and leading us to our first open water triathlon where scenarios will change and wetsuits will make some more competitive and others restricted
This training weekend has been put together by the GoTri coaching team to benefit all levels but be prepared to work hard, you will get to meet some of Irelands leading tri-athletes and to be able to ask firsthand what you believe will work for you.
But if you don't ask, you won't know and if you don't challenge yourself will ever find out????
You must decide sometimes what it is you want and go for it
Those at the top of the mountain did not fall there by accident,
Train smart: train happy
Stl
GoTri Training weekend March 24/25 info