2 years ago, we sat in a small bike shop in Cong co.mayo and hatched a dream….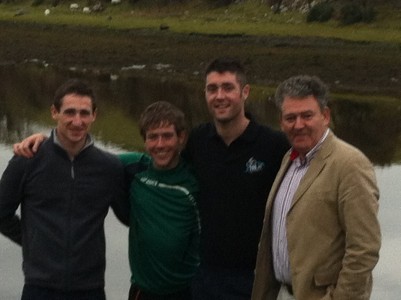 (let me be honest and say it was a three year plan that came to fruition a year early, horses for courses)
The journey has been great… at times painful …. and at times learning quick… but at all times a happy one.
A lot of people have been responsible to for helping to deliver Irelands first world medal.
Covey wheelers as we can see from the bike race in the worlds, David o loughlins advice on bike selection and testing have been instrumental. Marion from castle-bar swim club is another who must not be forgotten for the work she has done.
I have a sneaky and proud belief that this kid, if we can call him that would have found a way to succeed with or without me. However I am very lucky to have been in a coaching position with Triathlon Ireland at the time, and to have views that the kids could relate too. A lot of the squad have   been their to push Con, to motivate him, to train with him, to race against him and to test him.
The most important person and persons in an athletes career is his or her family and the support they receive from them. John is a driving force behind Con, his energy and belief in not settling for second best shines through with Con.
Chris Jones arrived in Ireland 4 years ago… to a nation with no view of high performance triathlon or triathlon coaching. I wonder if it was faith that I got injured while being part of that first squad and turned to coaching….
Chris has put in place systems and targets backed by a supporting board of Triathlon Ireland and support staff in Elena, Stephen Delaney,Lynne we have progressed our learning experiences and added to our own beliefs and talents to the soup of success.
This year was one about Learning through osmosis, we travelled a lot, racing a lot of the European cups. Making mistakes but all the time learning and knowing that Con has what it takes to compete with the best in Europe.
Racing and learning is hard, Costs are high, racing can be cruel but the belief and determination from Con to succeed was never in question.
John and I both spoke the night before the race. Worst case scenario john had a top 15 on the excel sheets. I told him my gut was saying medal. A 4:30 phone call, I couldnt take as I watched the twitter feed in belief and prayer. A 5am phone call from John to hear the screams and celebrations left me in tears. A phone call from Con while in anti doping with a single question….. Did I make you Cry… resulted in a bronze medal and a belief to challenge the world.
Its funny, no body else would believe me, I had the data, thanks to john, i had the profiles, we had the testing from David, we had a young Con who only knows one thing… only wants one thing. To race. Maybe we should ask Beaven Docherty to design all the courses 🙂
The biggest thing to come out of this is this. Why do Irish athletes feel they cant compete? the information is there for all to see. the coaching in Ireland is as good if not better than a lot of the countries in europe. find out the averages of the level you want to compete against, then find out the max's in the area you want to compete and reach for it. Find a way!!!
There is a lot work still to do, Con and I, John,Chris Jones all know this.
The next step, will be made easier with the help of irelands top athletes the likes of Aileen,Gavin and Brian to guide. It is a great time for Triathlon and a great time for our country but even greater time for a small town in the west of Ireland called Westport.
Yours in sport
Stephan Teeling Lynch
ps : thanks for all the calls. txts, emails and messages…. your only as good as your next result.
I.T.U World Champs New zealand Con Doherty Bronze medal