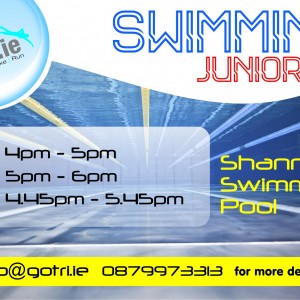 Junior swimming will start Thursday the 30th of October at 5pm and Sunday 1st of November at 4:45 
Each session is 1hr long
Children of all ages are welcome to attended as long as they are water confident and can swim 1 length.
What does my child need to start?
As we continue each child will need to buy swimming fins ( not snorkeling fins) these are very important swimming aids that will help improve technique etc as we go along. Hopefully as more kids come into the club and as your child grows parents will be able to swap and exchange pairs or the club can build a store of gear.
Costs and fees will be sent out via email to all parents after the first 2 sessions
We look forward to welcoming all to the session and hopefully we can help guide the future stars of swimming and triathlon to the next level
Yours in sport
Stepahn