A small but entertaining crew headed to Kenmare long distance champs not quite 70.3 but maybe a little bit harder ? only those that do it know its real beauty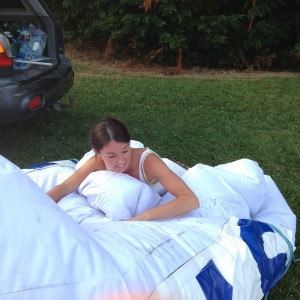 Anna Crooks took on her first attempt at Kenmare and loved it,alongside future hubby Mairtin
So my first Middle Distance race. People have told me about this race but until you do it its difficult to really believe just how hard a course it is.
Unusually for me I went into the race feeling pretty relaxed. As I had no idea what to expect, I wasn't putting any pressure on myself and my aim was only to finish. The race started early and we all arrived into transition to rack the bikes and have a bit of pre-race banter. All the Go-Tri team were next to each other in transition and there was a mixture of pre-race excitement and nerves. STL, Mairtin, Barney, Malachy, Eugene, Carolyn and myself were all set as we were called up to the swim start.
The swim is a mass start with all competitors off together. I got a good battering in the swim, especially around the buoys but I just tried to keep calm and carry on swimming. I was happy to exit the swim as I was starting to get pretty cold. Carolyn had a great swim and was first lady out as usual. The transition, which I am normally pretty fast at, was slow. I wanted to wear arm warmers as I was conscious of getting cold on the bike, but these took time to put on and I even had chance for a quick chat with Eugene.
Although I had seen the course profile on the website I hadn't done the route before and all I knew was that if had a few 'hills' in it. This is a slight understatement as the two major 'climbs' over the 'mountains' are epic. If the climbs were hard the descents were even tougher and you had to keep your wits about you. I wasn't sure of my position at this time but Aileen Flynn had already passed me and I knew some of the other better swimmers would be ahead. Fuelling was new to me too. A great bike fuelling tip from Cliodhna Spain was my saviour. The hardest bit was trying to actually get the food and gels out of my bike bag without falling off!
Coming into transition after the 83 KM I couldn't keep the smile off my face. My main worry coming into the race was doing the distance on the bike as I knew I hadn't really done enough training. My transition was terrible, I dropped my run gels twice on the way out and had to go back to get them, I didn't want to head out onto the run without more fuel.
I had seen the women leaders heading out as I came in so I knew I was doing ok. The run is always my favourite part of any race but here again it was all new and I had to pace myself. I consciously set off at a steady pace rather than racing off as I usually would. I had my Garmin on so I was able to check my splits. The run is a great course and I loved the out and back section. I passed loads of people I knew going the other way and that really helped the time go past. A high five with Mairtin as I passed him and an encouraging word with STL, Malachy and Eugene. Barney was having a flyer and was well up with the leaders. I saw the leading women and counted back so I knew I was in 5th, my eventual finish position.
The run was a case of mind over matter as in the last few kilometres they threw in another huge hill which really tested even the strongest runners. Coming down into the finish I was exhausted and near to tears. A mixture of relief, satisfaction and pride that I had had finished.
Cork Tri Club really put on a great race and it was great to have so many friendly marshals and volunteers all round the course. Well done to Charles Malta and Aileen Flynn both very deserving winners on such a tough tough course. Its a race I will certainly do again and would definately recommend to anyone wanting a tough but beautiful challenge.