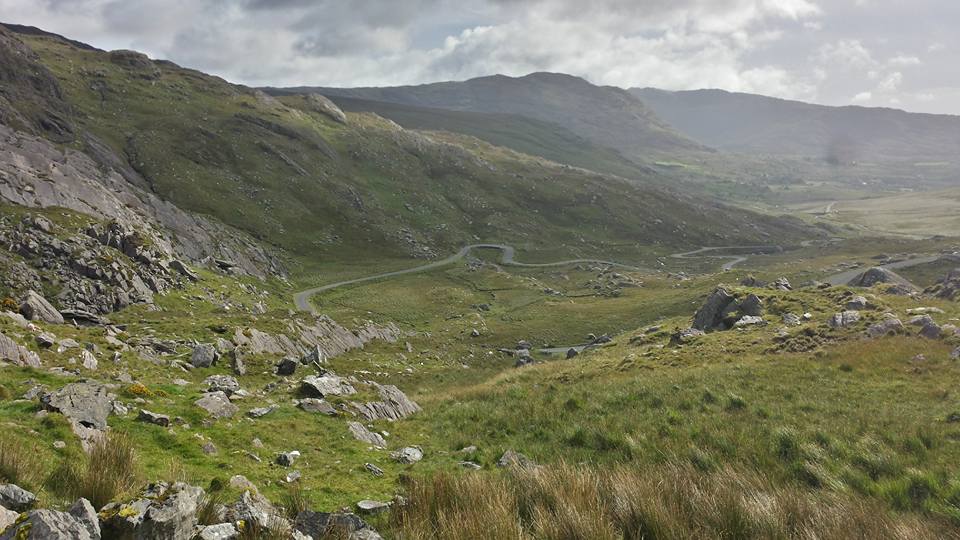 Kenmare according to Kev. So instead of packing for holidays or going for an easy jog, writing about Kenmare, drinking tea and stuffing myself with apple tart seems like the most pleasant. Like Greg Moloney my main goal was not to DNF this race. And after messing up a few races already this summer its always better to finish on a high. Second goal was to beat/equal my last years time and third goal was to maybe get under 5hours.
Having a wedding to attend to the same week leading up to the race and driving half way around the country I wasnt sure how all this would fair out. But I arrived in Kenmare with some energy in reserve and a nice pot of Pasta on the table made by our resident chef Mags. This was one of the most unprepaired I have being the night before a race. I was still sticking gels to my bike until I noticed it was 1.00am. So off to bed only to wake twice for the toilet. With 3hours sleep, porridge ate, one of Kierans free range eggs, and a cuppa tea off we go. Some fine Irish weather as expected drizzly rain, wet roads, with heavier rain and wetter roads to come but all the lads seemed in good spirits, many not knowing whats to come.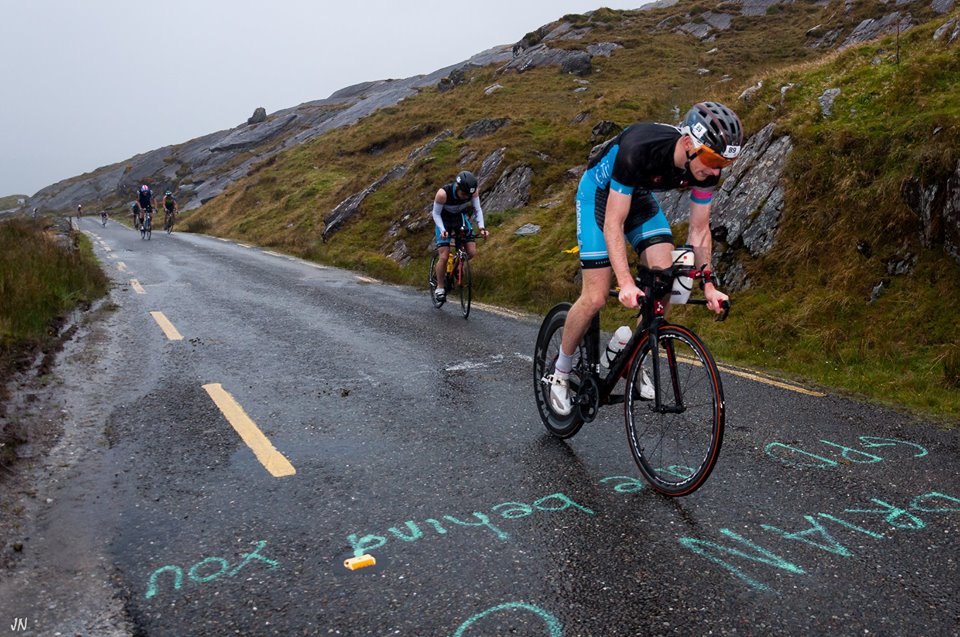 So we all had our bits n bobs all put down in transition, all gear sure to be soaked from the rain during the swim, covering with a towel doing no use. Wetsuits zipped, pictures taking, a hazey fog covering the bay, just able to make out the farthest bouy. Into the water, a little paddle to get a taste of the salty water.  I decided to start to the left of everyone and ease into the swim, trying to avoid kicks and elbows. So I hear nothing and just see everyone swimming,okay the race has started, time to go. Surprisingly I reach the first bouy fast, way too fast, then realize on the way back the current had being with us and now was against us. A very long swim back entailed but at least everyone around me had the same swim and probably were all just as frustrated that we seemed to go nowhere, but for once I think I enjoyed swimming in a race. It was great getting into transition and there is a line of Gotri team to my left and right getting gear ready, Liam finishing the swim alongside me, enough time to greet Alan Webb as he picks up his bike and runs, and Dave Coleman cruising out of transition. I must say I was delighted to finally meet two swim fishes Alan and Dave in a T1 zone.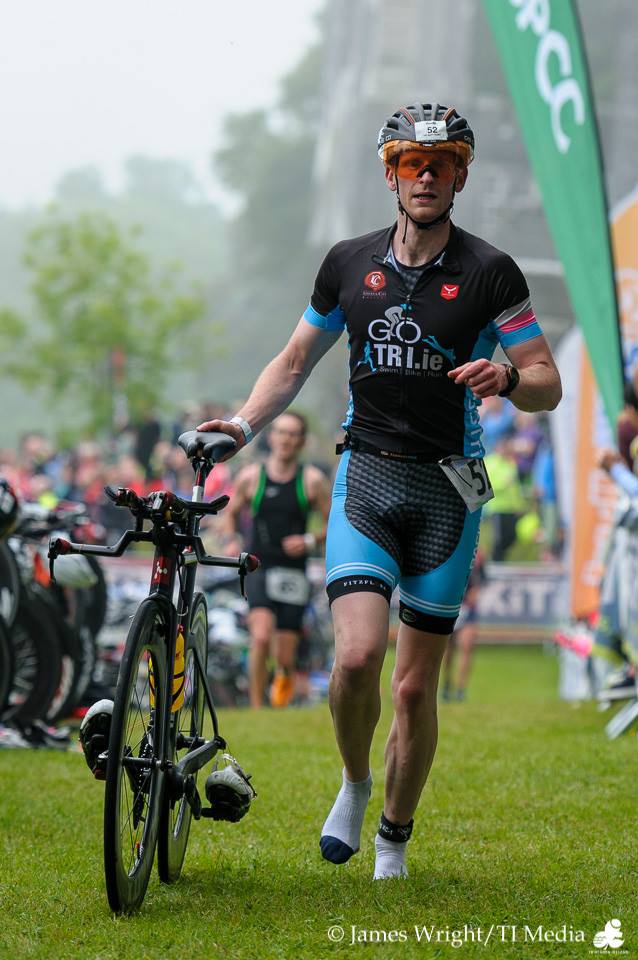 Off on the bike really trying hard to hold back and not take off like a high speed train as usual, telling myself this is not a sprint, go easy and dont DNF. Looking down at the monitor trying to bring my heart rate back down to my planned HR. Cruising along for 10minutes or so I come across Alan Webb. Great I'll keep my 12metres behind  now and Im sure to have a good pace for most the race. Liam Dillon then appears and zoom he's gone, where is he gone? I hadnt seen what he had for breakfast but I assume was wheetabix, let him go I tell myself, dont chase. Then we get onto second hill and there goes Alan putting a good effort on the hill he is dissapearing on me, 'dont chase him' I tell myself again. So trying to hold my planned heart rate I slog on up the healy pass mostly chasing another female competitor setting a good pace. The Drums of the musicians near the top beating hard like the cyclists thumpers. Put a smile on faces before the last push up to the top. Finally near the top of big hill climb Im back near Alan and we say hello again, on the downhill I seemed to take the less cautious approach and go all out down the hills sometimes with close calls at dodgey bends. Much of the race turns into a blur after this, I must have passed Liam without noticing even. Alot of adrenaline kicking in on the downhills followed by more slow climbs back up the hills, taking in the time to aknowledge how dangerous the previous downhill was, great fun though. Not too many views to take in with the cloud cover but on a clear day, spectacular. In race briefing they said they couldnt find any potholes and I must say for 83km of the race I only saw one pothole, impressive for Irish standards. A long, long drag up the Caha pass, and just hoping the tunnel onto the downhill is around the next bend. At the top of caha pass, off we go again, heart in mouth, flying down the hill, wondering why that tourist car is so slow, overtake him, he looks puzzled. More bends and then a nice long tt style downhill/flat 17k into kenmare, time to finish off my gels and energy balls, my legs hadnt givin up yet. All those long turbot sessions paid off, thankfully.
Into T2 drink half a bottle of flat coke stuff some gels anywhere into trisuit. Start of the gruelling run which I knew from last year is the hardest part of this triathlon. Good pace set of 4.35min/km goin by my watch, happy trying to keep that. At 5k energy levels felt good although cramps in my quads started, something I never get in my quads, must have being the pesky hills on the bike. Each undulation on the run saps any rhythm you think you might gain, the downhills are nearly as sore as the uphills. I see pass Alan after the turn around, a nod and encouragment as we continue on, knowing pain of it all. Liam cruises by looking fresher than anyone. The experienced Mike Heaney passes, then Dave runs by splurting out some words of hate and detest towards the race, although he did look fresh. Half way point I still have some energy but my legs are gone, cramped up. Each water station I cry out for one coke and one water please, stop and drink making sure I get more down my throat than down my top. On the flat section I definetly gained some rhythm, passing the odd runner. The horrid hill at around 17km seemed harder than last year. I was at 17km and my watch said 4hrs40mins, with whatever race brain I had left I worked out the maths, I can get under 5hours if I push a little more. Cramps in tow I tried to push on keeping each km under 5minutes. This was gona be tight and with 2km to go I thaught I might get a DNF after pushing too hard. Anyways over the line with minute to spare. Good day out. Eventhough I wanted to stop half way through the run and was telling myself never again this is definetely one of the more rewarding triathlons out there. Well done to the Gotri lads and support crew for the day out. Kenmare is a beautiful spot. I would suggest it to anbody who is willing to put the distance in, I cant see any other half Iron beating it, rain or sunshine or in foreign lands, this is a great triathlon and its at our doorstep. I'll be back.
I did this triathlon in memory of my aunt, Paula, who passed away last week. Rest in peace.
Kevin Moloney Kenmare race report 2016