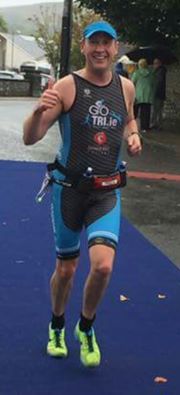 A report from out the back: Lost Sheep 2016
For this season, the Lost Sheep half Ironman in Kenmare was my main goal.  After a DNF in Mallorca last season, I had a lot to prove, especially to myself.  We all know this is a mental game and that we can do the distances before we start, but nothing can prepare you for race day.  Even on the morning of the race, looking around at some very experienced triathletes, you could see they were a bit anxious too.
This is by far the toughest 70.3 in Ireland.  The swim is tricky because of the turning tides, the bike has 2 Cat1 climbs and another tough climb that doesn't even get a mention when people talk about this course.  The run is brutal, all up and down, very hard to get into a rhythm.  But we all knew this was what we would face.
Going back about 3 months, I studied the course profile and knew that I needed to try to replicate this in training to avoid another DNF.  I mapped out a bike course that was 70k long and had the climbs hitting at similar points to the actual course.  Even though the climbs around Gallows Hill aren't as long Healy and Caha Pass, the gradients are similar and this really helped to build up a nice climbing rhythm that ensured I wouldn't have blown up by the time I got to the last climb.  To replicate the run leg, I trained up in Cratloe Woods so was well used to running up and down hills.
About a day or two out, the nerves started to really kick in, but I knew I had done more than enough training.  In the week before I had even managed to cover all the distances fairly comfortably, so I knew I was in the best shape I have ever been in.  The night before the race we all met up in Kenmare, registered, then went to dinner.  There was lots of excited banter, twinged with nervous looks.  Of the 4 of us racing the next day, none of us had tackled the course before, so we really weren't 100% sure of what lay ahead.
Once we got back to our rented house we set our kit up, as we had a 4.30am start (I will never again complain about races starting at lunchtime!!).  I got everything ready and pumped my tyres to 100psi as we were warned at the briefing that it was going to be very wet the following morning and that the descents were going to be treacherous!  Five mins later the guys were calling me, they heard my tube pop.  When I took out the tube it was punctured in the exact place I had one the previous weekend.  I knew there must have been something wrong with the wheel.  When we looked at it, we saw that the rim tape had a hole in it and a piece of steel was sticking out.  We figured that a piece of electrical tape might do the job, but I didn't want to risk it.  Thankfully I had brought a second set of wheels so I took the front wheel from those.  Needless to say, at this stage my head was completely wrecked, but I jumped into the shower and headed straight to bed. 11.00pm, that would give me 5 ½ hr's sleep, it would have to do!
I woke 30 mins later with balls of nervous energy coursing through my body and just couldn't get back to sleep.  I watched the minutes and hours tick by and this just made me more anxious, how was I going to tackle this brutal course with no sleep!!  I went down stairs and felt slightly comforted that both Liam and Alan had slept rubbish too.  5 mins later Aussie bounces down the stairs, "I had a great sleep"…I could have punched the lucky fucker!!  Ok, nothing I can do about that now, onto the nutrition.  A big bowl of Ready Brek and I would be set up for the race…I practically gagged with every spoon I forced into myself.  Was anything going to go right for me!!  At this point I just wanted to go back to bed, have a cry and just said fuck racing middle distance, Olympics are more than enough.
We jumped onto the bikes and headed out into the pitch dark at 5.30am with the rain pissing down on top of us, we were the famous 5 heading out on an adventure…Mike Heaney the lazy git followed us down, or maybe got a lift down with Mags #2 (as she had been christened for the weekend).  Transition was a bit of a nightmare, trying to set up in the dark, but we had a few torches so managed to figure it out.  We were expecting rain so we had lots of plastic bags, not sure if they were allowed in transition, but everyone was using them as it was still raining hard.  20 mins before the race start, the rack section after ours snapped and knocked my bike to the ground…only mine, the other 10 bikes didn't budge…the Gods of tri were really testing me!  It had fallen on the side of the mech, but I just had to hope it would be fine.
We were counted into the water and once my face hit the cold water, my nerves just dissolved away.  Nothing to do now but race.  There were no waves, all 400 set off together.  I went off in the middle of the pack and this worked well as I got no kicks or punches.  The route was about 800m out, turn right for 200m then straight 900 back in to a red arch.  The first 1k absolutely flew, only took me 19 mins, but then we faced into the turning tide and it was very tough.  5, 6 mins of solid swimming and the red arch just seemed to be exactly the same distance away!  I felt I swam smart, kept my rhythm, found good feet to follow and got back in 45mins, my predicted time so I was delighted.  Up the slip to the transition area and the Go Tri support team were screaming support (fair play to them, we had told them not to come out until 11, when we would be coming back from the bike leg, but no, they came down in the dark and stood in the pissing rain!!)
I took my time getting ready, I had a long cycle and there was no point in trying to save a minute in T1, then suffer out on the course.  I opted to wear a full bike jacket as I knew the mountain descents would be cold and the heavy rain was just going to be miserable.  Looking at last year's transition times, I was wondering why they were so long, but the way it's set up, there is only 1 rack of bikes set up against a kerb, this meant that the mount line was about 500m away!!
Out on the bike and the first 15k are fairly flat, some small rolling hills, but nothing to trouble me.  I took a gel and some water and was feeling good.  I worked hard on the bike this year and was thinking I could avg about 28kph on the course, providing I could make up time on the descents, but I decided to go no faster than 25kph and save it for the run as my running had been going well lately. At the 15k point I was averaging about 29kph, but as it was mainly flat, that was going to happen.  This was the start of the first "small" climb at Lauragh, 4km at an avg of 4%, very similar to Gallows Hill.  I had no issues here, just climbed at an easy but steady pace and waited for the descent to try to claw back some of the time.  We were warned at the race briefing that this road was recently tarmacked, so could be greasy.  Two corners down and I nearly went straight across the road into a wall.  Coming down from Gallows I can really let go, but a completely new course in the wet is a different story.  After that scare I eased my way down, but even with both brakes pulled half way back, I was still tipping 35kph into unknown corners.  It was just so wet there was no stopping!  I tried to recover as much as possible on the descent as you go straight up the Healy Pass once you descend.
Ok, this is why people do this race, just go steady all the way up. 5.5km with an avg gradient of 5.6%, this was going to be a lot tougher and I knew it kicked up for the last 800m with gradients of 13%!  Half way up I realised that there was a beautiful lake below, but because everything was wet and grey, it was hard to make it out.  Everywhere on the course you could hear water flowing, there are amazing waterfalls around that part of Kerry.  I finally reached a sign that said 1k to the summit and could see a switchback corner and the people up the road were suddenly well above me as it was really starting to kick up.  This part is really tough, but parts of Cratloe top out at 16% so I was used to these gradients and I knew I'd be able to get up it with a compact set up and a 28 cassette. I took another gel. 200m to go and the grass was gone and it seemed to be just all exposed rock and waterfalls. Amazing to see, but maybe in a car, not on a bike after having cycled up in the pissing rain!!  But then I could hear drumming and singing and I knew I was at the summit.  Each year a group from Africa and Brazil called Craiceann go up there and encourage everyone, they were brilliant.
Then there was the descent!  Once you start descending, you can see the road below and all the switchbacks.  It really is like a route from the Tour de France.  Brilliant to ride down, but very hard to control the bike and you could feel it twitching on the corners.  Thankfully they had marshals on the worst corners so you knew when you really had to almost come to a stop to get round them.  Doing a route like this, it really makes you appreciate the bike handling skills of the pro's.
Off the Healy and then onto a draggy section of about 20km that takes you onto Glengariff.  At the summit of Healy, there were around 10 of us fairly close together, but when I got down I realised they took it a bit easier than me coming down, so now I was kind of in no man's land between two groups. For the next 5km I was cycling on my own.  I took on a granola bar and more water as I knew there was an aid station up the road. About 5km before Glengariff I suddenly felt exhausted, I completely bonked!  My eyes were even starting to get heavy. I got really nervous and thought, that's it, DNF no2!!  I knew it couldn't be the nutrition as I had two gels and a bar in me.  I put it down to lack of sleep the night before, but I think also it might have been down to cycling on my own on a very quiet road, the race adrenaline was gone and I was just exhausted!  I considered slowing down for the group behind to catch up but decided to keep going to the aid station at the foot of the Caha Pass.  I stopped here, got a new bottle and took another gel.  Thankfully two from the group behind caught me here so I paced myself off their pace going up and just stayed back 5 or 6m incase anyone thought I was drafting.  Not sure if you could call it a draft when you are only going 12kph!!  At this stage I was so exhausted I was thinking if I can just get back to T2 that might be enough, it would be further than Mallorca, maybe 2017 I might finish one of these bastards!!
The Caha Pass isn't as steep as the Healy at only 4%, but its 8.3km long!!  I was completely spent and I genuinely think I would have struggled to tackle it only for a few riders around me.  It just went on and on and the weather had yet to improve.  Again the scenery is spectacular up here, just a pity it wasn't a clear day.  With 2km to the top, the organisers had spray-painted on the ground that the tunnels, which was the summit, were around the next bend.  I couldn't believe it, I figured I clocked the wrong distance at the bottom and was delighted, I suddenly felt a bit of energy returning, knowing that it was a gentle downhill and flat then for the next 15km back to T2.  WTF, round the next corner, where are the tunnels, why can I see lots of road ahead, all going up!!  Then on the ground, they had another message, "Sorry, we meant the next bend"….the fuckers!!!  Why would they think this is funny!!  1.5km left to the top, just keep pedalling!  Finally I saw them, these amazing tunnels bore through the rock.  Once through these it's the descent.  This descent isn't a patch on the Healy and it seems to end very quickly, it becomes a very gentle descent half way down and this continues most of the way to T2.
I had recovered a small bit on the way back to T2 and was determined to get out on the run course.  Just as I approached T2 I spotted Mags's bright pink runners and I could see the look of relief on her face.  I don't think she thought I crashed, but more that I had quit and she would have to listen to me for another 12 months.  If she only knew how close I felt to packing it in.  When I got to T2 I decided to walk all the way back to the rack to try to recover a bit.  I looked at my Garmin, 23.2kph average pace!!!  How could I have worked so hard and be so slow.  In hindsight I didn't really have the energy to be in the big ring so ended up spinning a bit more than I should have and coasted down as many hills as I could to get in as much recovery as possible.
I racked the bike and took off my soaked jacket, it must have weighed 3kg!!  Thankfully I had dry socks and runners in a bag.  I brought a running belt with two small water bottles and a pouch for my gels.  This proved invaluable.  The aid stations only had plastic cups so you couldn't run with these and they were about 5k apart!!  I had two caffeine gels for the end of the run if I needed them.  I don't drink tea or coffee so these give me a big kick, but they can upset my stomach, but that would be towards the end of the race so it would be worth risking!  1k into the run and I knew I needed the caffeine gels now!!  Took two small mouthfuls, but they didn't go down well, I think it might have just been the introduction of another sweet flavour.  I gave it another few mins and took my own non caffeine gels.  I spent 3 months taking lots of these on training days to get used to the feeling of running with a belly full of gels so these were ok.  At about 3k you turn onto the out and back section, which is about 14k long.  There were mountains of people running back against me, the bastards!!  I was on my 3rd km and they were on their 14th!!  This out and back section was torture, all sharp up and down sections, that hurt as much going downhill.  A little bit up the road I had to stop for the first time.  I was so tired I didn't even know if my legs had come back after the bike.  There was a long hill of about 2k!  It seemed to go on and on.  I walked up this and really started to wonder how I was going to tackle another 18k!!  With Olympics you are never too far away from 5k and then you are on the way home, I still had another 8k to go before I even reached half way!!
At this point I started to see a few familiar faces coming down the hill and they were shouting words of profound encouragement to start running again..ok they were cursing at me, but it worked.  I started to get back into a slow trot but still felt completely spent.  About 1k later I hit the aid station and they had high 5 drinks, I normally don't take these but thought fuck it, I'd eat cow shit now if you told me it would get me to the finish line.  I started jogging and suddenly got a burst of clarity, the high 5's were kicking in and I really started to feel better.  I got into a rhythm of running on the flatter sections and walked any spots where it really kicked up.  There was no way I was getting up them running!  The turnaround section was finally here at about 8km.  There was no timing mat here, the last one was about 1.5km back…I ran that extra 3k for nothing, I could have slept in a bush for 15 mins!!  Mentally it was great to turn, but there was still 13k left.  I was progressing, slowly, but the KM signs started to come along a little quicker.  I told myself to try to run about 1k, then walk 300m then go again, sometimes it worked and sometimes I only got about 400m, but it was all getting me closer to the finish line.  The good thing for me was that people were still coming against me when I was coming back in, so I knew I wouldn't be last, but I really didn't care, finishing was my ultimate goal.  The weird thing is that the Lost Sheep has a very strong field, a 6hr finish would only get you into the last 100!!  That's insane!  Finally up the road I saw the finish of the out and back section and knew there was only 7k left, I can do 7k no problem.  At this point I knew I was going to finish and just felt relieved.  Of everyone in the club that has tackled the 70.3 distance, they had all completed it and I did NOT want to be the one that failed twice.  It was massive pressure that I had put on myself.
The next aid station I think they felt sorry for me, I must have looked a state, while I was drinking the water they gave me, they also took my bottles and put high 5 in one and water in the other, so nice of them!  The legendary hill at KM17 had finally arrived.  3 months ago I decided I was walking up this one!!  Funnily enough I think so did everyone else, everyone ahead of me was walking it too.  Seriously, there should have been an escalator installed here!!  At the top of this there was only 3k of flat and downhill sections.  I was nearly home!  At the 1k turn I could hear the loudspeaker.  I finally got my second wind!!  The last km was lovely, I had done it.  I started thinking about the last 14 months since Mallorca.  What a relief it will be to finally get this monkey off my back! Round the last bend and I could see all the lads and girls at the finish line screaming..what a feeling!!  I was beaming.  Then as I was crossing the line I saw the clock, 6.56.  How could that be, I must have been at least 7.30!!
It was so nice for everyone to hang around for me at the end, as Kevin had finished two hours before me and the rest 1-1.30hrs.  But we started as a group and we finished together J  I have loads of medals, but this one I had to dig so deep to get, it will be precious!!  Ok, it also doubles as a bottle opener so I will make plenty use of it too!!
A big thanks Eimear and Roisin that did some of the tougher training sessions with me and to STL for recommending some of the sessions to tackle to ensure I would be ready.
I would highly recommend this race to everyone in the club, but maybe not for your first one, work up to it J
Greg Maloney Kenmare Race report 2016