Sunday 16th September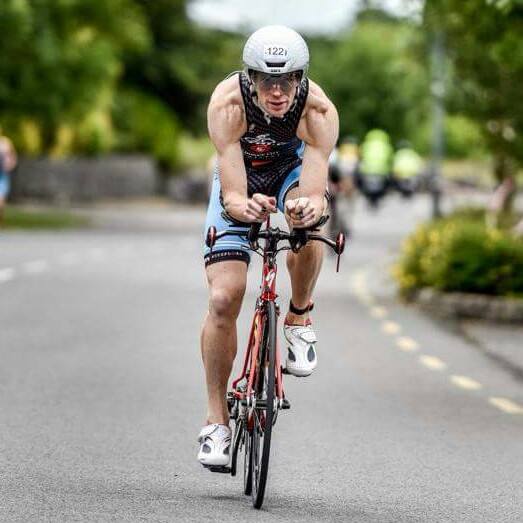 So
Friday get gear packed early got to Kenmare in afternoon nice and relaxed afternoon, staying hydrated eating small amounts early dinner…. DAVITTS again had the Jambalaya for dinner about 6. ..felt really good ..body and legs felt fresh.. All the right markers for mindset.training done the result will tell…
Registered for race and went back to set up the gear. Setup done..stretch and down to race briefing.back at room for 9.30 had some porridge another stretch and off to bed.
Sleep was light and broken.. anticipation nerves good energy..!!! But craved a bit of sleep..
Up at 5.20 dressed some energy cookies and Rego drink with creatine and l glutamine. Transition at 6.20.
Setup pretty quick good banter with some Naas tri folks. Off for a quick run warmup get the heart rate up for the swim.
Everything done that can be done ..down to water edge..water only 13 degrees..balmy..haha.
Into water to get climatized moved left to stay out of traffic. 5mins in water.
Shot blast and away..low tide..water shallow for all the swim. Lost feet but had my own sighting but was going backwards at times against tide or a channel..there must local knowledge of the water down here…turned for home and started to motor getting more comfortable on the way in.
Out of water in 39mins to slow..but not aware of time..want a good time out of T1..
Went to plan suit off out on bike and shoes went in no problem..now..reset…bike legs to wake up ..patient..start pushing after 5km. Drink..
Lauragh climb first..stiffer climb than I remember but again knew it wasn't too long an effort..TT to down to the lower section and straight into Healy pass..now here is the challenge back off until half way up then give a good push..improve on last years climb..last 200 m hurt but over and done with..Down hill cuts backs a few hairy edge ones but down and a great TT section. Gel on board to recover.
Drink more recover get HR under control
Get the gear right and into TT position
Up to county bounds lumpy part of the course some rough road but same for everybody. For some reason Glengariff arrived before I had eaten my protein bar. Get it in quick. Not enough water taken still but had I taken in enough..time would tell but knew I needed to get this in before Kenmare 20km to go …
Here comes Caha
Longer climb not as severe as Healy but a leg buster. On the way another athlete I have been chasing this year and had only caught in the run of lost sheep was in my sights out of Glengariff..caught and passed!!
Have to be going well !! But how much will my it cost me leg wise..grind it out get to the top of Caha.. Keep talking keep focussed on the climb..thru the tunnel ..and out..enjoying the decent..
Pit stop near Kenmare..4 bikes catch up..but know I can pick them off on the run..
Into T2.longest T2 ever……………………………………………………………………………
Flat runners and socks on 2. Gels in hand..legs tight but OK going well as expected and expecting to loosen out..
First 2 km OK but now it hurt had to stop stretch quads..hills were going to really hurt expect a battle all the way out..and it was hardest 10km I put in for a while..3-4 more stop walks but when running I was on pace and could I keep going for 3 to 4 km.hit the main road flat road for about 3 km relief and a chance to get HR under control before more hills.
The turn at 16km and into the start of 2 km of hurt..stop start again got to the top of hills took on coke and half a mars bar..
Right 4km to home no more stopping!!!..momentum kicked in and I found a good rhythm.. breathing out strongly keeping blood going and upping the speed all the way home picked off 2-4 people ..turned home for the last 1 km and spotted an earlier athlete from West Clare..that I wanted to catch..to little distance but got to within 20m of overtaking him..another day
Finish came insight ..Charleen there….the hurt started …but it was OK….went to the well and it was there..hurt subsided..legs were burnt but no injuries or additions…In all fairness for the cost and the event itself.. CTC really have a great event..goodie bags ..setup ….course and finish is as good as it gets..in the country
Collected gear and home to Clare.. Got online half way home saw the result and was absolutely gob smacked…but happy with the day overall..8 mins closer to the magic 5 hours..in Kenmare..
Thanks to everybody for the congrats after the race..Charleen and the my lads are brilliant to give me time when needed to do this sport and its nice to get the podium sometimes..More plans for next year that will be my 1 and only race report!!
Liam Dillion's race report on The Lost Sheep half Ironman