Gaelforce West *Race* Report
by Aoife Fennell
I'd like to say from the outset that this race report will show a side of me that I like to think is not reflective of my usual cheerful personality, however, in the interests of honesty and passing on the lessons learnt this will be a warts and all account.
or if you want to save yourself some time, this is the main lesson learnt: Eat more. You do not know better than all of the experienced adventurers. The result of not eating enough is akin to trying to get a toddler who wants to be carried to walk. Up and down Croagh Patrick. You are the toddler in this scenario.
I've been excited about doing GFW since it was suggested in Jan of this year. Consistency is usually my downfall when it comes to training. Partially due to time constraints but being honest I can't use that as the only excuse – I can procrastinate with the best of them. However, a good fit of training partners really helps and I had that in droves. Regular attendance at Erin's strength classes was paying huge dividends as I noticed I was maintaining and improving at events despite not having put any significant time into the swim/cycle/run disciplines. Wednesday morning loops of the 12 O'clock hills organised by Philip were becoming my meditation, plus there is always the added benefit of being smug after having significant training completed by 7am (the need to be in bed by 9:30 wasn't boasted about as much). I'll always think I could have done more but good groundwork was done. I bought all the recommended gear – a skill I picked up when I started triathlons. Last minute training wasn't ideal, but not to worry – I just bought more gear. The small discount we had negotiated at the point of entering was well gone by now. I got it all in the sale though John.
The packing seemed to go on forever: working back – I had to leave straight after work on Friday which mean packing Thursday, which meant having things clean and dry so washing gear Wednesday. We came back from our holidays late Monday, it was a busy week! The nerves which built steadily all week didn't ease until I hit the road for Killary. The journey seemed quick though, no queues at the bike drop. The difference in bike racking to a triathlon was unexpected – I initially waited obediently with my helmet clipped on to be checked into transition and ask intelligent questions on neutral bike racking, while the marshal in charge only wanted cared that we had our race number. All I left on my bike was a helmet, small toolbag, some homemade fruit cake and an empty drinks bottle (my plan was to drink from my race vest and fill the bottle for climbing CP). Onto Westport where I happily engaged in the afternoon pint with the rest of the gang then off to the campsite for final preps and sleep. Despite the best of intentions it was after 11 before I settled and the alarm went off at 4. At 4:05 I was dressed and ready to go. Hmm – imagine how much faffing I could save during the week if I was always this organised! Off to Erin's camper where we had a plan for the coffee (her kettle, my espresso machine, Aussie Dave's cups), and I ate my overnight oats, or half of them at least. That is the first clue.
John Mangan kindly gave us a lift and we were at the bus stop just after 5am along with a clatter full of other racers. What is the collective noun for adventure racers? A wave? A midlife crisis? The bus journey out was fun, lots of banter and chat. It was also unexpectedly long, taking an hour to get the start line. Daunting when you think we had to take the long way back under our own steam. I confidently handed out my predicted times and splits, no doubt unnerving the beginners and amusing the experienced racers. Finally at the race start, a last toilet stop, some group photos, a lot of nervous giggling and we were finally off.

The first run is beautiful, and I knew that I needed to hold the pace back initially. I still found the first couple of km uphill tough and my breathing was more laboured than I would like at the top. Down a swift km (where a guy in front of me skidded on the gravel and dropped heavily! I found out later he needed stitches, and he still finished!), then another slight rolling climb until the turn onto the old famine road. I loved this section and gained a few places, but by ten km I knew I had to push hard to get my planned time. It was too soon for pushing hard so I eased up on the pace and got to the kayaks without too much drama. I fell into conversation with PJ along the way, a veteran of every GFW so far who was very encouraging.
At the kayaks I was conscious of getting out of there as fast as possible, I dibbed in and out as I thought was required, which led to a time-out on my final results. One dibbing was all that was needed here. I grabbed a life jacket and into the front seat of the next kayak – the bit of kayaking I have done told me I have no navigational skills, unless not going in a straight line is a skill. Peter from Dublin hopped in behind me and off we went. For approx. 3 seconds, when I realised I had no paddle. Lots of yelling and backwards paddling from Peter and I was handed a paddle, off we went again. I tried to give a few helpful hints to Peter, but I don't think he had much confidence in me by then. I concentrated on keeping a regular rhythmic stroke which Peter steadfastly ignored. About 500m in front of us a kayak overturned, and while we kept moving forward I saw one lad get back in and the second slowly drift away from his kayak. We changed our direction to head for him while yelling for the support boat. This came at speed in front of us and we spent a minute trying not to capsize ourselves. As an aside, I spoke to the guy who was in the water later, he told me he couldn't swim (?!), scary moment for him I'd say. Peter asked me commented on how tough the famine road had been and asked if there was any more running after this bit. There's a bit I said, not sure if he was taking the piss. Do we go all the way up CP he asked, we do I said brightly, increasing my paddle stroke rate. Into the shore and there seemed to be a lot to do quickly – drop paddles, press garmin, remove life jacket, dib in and start climbing. This section of the run was the only bit we hadn't recced during our weekend around the course in May, and I had pictured it as a run along the shore. It was a climb and was an actual bog, not just damp soil. I jumped across a ditch and misjudged it, landing into bog water up to my thighs. This was fun though, and I began to enjoy myself. Once over the initial stretch I found a nice rhythm and caught up with PJ again on the road. I had my first gel here. The uber-supporters Sarah and Lisa cheered us on going into transition, the third time I'd seen them on the course.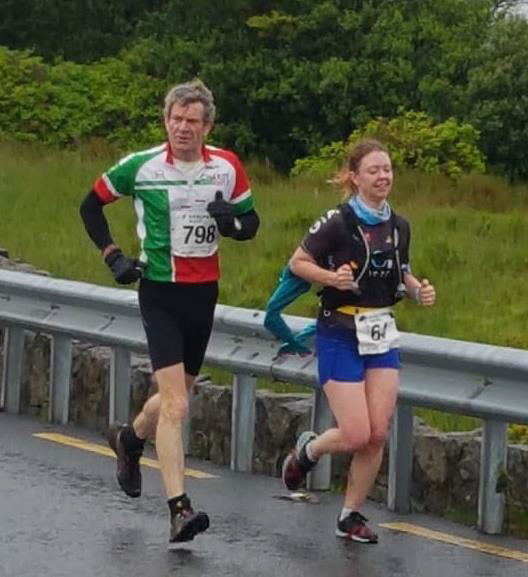 Onto my bike and I settled into the pace. I found the first 10k great, I hung onto faster cyclists while I could and felt strong. I unpacked my fruitcake from the plastic bag taped to the crossbar. Just as I took it out, I went over a bump and lost most of it. Not to worry I thought, and ate the few crumbs I'd retained. Up and over the big hill, I was braver going down than I had been during the recce, and enjoying the speed I pushed hard. This didn't last though and I found it hard to maintain a good pace on the rough surface and wind. At this point I'd
picked up a drafter – oh the pride at being fast enough to deserve a drafter of my very own. We overtook a few riders, passed STL who was unluckily walking back with his flat bike, and onto the main road. Drafty McDrafter behind me was still there and I was starting to labour on the bike. Would you like to take a turn I asked pointedly. Haha I probably should he said and stayed behind me. The irritation was building and after another 5k I turned to face him – it's your go I said through gritted teeth. The last laugh was on me though as he pulled in front of me and dropped me immediately. I saw him slip in behind the bike 500m in front of me and I was unable to close the gap. Shortly after this we turned onto the rocky trail that became the bog road. The wind here was full on and the surface was manageable but gritty and I could feel my bike getting clogged up with debris. I pedalled past Drafty who was walking at this stage (ha I thought meanly) but my average speed had dropped to single digits. Two cyclists passed me and I latched onto them gratefully, my speed immediately going back up to 15kmph. It was less about the shelter from the wind and more about the mental boost of cycling with someone. Thank you so much Strong Calves and Red Jacket. The pace dropped again in the next section but I focused my entire efforts to stay with these lovely men. We chatted a bit (this was only a training race for them) and eventually we all made it to the next transition point. I had a second gel here and filled the soft 300ml water flask Paul had lent me the day before. I dropped my race vest beside the bike (including any other nutrition I had left), filled the flask and off I went.
I was conscious of my time all morning, having poured over the previous year's splits and knowing exactly what finish times my paces were relating to. I had slipped off my original ambitious 5hr finish time but was still easily on pace for a 5:15 – 5:30 finish. Initially the CP climb was going well, but I started to find it steeper and harder and quickly everything became a struggle. My inner mantra was Dorys just keep swimming. The trail evened out briefly and the dulcet tones of Metallicas Enter Sandman made me laugh – just in time for the photographer stationed halfway up the mountain to catch a few frames. Clever. I was told at the base that only a few climbers were off the mountain and when Alan Webb propelled himself lightly past me I figured that the next girl I saw was the leading woman. One. Two minutes later another woman nimbly leapt over the heather in front of me.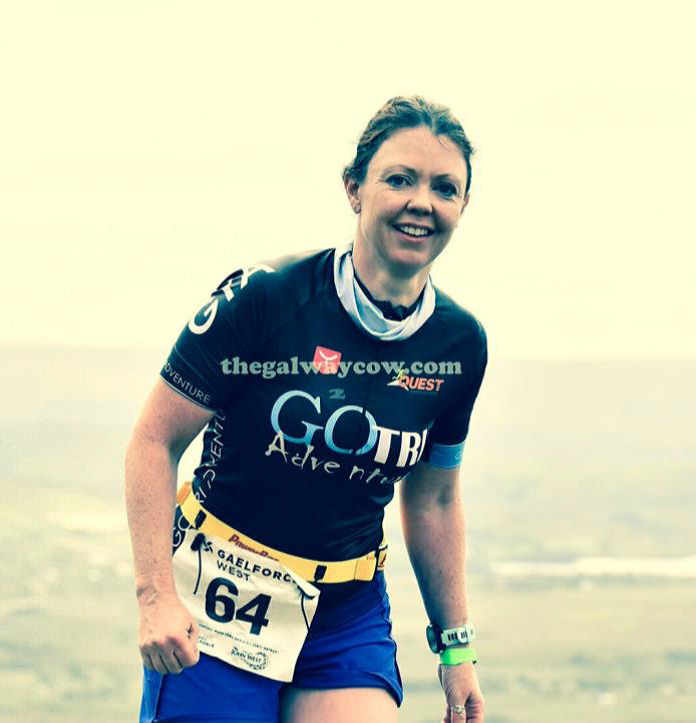 Two. The third lady was another 4 minutes back. I kept a smile on my face, quipping and calling out to the GoTri racers who were all doing amazingly, but inside I was falling apart. My original plan of steadily moving forward had been replaced with hands on knees achingly slow progress. I'd eye a landmark 20m or so in front and promise myself I had to get to that point before I could stop. And stop I did, frequently and heavily. After looking up once or twice, I was overwhelmed by desperation at the effort I was going to have to make. The smiles had gone and the quips to passing athletes (of which there were many) had changed to little sad selfmocking comments. PJ passed me going up and complimented my bike time. I looked down at one point and saw Kiera strongly and steadily making great progress. My usual competitive spirit just thought well done to her, but there was no corresponding inner drive pushing me to keep my lead. I kept going. Girls four five and six came past me on the way down. I was being promised that I was almost there, but those are words that suck the life out of you as you know they aren't true. I climbed, sat, climbed, rested, climbed in an endless cycle. Inside my head I was flipping my finger at everyone around me, horrible happy people. Philip passed me on his descent and said I was almost there. I may have looked at him with narrowed eyes as he stopped and said, you are, look, there is the hut. I looked up and he was right. But this was just an interesting fact, I still had to get to the hut and that meant having to keep climbing. Kiera passed me and asked how I was. Not good I said a little desperately. She stopped briefly and told me I was almost there. Hmm I said. Very quickly she was back, having dibbed at the top. And in a beautiful show of kindness that cut through my dark mood, she said she'd wait for me, just go and dib and we can go down together. No, absolutely not I said, a little brighter, you go. She had turned to go when I called her again – you are number seven, go go.
I finally finally got to the top and cursed again. The basterdin' GFW folks had put the dibbing point over by the church which seemed like ten meters further than necessary. I though briefly that I was over the worst of it, but descending was laborious, made even harder by the need to lift my feet up and over rocks, and basically lift my feet at all. I caught my feet on rocks a few times and fell, throwing myself painfully back onto the shale to save myself. Any attempt at moving fast was gone and I was just plodding along, giving anyone happy the evil eye. I did pass Drafty himself climbing up but was too far gone to get any pleasure in his struggles (I had really developed an unjustified dislike of him!). Halfway down I met Erin and Aussie. Are you ok she asked, noooooooooo I whinged. Erin gave me a big big hug which made me almost cry, and off I went again, at bottom speed. I headed off the side halfway down, not because I had any competitive spirit left, but because it was the fastest feckin way back. Looking at the results afterwards, it took me 25 minutes more than Kiera just to descend CP. Back at transition mine was the only bike left in my row, a small indicator of the places I'd lost. Someone had shed a whole load of energy bars onto the grass but I didn't take advantage of this subtle helping hand from fate. Oh no, I would like to carry all of my remaining food back to the finish line untouched. I also had about half a litre of water left in my vest meaning I drank approx. 750ml in the entire event.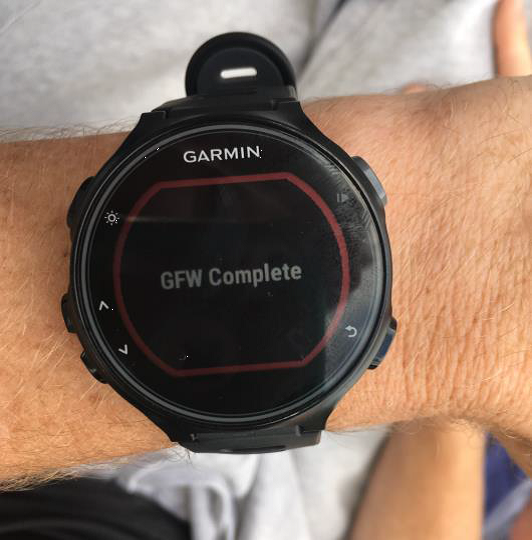 Onto the bike, using different muscles was a relief and I enjoyed the brief fast downhill, remembering to change into lighter gears for the turn. I held out on the bike for about the first km, but once I started walking, the mood descended again. There was no attempt to run or to keep any speed up. I plodded along, thinking hateful thoughts about the stupid rocks. Getting back onto the road was a relief and I enjoyed the descent and the final cycle into Westport. This was the only section that I came in on my original schedule. That's not entirely true, the kayak was under the ten minutes I'd planned for but as that wasn't due to any input from me I'll disregard it. The final dismount, the utter disbelief that I had to rack my bike (my brain just couldn't compute this), the flinging of my helmet in a huff onto the ground and onto the last few meters. I could hear the huge cheers from our crew, and as I saw the line I could feel the emotions building up. Once over, I had to stay on my own for a minute to let the tears pass. Kiera gave me a cup of the nicest soup in the world and left me to pull myself together.
John said to me later that day that he was sorry I was disappointed with my race, which made me conscious of the negative language I was using. Despite how pathetic and moany I sound in this report, I have learned this – I am stronger than I gave myself credit for, I am proud of myself for not giving up and there were some enjoyable moments. I think. I saw the mountain, hated the very thought of it, and I still conquered it. It was so much more intense than I'd expected, and I hope that I'm right to believe that the two gels and mouthful of fruitcake was just not sufficient nutrition and more food would have made the race a little more like a, well, race, and not a sufferfest. And I have to return to the scene of the crime next year, armed with a full breakfast buffet, and make like Kiera on CP. I can't say enough about the lovely people I've met and gotten to know during this, so I very much hope that this is the start of a whole host of beautiful adventures.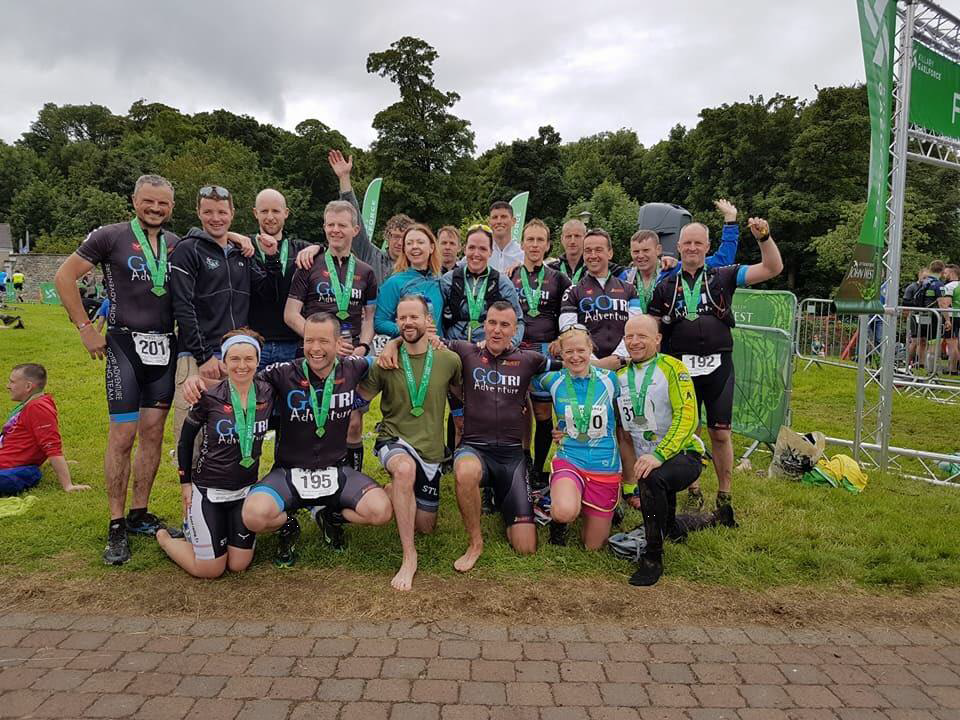 Aoife's Gaelforce West Race Report