Lssd memory spin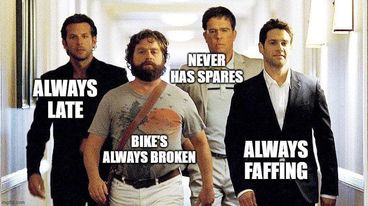 If fun can be used to describe it, in that typically Irish way, the harder the effort the more rewarding the story.
The memory tour or longest spin on the shortest day. Aims to take place as close to the winter solstice as possible each year.
(A loop of Lough Derg is a 110-120km depending on which way you pedal.)
Those pesky pagans never imagined Mamils riding around on 2 wheels, especially on the shortest day of the year. Under lights, the pedals first turned, while most were still dreaming. The steaming bowls of porridge fuelled aspirations of a gaggle of mamils embarking on a lap of Lough Derg lake.
James H:
"Starting off the re-realisation of what it is like to ride in the dark hit the two stooges going through Broadford.
Without the distractions of the landscape time passes faster than reality. "
James Hanrahan & STL left via Shannon at 6:15 while Thomas Brien left 6:15 via Newmarket. The darkest hour is always before the dawn …… dawn being 8:15 at this time of year, these lads had left early ! Not too far ahead of Meelick man Liam D
Sometimes arriving early is a bad thing, clattering teeth announced the madness of those early morning dipper folk at Two mile gate, Killaloe. A hail shower, a few giggling bodies laughing at those early stooges who were currently hiding under a tree. Oh how jealous where we of those warm vehicles !
Liam D:
"The day started wet ..dark too dark for an early spin..trying not to have a mechanical out to Killaloe..
As we gathered we became more exposed to the weather..had the banter..nearly all jumped into Bullmans van and drove the lake..
The hailstones were blinding in Scariff ..two mechanicals ..sorted, right no more…..cold cranky and the banter was minimal..but still..not broken and a certain pull to get this day done for each of our own reasons..
Spilt in two..2nd group with the hounds..into Portumna..oh Jesus I needed coffee..sugar and Marigolds..all the expensive gear..and a 60cent pair of yellow marigolds was all I wanted for the head wind..we started a trend 3 sets purchased today."
A lovely group of 11 set off from two mile gate, all attention mentally turned to freezing hands & feet. stunning views and vistas were momentarily ignored
Do we go back for Bulman's van ?
The group split after a puncture …..
Do mudguards really work ? Hanrahan decides "gloves just don't work" pulls out his Sean Kelly bad ass impression and decides post puncture to light it up chasing back to the group ahead – no gloves needed !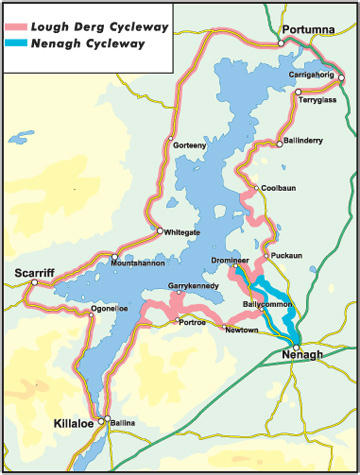 Thomas' thoughts:
"Acclimatising to event conditions is really important and with that in mind I've decided to train in the dark on a turbo while in a storage freezer turned to minus 10 and get someone to spray me with a hose.
At least that's what it felt like leaving home at 6.15 am on route to the Memorial lake spin "
As Hanrahan played giddy up with his troops a jubilant Alan Dunlee starting singing, a cringe worthy rendition of some long forgotten tune, he had already started the smack talk about a certain hill.
Thoughts of coffee were strengthened as we sighted the group ahead, Broc, Jo, Rory & co … Young Phillip collected to make it back home in time for Gaa training.
Rolling into the coffee stop…. oh caffeine your a beautiful thing 🙂
Coffee stops are for some the epicentre of why they ride, for others not so important but can we all agree cyclists sound like teenage girls in high heels walking onto a dance floor but instead being fuelled by champagne they get their highs from caffeine. Covid aside a fuel stop was needed ….. "do we go back for Bulman's van ?" Might have been mentioned once or twice again
Alan's thoughts:
"Lap of the lake memory spin 2020
Cold,wet,hilly and wet. 2 pairs of marigolds purchased mid spun(smart move ye two)
Steve, Liam and James H put in the extra miles cycling from Shannon, fair play ,and Tom cycling from Newmarket, chapeau!
Tailwind to Portumna, headwind home and work load shared evenly.
Portroe was nervy, with everyone fearing an attack, so I pulled into the petrol station halfway up to allow myself to drift in behind STL. To watch, to wait…..but alas the attack never materialised. Cold wet days are like that sometimes, but so are spins where no one wants to turn the screw, cos yere all in it together .
Good honest hard day out in biblical conditions where everyone kept plugging away while having the laughs.
Christmas fattening earned
Ps…next time we're in portroe the marigolds will be off
"
As you can gather from Alan the banter there was a lot of jealousy in our little peloton after the coffee stop and chitter chatter about what partners will feel about them coming home with said presents 😉
So jealous was our Fierce female Joanne, that she pulled in for a pair further up the road, all the grumpiness was gone. Chocolate smiles for a few miles into the hardest section of the loop on the day, legs a little dead from stopping, bodies unsure as to fuel forward motion or digesting sausage rolls. We rolled well into the wind, Broc this time powering on all the hills, those at the back coasting in chatter most wondering if this will be our last spin for a while.
Fast forward a few miles ( yes we took the easier option – better roads )
Portroe, with so much excitement for this particular hill, famous to locals, we almost missed it as we took a slight detour to Dromineer for the craic, a few triathletes thinking they were back at the Lough Derg sprint ! A quick turn around and back we go before the show ….. sometimes the best part of the movie is in the trailers …. or was it Joanne 😉
A few words from Broc 
" Where to start🤣.. 540 start to fuel-up and making sure to have everything, it wasn't a race but a banter for me, the nerves were on as I was tackling this for the first time and not knowing what to expect. I drove down with one eye on the sky hoping for the sunshine promised by the rte weather crowd which turned out to be a wash down as the skies opened on my approach to the meeting point, only to be greeted by macarina dancers aka STL, James H and Liam from the showers they had on the way. The troop was ready now waiting for the Animal aka Thomas who seems taking his time arriving eventually the spec of flash light and drenched Tom pulls in. After a change of gloves, the train of 10 flashing red lights like the cringe chrismas lights took to the road. It was all jolly for the first 10k then like from nowhere we got ambushed by hailstone pelting our faces. At this time the train split due to a puncture 5 peddled ahead as we regrouped in Scarrif. Another puncture this time from the train leader STL, so again 5 decided to motor on, with the idea of giving the stallions a gap to empty their tanks in chasing us. 20k or so the cold wet day took its toll on poor Tom who had to abandon the spin and headed home for the warmth of his four walls. Anyway we reached the coffee stop where coffee was drunk dry, gloves put on for those clever enough to bring a pair…likely for us amateurs we had Liam who had experience in wet weather races who purchased rubber gloves…yes they're not only for household cleaning
…we carried on after the fuel stop zig zagging up and down the hidden humps eventually we hit the shortest ⛰️ where I wished I had extra climbing gear, it felt like I was pulling a truck behind me the legs were burning on standing up, gear box failed at this stage time for plan B push the bike up the hill with Joanne's company… I had to push to get to the coffee waiting in my car. Enjoyable day to be on the mix of hard cores hill climbing maniacs
🏾
🏿"
Liam & STL headed for home ( James H went to Bullmans van 😉 )  via Barry's cross, conversations turned to grunts, pedaling circles turned into pedaling squares, gels were being consumed like kids selections boxes !
Thoughts of coffee at Barry's were ignored, legs starting to come around both parted ways as STL decided it was best to climb towards Cratloe and home. Only those pesky pagans knew what he was thinking …. the harder the effort the better the story 🙂
Liam D 
"Home and suffering…it passes….memories will pass …but the reason for the day.. for the spin will always  be for those we wish we could tell these stories to.."
Until next year : pedal happy, : thank you mamils & Jo for making it a great spin
more pics to follow !
LSSD Memory Tour annual spin 2020