Joey Hannan Report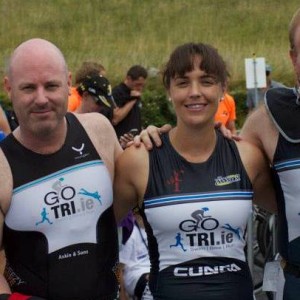 Why did I decide to do the Olympic distance? I was asking myself that all last week, I guess I wanted to see if I could do the distance so I would know if I could handle HOTW in June or not.
I had myself all organised on sat, everything ready and laid out so I wouldn't be fumbling around on sunday morning. Had gone through my check list so I was felling okay.
Got to transition Sunday morning and set everything up and walked through transition with Mairead so we knew where we were going. Off to support my team mates for the morning, It was great to see my team mates overcoming hurdles weather it was the tri a tri or the sprint. Very proud of you all, well done. I was overcome with emotion before I got in the water; don't know where it came from or what happened. Poor Mike had to calm me down and let me have my cry.
Swim started fast and I wasn't ready for that, I got into a bit of a panic but I struggled on and finally got out of the water. I wasn't happy with how my swim went as I had worked hard on it over the winter and just couldn't relax in the water.
Got out of transition and onto the bike, had a lot of conversations to myself here to try relax and calm myself down after the swim, nothing I could do about it now so time to start peddling and just concentrate on the bike now. The support and encouragement from my teammates here as we past each other on the out and back bike course really helped me dig deep on the bike.
Bike over and time for the run, aghhh…running and me don't have a good relationship but I'm working on it. The support at the turn around for the second lap was brilliant, I have to say the team spirit and support that we have in the club is second to none, I was overcome again at the turn around and then STL as always had words of encouragement on the road to help me. The finishing stretch is a bit of a blur, I was so tired when Rory appeared to help me up the last hill and get me to the finish line, he told me to smile that I had just done my first Olympic distance, I didn't know if I was smiling or crying by the end, I was just so happy to have done it. Another box ticked
Mags Jones — My First Olympic