Rebacca Coughlan -Ennis Track
Rebecca had a great race to finish in second place on night one and we wanted you to hear her advice……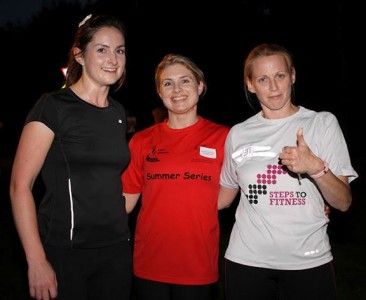 Becky – Center
What did you think of our 5km course ?
I liked the route, it was flat & fast and a p.b. course but also good for beginners, and having a kids race timed & everything was a brill idea.
what advice would you give people coming to the 5k on the 12 of july ?
The advice I'd give is jog 1 loop of the route to warm up & get an idea of the course, try pace yourself for the first loop and then try up the pace then for second loop.. which is what I'm going to try do!
whats your favorite training session ?
My favourite training session is fartlek (not in the pool!) or 1200m's/1000m's.
what is the best advice you could give someone starting out in running and wanting to take up running races ?
For someone starting out running i would advise them to join a meet & train group or a running club like ennis track….or for absolute beginners try jogging/walking building it up day by day & stretch!
we hope to see you at the next race on the 12th of july 🙂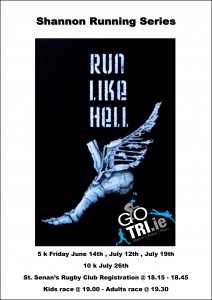 Shannon Running Series -2nd Place Lady 5k no.1 Rebecca Coughlan