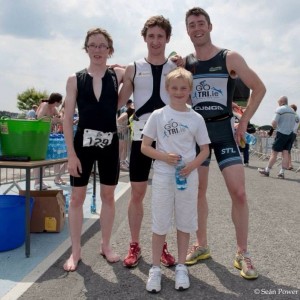 A pic from one of the failed attempts …… I found a great quote today on twitter. I never lose, I either win or I learn.
A race report written in two halves. I wrote the first part in my training journal a few weeks after the up the creek. It was 4 times competing in the event. Two podiums 1 DNF and 1 win. Wooped in year one by an old protege Con Doherty, year two a DNF due to vomiting bug, year 3 chasing another protege and blowing up to take 3rd behind Rory Sexton and finally in year 4 stealing a win from future champ Barney McCullagh
It is what it is sometimes, I am who I am
Sometimes it's not about whop crossed the line first but how we performed on the day that counts.
Kilrush up the creek tri has been a marker in our club journey the last two years, growing from a small team of 25 to close on 100 athletes who all train together at one of the many sessions on every week.
Basically it means a lot! The club competition trophy in memory of John Lynch adds that extra motivation to perform for the team.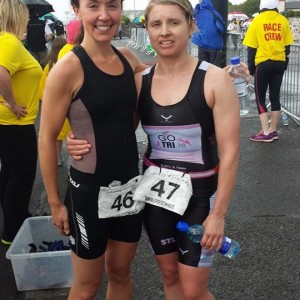 Our team performance was phenomenal. 37 athletes from team took on what has to be one of the hardest bike courses on the Irish tri circuit. 23km out and back along good west of Ireland road surfaces. When the wind blows in only one direction, into your face and suffering is the only feeling you have to endure.
1/2/3 males and 1/3 females all sporting smiles at the finish line as the cameras snapped our club glory. But do they show the real picture ? Do those pictures represent the hard nights the early mornings the grey colours and "the grind"
Eating my lunch today, after rushing around all morning, swim
Coaching, physio, child minders, haircut, lunch, gym, physio. lunch comes in the form of a chicken wrap a little egg cheese and pineapple all wash down with a little innocent juice ……. To be honest I can barely keep my eyes open, I'm wrecked physically the coffee beans are all roasted.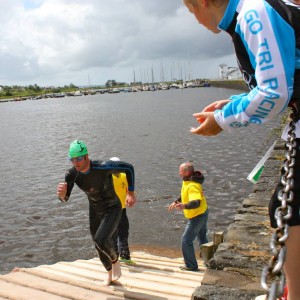 When you crave sleep coffee and Tv for ten mins are quick combo to help re invigorate the mojo before facing a screen of graphs and numbers and others emotions. An advert for technology teachers helping to teach welsh minors how to send emails has me in tears, why now, it's stupid but a flash back brings me back to throwing a tantrum in a computer class in my first year of college, I remember my mother being in the hospital recovering after another op and me being very angry, I couldn't use a computer back then, I couldn't even google – ( how times change eh) tears were flowing as I remembered being thought by an Old Nun how to set up a bebo account !!!!
Winning races …… Winning at anything has a cost, a physical a mental, a Monetary or a personal cost. I'm not yet fit enough to perform but one can pay the piper to buy a physical performance if one uses his brian to race.
Maybe the cost was higher than I perceived on Sunday evening but Kilrush marked 10 weeks back from 13weeks of with a knee injury, the mental costs, I'd say Jen had to put up with the grump being around a little too long, I'm still hearing about how much of an ass I was when I wasn't able to physically do something.
Working in the clinic today, I was reminded of how a set back or an injury can lead to renewed hope, a renewed belief. The last 10 weeks have been a great journey of getting back to training and enjoying things but as the business end of the year kicks in for the lads I'm sure I won't be making the trip to the top spot again for a while.
The second half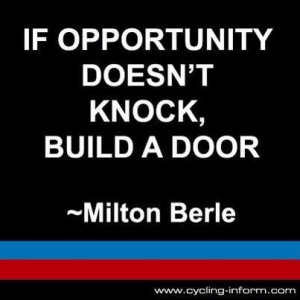 Looking back all that really comes to mind is thank god, thank god I finally cracked the podium and reached the top step.
Barney and I had a great battle around the course. I nailed another big swim performance. Showing off the rocketscience wet suit exiting in first place. I think I was out of transition before any others had made it into T1. I remember being relaxed, waiting for the heart rate to come down. My mother, Jen and jake were on the Cappa road just after the round about. Cillian Murphy directing us which way to go as I flicked the gear to get going. A mental note rings in my brain about changing my Tri shoes …. Which I have only just done. New giro ones. Hopefully lucky white!!
Always strange what you remember about events. I firmly believe I got over the "curse of Terry O Neill" simply because of 2 things. A great swim and the bike course was very windy in both directions. Being a bigger guy ( to put it mildly) the cross winds along the coast would catch the smaller athletes. Obviously I didn't know this as I tortured myself on the out and back course. It's challenging to say the least. Barney was always going to win today, but my plan starting was to give him something to chase and if I got lucky, maybe just hold on. ( hmm maybe barney wouldn't have given me a lift down If he knew it was my lucky day ?)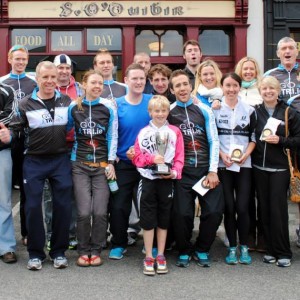 Re- entering the town I gave it another punch and could hear Mairtin calling out splits. 1:13 I have stuck in my head but I don't honestly remember. I just remember not being brave enough to look back until the turn.
When I did, the pocket rocket was not to far behind.
I was suffering, the legs heavy, the breathing labored but when your leading you can always find something else. Maybe this is one to compare without kicking David for the nenagh win a few years ago.There is a little hill not too far out from the finish line. Maybe 1km out. Thinking back that was my target, if I can get there I have a chance. Luckily there is no video I must have looked back a few hundred times. Cursed my legs and begged a few favors a few hundred more.
If there was 100m between barney and I at the top of that hill, I couldn't tell you.
Terry was there at the edge of the first house shouting at me to sprint. Screaming Lynchie
The year before I carried young Darragh across the line. The wasn't a hope I had the time to do it again this year. Not that I saw anyone through the blurred vision.
I was lucky on the day, another 20m and I would have lost. A shorter bike I would have lost, Terry not in the right place at the right time and I would have lost. But that's just it, the harder you tri, the more you practice the luckier you get.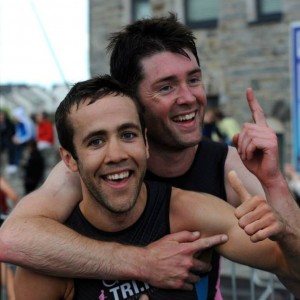 Finns first win 😉
A big thank you to all the Gang down in West Clare tri club. They put their heart and soles into running a super event year on year. The whole village comes out to support it and the grub is always good. Crottys bar serves a decent coffee too 😉
ps, A special mention to Terry, who was there for every race always the first to help out and always the first to lend his support. The Jinx is over
You're in sport
STL
STL – Up the Creek Race report.