Wow : Can all the athletes please take a bow. A great display by everyone and all the team did a great job racing. Solid results. we were tested and we have a lot to work on but everything is moving forward. Onwards to the national series and chasing the team prize along with personal team victories
Lets hope we don't forget anyone this week 🙂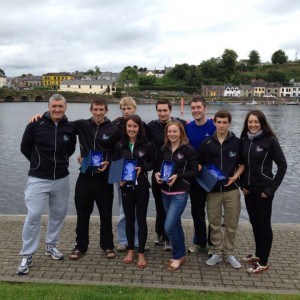 Lisa O Niel brought the confirmation to UL to help cheer on the gang of athletes from the shannon masters swim team along with friends from LTC  & Ennis tri club. Terry made sure to hide any time STL was in view. Terry is a practicioner of Voodoo magic and has been known and linked to STL'S DNF streak with West Clare Tri club events.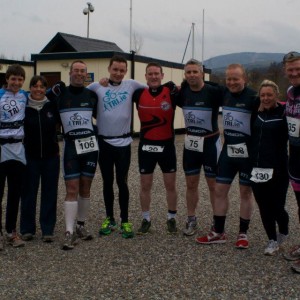 Tri A Tri review
Trevor Askin was taking the Amber petrol to Tri A Tri event for his first pool based triathlon. The man STL tried to drown last year has made huge improvement this season and came home in 26th place. chapeau Trev or as Trev said I won the bike race too bad it involved a swim and a run but I won the bike race. Great going by the Father of 3 young kids and a business owner. Amazing the time management this man has. One to watch when the batman suits come out to play.
way to go Grainne …. first duathlon a few weeks ago and now your first triathlon. Impressed and a little birdie told us you were out the night before too…… tut tut tut all to see a few men in short shorts and a bit of Munster mud. Dont you know you part of a spandex wearing fraternity now 🙂
On to the sprint review :
STL 4th overall but thank God for old age he gets the senor win beaten by 3 kids and happy about it. happy to be back in the mix as he says but a lot of work to do. Nobody feed him!!!
Maebdh Hurst 1st female junior the young balinsloe lady is on the way back up and a great to see her taking the win today. It will be a great confidence boost. a brilliant race day swim and run gave the young kitten a great win and is a sign of great things to come. And she even made mammy happy. all those early morning swim sessions for the taxi driver are starting to pay off 🙂
| | | | | | | | | | | | |
| --- | --- | --- | --- | --- | --- | --- | --- | --- | --- | --- | --- |
| 75 | 21 | 254 | Dermot RYALL | 01:21:41 | 3539 | Male | 62 | Gotri Racing | 00:15:05 | 00:38:18 | 00:24:23 |
| 76 | 13 | 384 | Darragh FAHY | 01:21:49 | 3034 | Male | 63 | Gotri Racing | 00:12:49 | 00:40:53 | 00:25:31 |
well the two boyo's had a bit of a race in limerick. well done to Dermot and Daragh on a great team sprint finish I believe. As Daragh says I dont do any running training but im getting PBS , Happy days he says. Dermot is having a great start to his first year in triathlon and its great to see the effort paying off for the shannon masters swimmer.
Funniest thing was Darragh Fahy Beating Darragh fahy !!! yes folks there are two fahy's and as far as we know they are not related!!! We were kind of under the impression that maybe Darragh had entered himself twice to beat himself 🙂
olympic review … a tale of two sprints and the sun coming out
Alison Rooney welcomed herself back into the media spot light with a great race. The woman is never happy!!! lol !!! typical ….. but we almost got a smile out of her at the after part in the Cornstore after the big event. Great to see Mick Rooney is on the mend after his near miss earlier in the week.
John o gorman. John has been battling with a niggly knee for the last few weeks but kept the knee's in and managed a great day out in the saddle. The former rugby player and now rugby coach with young Munster has been giving it socks in his training regime and as John says "you get out what you put in"
dermot ryall- Banned by Shauna his better half from wearing the "thong" suit Dermot had a great day out and has set his sight firmly on doing interclub battle with triathlete nemisis Trevor. Its almost like a badboys movie script with these tow pushing each other all the while trying to be race hard. what a great team is built on
kevin Culinan aka Irish Kev. He goes under cover with facial hair and by only using his irish name on facebook. We are not too sure but in a previous life kevin was a ballet dancer or swinger.We are yet to find out the through moves of our club Michael Flatly. With a big thank you to LALA for lending kevin his hightec bici for the race kevin and MagiC Mike Heaney had a game of cat and mouse chasing each other around the Joey course with magic Mike getting the better of Kev on this occasion
olivia mags – Tri Sisters these two. They have both worked extremly hard over the winter putting great amount of hours and both facing huge challenges along the way to complete two great races on the day. our newest club Mascot Tony coming along to support the ladies on the day. Declan was on hand to show him the ropes though as Olivia out paced Mags on the day.
martina- Well Martina did the sprint but as we think she olympic we think she deserves to be in the olympic review 🙂 (serious cash wanted for that line lol)
a great race and as she said herself — i just didnt want to get caught by coach. After the last few weeks with a niggly knee Martina had a great race. We are convinced we can get her better half Tom – a stalwarth of the Cycling club- to slap on a tri suit next year to partake in a duathlon….. I am convinced he will…. its that or babysitting 🙂
Folks we can write all day about all the great success of our great small club. The after dinner was an epic occasion. I normally shy away from public outing but you have all made this team a great success. Mark jeffers had an outstanding day on the bike and run and then Triona had eclipsed her personal bests in the triathlon to then go and organise us all and baby sit Mairtin and Anna for the night!!! through hereos 🙂
Andree walkin had a good day out but not her usual self to finish 5th just behind Anna in 4th place but as a team we take the good with the bad. It was great to see us all there after to help and smile away not just the successes but the ok races as well. This is hugely important. although i still think she had a great swim and a great bike so lots of postivies. Convincing Mike Jones to come out deserves a trohpy too !!!
can you all smile and say thank you to yourselves for the amazing efforts you all put in.
my last postive report until the caffeine kicks in…….. now go and train harder 🙂
Team report : Joey Hannon