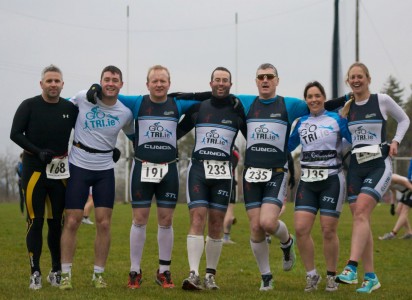 So it finally came around. Months of training completed by the team. the season was well under way. There had already been pb's, podium finishes, new champions, tears of joy and tears of disappointment but this one was different. This was kilkee, hell of the west.
They speak of it like the old pro golfers speak of Saint Andrews, the way footballers talk about
Wembly and the cup final. This was kilkee, hell of the west. The triathletes Mecca. The triathletes Cup final.
I'd done the training, wore some of the tshirts, taken in most of the advice and thought I was ready to go west and compete in one more of the many more triathlons I would compete in this season. Boy I was wrong.
I arrived in kilkee on Friday night about four hours behind my own schedule. I went straight to registration. The place was buzzing. There was excitement and apprehension in the air. A nervousness amongst us which I never experienced at a triathlon before. Even the most confident individuals in our club were back tracking slightly. I must admit I got sucked in. I didn't sleep that well. Even after a few pints of Guinness!
The morning arrived damp, misty and a howling wind from the angry athlantic. Kevin , Derek and myself carried our selves through a morning jog and stretch. The mood was quiet and focused.i started to think about the swim and I grew apprehensive and cranky as Derek got giddy and Kevin seemed To revert to a child like status where I felt as a parent becoming responsible for he's every move and action.
We arrived at transition. It was mental. The sea was not calm. Word spread that they might cut the swim short. Liz rightly said it was an honest day for it! We hugged and shook hands and encouraged each other as if we were going over the top. The final push. It all became very jittery. Warm up, wave one, white hats, Laurence's hat snaps in two. I didn't see him again until the run.
Oh lord oh lord calm calm calm, they are pulling people out of the water already at the peer. The furthest out buoy seems like miles away as I'm tossed and turned over and I now know what hell of the west is. In its fullest glory it already has me in submission. I pray to god that I don't give in as the rest seem to swim further and further away and sporadically disappear amongst the swell and under the waves.
I'm eventually facing towards the beach, I can see the crowds, sometimes! Where's the clock tower ? Keep focused! I know I'm zigzagging but I'm tired and can't bloody help it. I can't stop drifting left. I need to go right. The Atlantic is using different tactics, she's wearing me down. That beach isn't getting closer and now there's a whirling chopping sound I'm being clipped, banged and climbed upon. The red hats have caught up with me. They go through me with no respect. Finally I clamber up on my feet. I just went for it and the next thing I knew was my knuckles were dragging through the sand. Exausted but god dam proud I thank god. I give a quick look back to the sea as I run onto the sand and to the encouragement of the crowd. I smile and I know that we will do battle again some day.
After a weary transition, a gulp of sweet sweet hydrate to wash the sand and salt away I'm on my time machine. One foot in, speed bump, spin, second foot in, speed bump, spin. The race doesn't start until the top of the hill I remind myself. I can feel my skin dry. I'm bloody up for this. I'm on form. I climb like a mountain goat. I wish STL could see this. Then it's clanks and I hear a snap. Damn the chain has come off. Calm calm, I pull in to realise its a lot worse! My Derailer Has snapped off the frame of the bike. In a second I realise its all over. I pick my beautiful machine and fire it into the air in despair and anger. I slip off my shoes and walk my bike and myself back to kilkee. Looks of sympathy all around, curious questions along the way. I'm feeling very sorry myself and I've a lump in my throat. I'm thinking about getting home early and not hanging around for this evenings celebrations.
After about 45 minutes I'm wondering towards a Marshall when bob murray clears the small wall at transition. He can do a job on it if I want to continue. I've already resigned myself to wallowing in my own misfortune but I'm inspired by he's determination and I'm back on the bike. Off the canvas, back from the jaws of death. Funnily my mind wonders to the crack I'm going to have with my friends at the BBQ tonight. I pass all the cyclists coming home. Strange looks of concern from team mates as we zipp by each other. I want to explain myself but its all very fast. Then I'm on my own, it's windy, cold and lonely. My chain keeps coming off but I'm determined to drive it on. Hell is teaching me to respect her for sure.
The sun is out, I'm out of transition after a 15 second penalty for unclipping my helmet. Thanks liz. I see daddy Ahern coming home as I come onto the road and my head drops. The heat is sapping the energy from me as I slowly acclimatise to being on my feet and I make my way up the cliffs. Sun and salty air stinging my head, shoulders and face. We're is that water stop for crying out load?. Again I meet my team mates who wonder why I'm so far back. It's all over their faces. I can't talk.
. The padding in my tri suit is rubbing and cutting against my inside leg, my shoe is cutting into my right foot. I know I'm getting sun burnt. I'm pushing on trying to stay positive then I see Allison, 10 tri's in ten days, high five. Legend! The final little climb that mike Heaney told me about. He's right it's the last straw and its sapping.
Finally I see the finish line and I can hear shouts of encouragement. I push it on faster and faster . where was that 5k ago?? and I cross the line.
Done!
Who won? how'd u get on ? What happened you? Well done! Hard luck! Will you please take your bikes from transition!! Over and over. I need to get out of here. My amber babies have done me proud. A great win in the relay. Mental note, take the prize money off of them!
Myself, my new son Derek, my roomy Kevin and our nosey neighbour daddy Ahern are cracking open the suds back at the ranch and man does that taste good. Olivia with salt all over her face ha ha, joins us with her beautiful little daughter and her gentleman husband. Laura, my new daughter in law has also arrived as has liz who issues me with another 15 second penalty. Everyone's proud of their achievements and rightly so.
I'm really hot then I'm shivering, I've a massive headache and I feel sick. I'm sun burnt and I know I'm in trouble. There's still a lot to do this is bad timing. I've to get the food to the BBQ, I've to sell tshirts and I need to party. I feel like crap. Sapped of all energy. I'm out for the count!
It's great being fit. After 4 hours I'm back on my feet and heading for the BBQ albeit for the left overs. I get a massive round of applause and a dried up burger but I feel fantastic. Heroes one and all! We celebrate into the night. A new tradition started.
As I leave a misty damp kilkee I reflect on my new found respect for this beautiful, romantic, honest event. I now understand its traditions and what it means to compete here. The course tested my courage, broke my bike, put a stop to my ambitions, burnt my skin, sapped me of all my mental strength and energy and finally put me on the flat of my back for 4 hours afterwards. As I write this I'm still burnt and tired but I'm also proud of my day and our clubs achievements. I can't wait for next years event. Go tri !
The Amber Hoff Killkee versus Trevor Askin