I know there will be much more interesting reports when it comes to HOTW 2013, but I thought I would put together a couple of lines on my first Olympic triathlon!!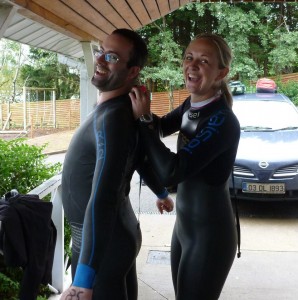 The nerves started kicking in on the Monday !! I know I had a week to go but I wasn't sure what to expect especially having missed the two training weekends in Kilkee. Anything I had heard about Hell of the West was that it wasn't called "Hell" for nothing – I began to think I should have picked a different Olympic triathlon as my first one.
So Friday night arrived and my destination was the Kilkee Bay Hotel for registration. Step one complete – I was ready for the starting line : ) Strangely enough I did sleep well Friday night and Saturday morning I got the breakfast into me. Looking out to sea it seemed that the buoys were miles out, but I had done the swim in a relay last year so I knew what to expect and wasn't too daunted by it………..that was of course until the swim started and I realized just how choppy the water was – it wasn't that bad last year. I found the swim tough, very tough. While I had covered the distance before I had never experienced the "up, down, up, down" I kept telling myself, just go with it, keep sighting, the buoys are getting closer and eventually I got back to the beach – a very relieved girl I might add.
Ok so into transition (which went smoothly enough by my own standards!!) I had everything in place and off I went. I had gels open in my pouch on the front of the bike – a tip for first timers like myself, make sure the pouch is velcroed down – mine wasn't!! The first ramp I went over I lost three of my gels ( talk about frustrating, I had thought of the little detail earlier of having the gels torn open and now due to an open pouch and a speed bump they were on the road!!) O well I still had one – get on with it. That was fine, until about 3 miles out the road as I went for some water, I missed the cage putting my water bottle back and lost the bottle – it was an old one anyway and I did have a second one!! So the gels were gone and one of the water bottles was gone, but look on the bright side at least I didn't puncture. The hardest part of the cycle for me was the last 5km into Kilkee – all uphill, all into the wind, and it would have to be followed with a 10km run, but my thought process quickly changed to look how far you have come (not just in the race, as in the distance done, but in the year) I don't know would I have managed the swim last year in those conditions and there is no way I would have managed the cycle so I said, right girl head down and just get back to transition – don't be worrying about time. Think of the BBQ later -and the fun that will be had celebrating.
Olivia — Killkee Number 1