We had a total of 49 cyclists for our TT tonight.
We asked all of our cyclists to support the 'Wear Blue Thursday' for Ethan Campaign to help raise awareness for MPS.
We are delighted to say we raised a total of €167 tonight for the cause, and everyone sported some blue clothing 🙂
Big Thank You to Dermot Ryall and Laura O'Shea who brought this worthy cause to the Club's attention. Its great to be able to support a local campaign.
Also a mention to Dermot Radford and Martin Gordon who have created a new Tandem Bike Course Record with a time of 20:03.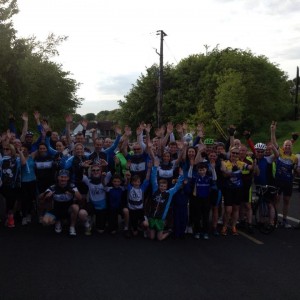 Please click here for results TT results 15.05
TT Results Week 6 – 15th May 2014