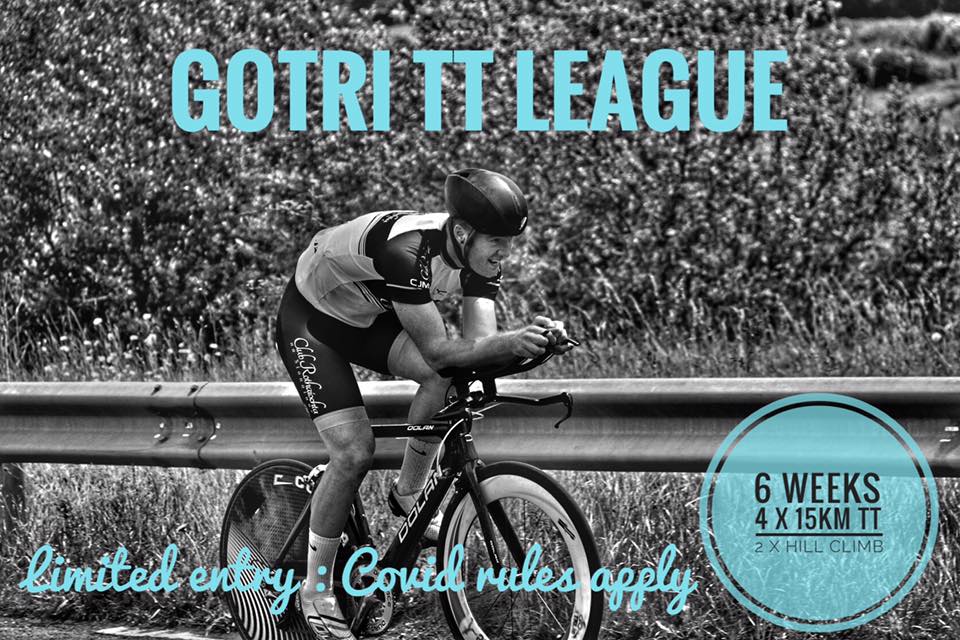 Monday Nights @7PM
WEEKS – 1 & 2 & 4 & 5 —– All start from near Wells church
Week 3 & 6 are hill climbs – Corlea and Cratloe all finish at "the golf ball "
Update:
GoTri Training TT league
http://www.gotri.ie/time-trials
Welcome to GoTri
Home of GoTri racing – GoTri adventure – GoTri Swimming & GoTri Triathlon Club. We Swim Bike Run all over the place & You're now part of a great group of people.We hope to be able to help you enjoy your sport. Any questions please email us : ( associate membership inc with signing up to the TT – your primary club is your choice but your always welcome to our sessions )
2020 : please respect and follow social distancing and follow all Triathlon Ireland guidelines. www.triathlonireland.com
Week 1&2&4&5 = 15km TT usual course from Wells church
Week 3&6 = hill climbs Details below
 NOTE : it is your responsibility to have your NGB licence, to follow the rules of the road : practice social distancing and guidelines.
NOTE :Please message GoTri FB page to register each week : especially if not coming as we allocate all start times in advance to help with social distancing.
 NOTE: Please do not congregate at start finish areas – PLEASE – whenever possible cycle to and from the series
Payment by Pay Pal only. If unsure about anything PLEASE ASK
•Categories break down ( road v TT bike )
We have a limited number of Jerseys to give out across the cats: priority will be given to those cats with the biggest numbers. Trophies/ prizes in all cats
Novice : senior : elite
Novice = those new to cycling, have never taken part in a time trial series before or those returning to the sport after a long lay off.
Senior : regular cyclists or touring cyclists with a good level of fitness. Who maybe race at club or completion level.
Elite : advanced. 22:30 or faster ( if you progress from another cat into this one we will adjust scores  )
Veterans : those who have survived Nam and still feel good in Lycra ( over 50 )
Ladies cats : novice & senior – if we have more numbers and if any ladies over 21 want to compete for a vet prize we are happy to put one in place 🙂
We will have a cut off time that once broken it means you will progress to senior cat.
Juniors : novice junior and elite junior. If juniors are completing full 15km route they will be racing in the adult leagues. 12.5km for junior cats. Parents please test out the course with your kids. Elite juniors will race in speed appropriate cat – such as novice/ senior.
NOTE : ALL JUNIOR PARENTS MUST STAY FOR DURATION OF TRAINING SESSION & MARSHAL
Hill climbs – we will try to have the same cats but there won't be a separation on Road or TT bikes : gravity rules us all. Please be very cautious on the descents of these hills.
Week 3 is Corlea climb :
This is located on the Broadford (-Clare-) road outside Sixmilebridge. If parking locally, please park responsibly in Sixmilebridge and its about a 10-15min pedal out.
A good meeting point in the shop car park or across the road at the funeral car park.
Week 6 is Cratloe ( playground side)
Best parking spot is the woodcross pub.
3min cycle to start point.
Please try to only arrive as close to your start time as possible. No congregating at start finish areas. Follow Covid advice on HSE or Triathlon Ireland websites. Respect others and be aware of your surroundings at all times.
There will be distancing markers on the ground. Please no more than 5 riders waiting for off.
There will be a wooden jig to use to hold for starting if they want to start clipped in or riders can start with "foot down"
We ask riders to arrive with face covering, this is a personal choice, a snood for example that can be pulled down once going hard.
This is a fun training league, please respect the guidelines around Covid 19 and the rules of the road.
Week 1&2&4&5 all take place from the usual GoTri TT league course on the Drumline/ Newmarket Road. Caution at all times as rules of the road apply and traffic will be on the route. Extreme caution into and out of the round about. These will be marshalled but you are responsible for your personal safety.
•disclaimer •
You are responsible for having your own NGB licence !! 
By signing up to the TT training league, you understand the club is not responsible for how you act, you take responsibility for reading up on Covid 19 guidelines, from triathlon Ireland and the HSE and following these guidelines. The club takes no responsibility if by any chance you get sick, if showing any signs of sickness please stay at home and self Isolate and contact your GP.
You understand that cycling is a potential dangerous sport, you are responsible at all times for following the rules of the road. The club except no liability for accidents and or damage to equipment.
You are responsible for you at all times. No littering : No spitting : No public urination :
Yours in Sports
GoTri Committee
TT – Training Time Trial league update