My first race report, it's a bloody long one. If I ever write another one it won't be this long! I guess the fact that I'm writing one means that I'm doing something right and the training is starting to pay off. It was an eventful weekend to say the least so even though this may not be a master class on how to compete at the highest level it should be good for a laugh and have some good learning points in it, mainly for me though!
Things I've learned since last weekend:
1) My Land Rover needs to be a foot longer
2) A race with 6 transitions probably isn't the best race for bike shoes
3) Running at high speeds downhill across rocks causes my watch to fall off
4) Wicklow is not the place to go if recruiting race marshals
5) Glendalough is stunning but has a lot of hills and wind
6) Running through scenic areas like a maniac really scares tourists that don't know there's a race on
I suppose it's important to say that I'm happy with the overall result of 13th place from Saturday, but there's a tinge of regret in there as well because I know that I was strong enough to get inside the top 10, 3 minutes better would have done that, and if I had just prepared a bit better, had a few less dramas on the day and a bit more course knowledge I could have been right up there on the tail of the top guys. Having said that it's another step in the right direction, my big goal isn't until Gaelforce West in August, and I'm starting to get close to guys that I looked at with awe a couple of years ago, wondering how they achieved the results they did. Also bear in mind a few years ago, when I did my first adventure race and not knowing what one really was, I finished in 797th place and had to be helped over the line by a lady from the ambulance service. And here's a pic to prove it.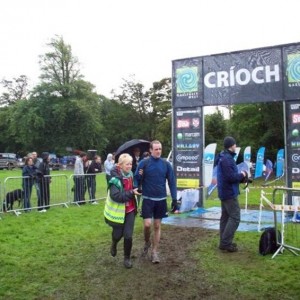 So back to the race report… my preparation for the race wasn't ideal as I had more or less decided that I wasn't going to do it. So I went to Monday Murder, followed that with a heavy weights session in the gym on Tuesday and did a double hill run on Wednesday for about 22km. As a result I was struggling with tight claves, hamstrings and the usual cramping in my hip flexor. So the logical thing for me to do was to go online and sign up for WAR Glendalough. I loaded my bike, gear, duvets and pillow into the Land Rover and hit for Glendalough straight after work on the Friday evening to register. Here's where I came upon my first error, I assumed that we checked in the bikes the night before, the fact that it wasn't to be checked in until the morning of the race meant that the already tight space in the back of my Land Rover had to be shared with my bike. Not a great night's sleep then. Got up at 5.30 the next morning to get some brekkie, go for a light jog and to drop in the bike, race briefing at 7.30am.
Lining up for the race briefing I started to pick out some of the familiar faces. Peter O'Farrell, Aidan McMoreland, Adrian Hennessy, Chris Caulfield and Nigel Keane who came in first in the Keeper Challenge earlier this year 11 mins ahead of me. I got as close as I could to the front while still maintaining the modesty of not pushing up and elbowing Peter O'Farrell out of the way, you've got to earn that right! I'd never done the event before so I didn't know much about the course but I could see from the layout and the maps that we were in for two tough run climbs, first on Spink mountain for 9km and the second on Djouce mountain for 9.3km, two fairly short cycles of 15km and 8km either side of a 2km kayak and a long tough 26km cycle towards the end with a 3km run to finish. 72kms and no doubt it was going to be tough. What a day for it though! Next thing the siren went, we were off and the pace was fast! There was no let-up right from the start, it was straight into the climb and I decided to try and stay on the coat tails of Chris Caulfield, a very experienced adventure racer who has represented Ireland a few times in international adventure races. I knew Chris would have his homework done for these early stages and if he was going to fall off the pace it would be towards the end. The second half of the Spink climb is on boardwalk which was like running up stairs for half an hour, relentless stuff and the legs burned. Finally we cleared the top and after a kilometre or so of downhill boardwalk we were into my preferred discipline, running downhill like a lunatic over large rocks. This discipline can really only be mastered by someone who has never fallen while running downhill like a lunatic over large rocks. By now the lead pack had opened up a good gap, I was at the back of it but I made up some good ground on this section overtaking 2 or 3, including Nigel Keane who was gingerly picking his way through the rocky maze, I overtook him in mid-air while apologising. No doubt I'd see him again though. Shortly afterwards the first drama happened, while in full flight I suddenly noticed that my watch was now travelling faster than me. It flew off my wrist and crashed over the rocks and into a gulley. Garmin customer service were gonna hear about this one. I stopped as fast as I could on that terrain, took about 10 metres, went back and tried to find it. I recovered it and carried on with the watch in my hand having lost a minute or so and when I got to the first transition point I handed it to a marshal for safe keeping.
Drama number two: Here I had my first of many missed dib points on the course. I ran out of transition to the road only to be told that I was supposed to dib out in the transition area. I ran back in and dibbed out at the terminal neatly hidden behind a cabin with the marshal standing beside it, also hidden. Another couple of minutes lost. Once on the bike it was a (fairly) straight forward 15km cycle to the kayak point then it was bike shoes off, runners on and into the kayaks. I teamed up with Kate Cronin in the kayak, we did very well even overtaking two guys on the water. Kate is a serious competitor, making a tough event like this look effortless. Anyway.. back out of the kayak, shoe change, onto the bike and on the road again to Djouce mountain.
Drama number three – I arrived at the 3rd transition point, there were a few marshals standing around chatting but I was in race mode so I racked my bike, shoes off, runners on and I was off towards the hill. Kate Cronin came in after me as I was leaving and prompted me that I hadn't dibbed again. I didn't see any dib point. She pointed at the stick in the ground with the terminal attached about 30 feet from the 4 marshals that were chatting while ignoring all the competitors missing the dib point. So I did my third double back and lost some more valuable seconds. Off up the hill I went and immediately felt at home because the terrain was just like Keeper Hill, my own training ground. The cramps I was starting to get in my hamstrings were less welcome though but thankfully I was able to carry on at about 80% for a kilometre or so and they worked themselves out. I came to a fork on the fire road and had to stop for a few seconds to work out which direction I was supposed to go, I spotted a piece of bunting tied to a tree to the left so I took off up that path. Just as I took off I noticed the marshal that was posted at the fork lying in the grass sunning himself. Good to see people making the most of the good weather. Shortly after this it was off the fire roads and into the rough stuff! The route went through heather, bog and mud for about 3 kilometres before hitting the grass and rock leading up to the top of Djouce. The climb would have been medium to hard difficulty on a normal day but my legs were starting to feel it at this point so I had to adopt a 'walk a little/run a little' strategy for the last kilometre or so of climb. Looking back down from the top I couldn't see any other competitors anywhere on the side of the mountain. At least I didn't have to worry about anyone coming from behind me… time to worry about those ahead of me! The run down from Djouce was nice and fast, again more boardwalk and some rough paths through forestry back to the bike transition and I picked up another place on the way down. Back on the bike and off for a lovely 26km hilly cycle! No sooner was I on the bike but I lost my gained place again as the guy glided past me with the unmistakable rubbery rattle of his TT bike!
On the final bike leg I was really surprised that my legs were actually feeling quite good, I had expected them to cramp as soon as I got back on from the run but they were taking everything I threw at them. I put the head down and pushed up the hills managing to gain a couple places. Surprisingly enough I got through the first half of the cycle and all the hills at a pretty good pace, things were looking good for the second half which was mostly flat and downhill. I got to a hairpin in the road and turned in the opposite direction to start the second half of the cycle. As soon as I went around the bend the wind hit me like a tonne of bricks! It was easier cycling up the hills with the wind than it was downhill against it! Only one thing to do, drop my riding position to the bottom bar and push. I stayed in the bottom bars for the final 13km of the cycle and my lower back was not enjoying it after the two run climbs I had already put it through. As I cycled along I kept seeing cyclists in the distance and I would push and push to try and catch them only to come upon them and discover time and time again that they weren't in the race at all, just out for a Saturday training cycle! Still though it helped with my time no doubt! Back in Laragh I dropped the bike into the final transition point, into my runners and took off for the final 3km run. I was looking forward to this run all day as I knew I could keep a good pace for it and I had expected to gain a place or two. No joy unfortunately. Even though I kept the pace up the gap between me and the next placing was too big and I never got in sight of them before the finish line. What I did do though was freak out a LOT of tourists as I huffed and puffed towards the finish. They were completely unaware there was a race on and I'd imagine they thought I'd escaped from a local asylum.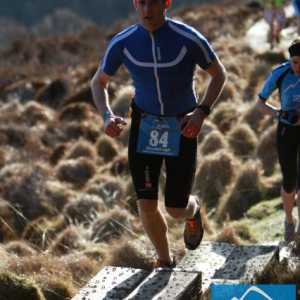 Got to the finish in 4 hours and 15 minutes. A decent time for such a long and tough course but the regret is that on the day it could have been a lot better and for the coming months there is plenty of room for improvement overall. So I got my free banana, retrieved my watch from the nice lady, jogged the 2km back to my car and off home! The glamour of adventure racing J
Paul
War Adventure Race Report – Paul Tierney