We need to give a shout out to a few bodies tonight after the great team performances at Nengh sprint tri.
Team points with ALL THE CREW — BE PART OF IT — MAKE SURE YOUR TRI IRL LICENSE IS WITH GOTRI RACING TC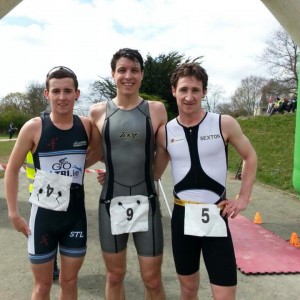 … A huge chapeau to the leaders committee of the sauna club at Shannon Masters for all the huge support along with Squeezy Liam Kennedy for pics n treats.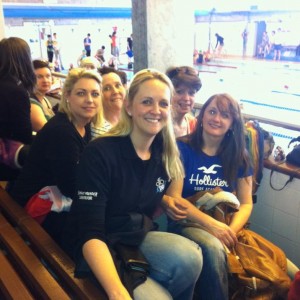 who they are shall remain nameless of course because a certain two were returning to the scene of a crime of leaving bikes on the highways… tut tut tut
Ger Bowen is having a cracking start to the year. The self coached father of young baby slugs out most of his sessions solo and is pushing all the team along so far this season. The former rower is one to watch.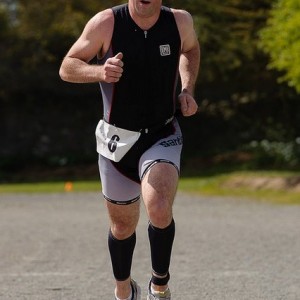 Rory Sexton pops up on the bici tonight to cheer on his team mates on Monday murder = true class.Rory had a good solid race and his first national series podium bodes well for the season ahead.
It is definititly a great sign that we are doing things right that two of the juniors placed 2nd and third with Stephan Rooney having a blast to come third. Although poor Alison, the mammy demon wasnt too happy at prize giving for a few mins after the race….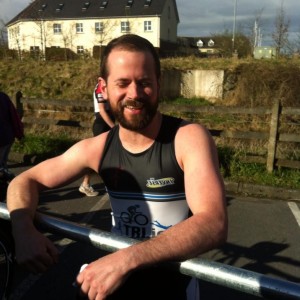 This hairy beast of a man was spotted having a wash on race day…. any clues as to his identity ?
And what about Mike Heaney winning the race on his pink Betty ??….. need we say more than no matter what people say, he did cross the line first!!!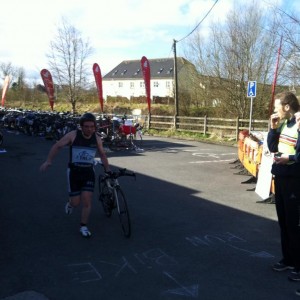 Impressive Pablo creates family pride with a big pb in Nenagh and claims to be sick …… Lol. we think it was the shock of having no television time after a freak accident of telly screen testing by a certain bambino that gave our cuban loving triathlete the fire on the day….. that or the will to live seem so much for the better without the invasion of teletubbies clouding the mind in the evenings before the big races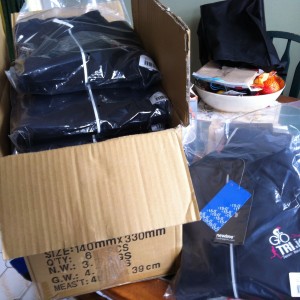 Team Jackets all came in and left just as quick…… but there is a medium for the wifey 🙂
Derek Flanagan, in the shadow of his sister for much of the winter training in the swimming pool, this young man soon to be married to the lovely Laura had the race of his life beating his long time arch nemesis and Ennis Tri team mate Kevin and To make the first page of the results sheet is always a good take a bow Derek Flanagan !!! The marriage course is working
John Mangan our vet leader in another race just missed out on the vet podium in 4th place …. Secretly 21 this man is on a mission this year to prove beyond doubt you can have long hair and an ear-ring and race well at the same time 🙂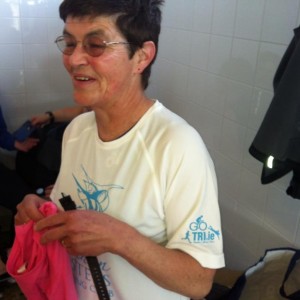 Brenda who at this stage in her early 20's must be a member of every club in the country 🙂 as per usual had a great racing performance, a hero to all. Legend.com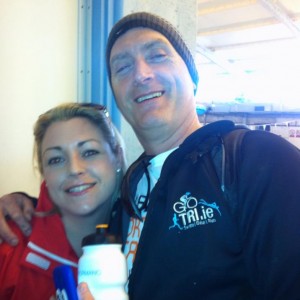 Liam and Grainne out checking up on the action ahead of Joey this coming weekend.
Liam is a central to our cause and a great sponsor with squeezy nutrition
What a day out and a huge well done to all who took part. This team is a support network for you and all your ambitions in Tri. From team captain David richardson to Female captain Andre we all there to amke things happen for you.
Open water swimming starts back on may the 13th in the ULAC

Nenagh North Tip Sprint Tri report