Week 12 2 up team time trial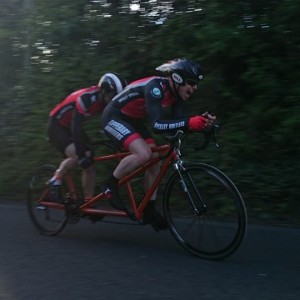 Winners on the night were the fancied paring of Dermot Radford and Martin Gordon – we like to joke and say they cheated using a tandem but these two powerful cyclists decimated the field to set a furiously fast time of 19;39!!!
I think the tandem course record should be a solo goal for Dermot next year if he finds the time to balance both pilot and individual goal duties. Or do we re- introduce the course record award ?? €100 euro ??
We will be announcing a one of tt in late July soon maybe a training target for our club team
We had some strong team pairings on out last night – Senan Coughlan and Stephan geraty looked to be the team to beat behind them though Pablo Horan and Liam Kennedy closely followed by Gerry and Brendan cross were on a mission!
The ladies were not to be outdone however with a gutsy ride by Becky the bullet and Joanne Flanagan chasing hard
See the results here :
Juniors short course
Ben o Neil & Darragh o Neil – 29:55
Ciaran Russell & Jaime Kelly – 30:30
Junior & adult long course
Luke & Lisa O neil – 28:25
Evan o Gorman & Rado – 27:40
Ladies :
Joanne flannagan & Beck Coughlan 26.20
Kay o Gorman & sarah Boland 27:37
Aoife fennel & mags jones 29:04
Men's teams
Liam kennedy & Pablo Horan 21.58
Malachi & connor 23:27
David & liam dillion 24:30
Gerry and brendan 24:32
Martin Carey & brian 25:10
Neil Gillespie & andrew 25:19
Senan & Stephan 25.20
Dave and kieran boland 26:57
Tandem
Dermot Radford and martin Gordon 19:39
Individual
Jason Fahy 22:21
Lexi Cremona 24.42
Well done to all
Stay tuned for our training sessions updates and check out all the great local clubs activities
A full League table will be published once we have it from David. We have one or two things to check
STL