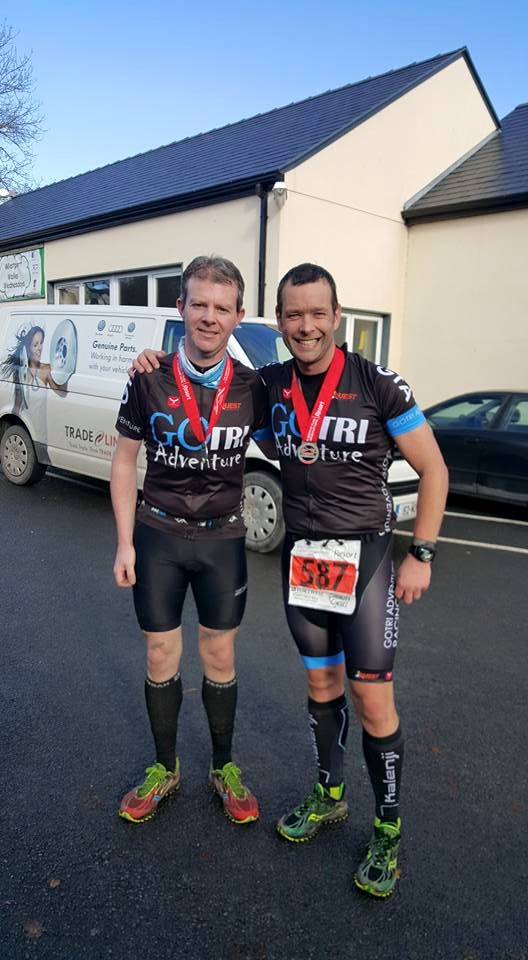 With this being my second race as part of the Go Tri adventure club and my first my race report, I hope it gives an insight to the experience I went through for this race, if anything else is may whet the appetite to come race with us in the future….
A little over a month ago I had the pleasure of competing in my first real adventure race as well as my first outing in the club, to capture my feeling after it "I loved it". Having played soccer for a number of years I was truly a team competitor and KAR brought back found memories of being part of a club/team ………
Fast forward to the 6th November and with some strategic planning, I left the house at 5am to work 'Up West' to be close to race registration on the Friday J. As I left home, only 3 from Go Tri were taking on the 'Westport Sea to Summit' adventure but shortly afterwards, my roomy for the night, Richard, had contacted say he had come down with a bug was now doubtful to attend. Okay so, it's just Loren and myself at worst…sure I was doing my own race anyway but knew I was going to miss the team comradery already.
Much of Fridays work thoughts kept looking forward to the unknown that lay ahead. I had completed a portion of the cycle from the Gaelforce Training weekend as well as going up the 'short side'(as people kept telling me) of Croagh Patrick so maybe it was not going to be as bad as once feared, words of 'You'll be grand' were starting to echo in my mind….. Then my mood changed, as I made the drive from Castlebar to Westport, I turned a bend and what looked like Everest rose up into the blue sky, the monster that is Croagh Patrick….
I had decided to decline the option of taking a drive to the base of the mountain or to drive the cycle to see what lay ahead. I checked into my hotel and waited eagerly for registration to open. The clock struck 5 and I made my way to the opposite end of the town. registration was being held in a school hall and was busy. I had my number, my mandatory items as well as photo id, checked in and got my race number, wave wrist band and timing chip. Nearly there I thought, now time to start considering fuel for the morning, into town for bananas, water and jellies was all I needed. Then dropped the bike to T1 and back to hotel looking for pasta but just like KAR had to settle for a curry (could this become tradition). Phone alarm set, quick call to reception for a 6am wakeup call….I was ready…now go asleep I told myself and a short while later I drifted off to complete many races/eventualities of what was to come in my dreams…..:-)
I woke to the call from reception and quickly made my way to the breakfast area when brown toast, butter and honey, followed by porridge with raisins and honey, a cup of coffee and an orange juice was going to set me up for the day. Well the early stages anyway…
Club gear on, pre- race hydration and banana to hand ready to head to park for the start, some 1 hour before the get go…yes I like to be early…
A short while later I met a familiar face in the courtyard, Loren, the other Go Tri Adventure racer who had provided so much valuable information in the previous weeks, a quick jog as warm up and then the last chance to pick his brain before he departs in wave 1.
10 minutes later Loren races down the streets of Westport, I queue up with a couple of hundred more waiting to go….then the claxon sounds and off we go. There is light banter going on around as I try to move up the field (should have done that while in the queue to start). The first 4km run starts uneventful with a short steep incline not long after starting with a gradual decline then after for about 2km, but as with Westport being built on a hill a turn right and back up another short hill. I am tipping along nicely and join a pair of racers who seem to be going at an ok pace. I just think to myself 'a long way to go yet'. Then it down the front of the Quay and into the field where the bikes are racked for transition. Helmet on, water bottle taped on cross bar put into my back pocket of the jersey. As I move to exit the field and mount the bike I scoff down a banana for the climb ahead. On the road to the base of Croagh Patrick I try not to look up at this monster rising high into the sky, I keep asking myself and hoping that we have low cloud….as the tip is out of sight. I quickly get back to my planned strategy of taking on some hydration on the bike, which is going well as I pass a few riders. I keep an eye out to see what colour their wrist band is to see if they had been in the waves ahead of me…I see a yellow band on a few which reassures me that I am going ok, catching those in front.
Not long as I arrive at the T2 dismount, find my bike slot and quickly I am off. I try to run/jog the early section as best as possible, still passing the odd person (determined to keep an eye on markers and also watching if anybody passes me) and I make my way up the reek for my first time ever. How far is it my mind keeps asking, the trail surface changes a small bit with lights streams of water running down in the low points. At one stage there is a narrow section which has a bit of congestion , so I must try to get a clear path and keep the head up for that in future and don't get caught. No point wasting time waiting on others. A short while later I pass the Spirit turn point, I see the familiar section where the gaelforce route joins and I run as much of the flat or slight slope section as I can. Then it's the final climb, as I keep an eye on the slowing traffic in front. I've been up this before so I put the indicator on and go past a few with a quick hike/climb. My goal is to keep moving to the top without stopping and all of a sudden I see Loren coming towards me. I give a quick shout of encouragement as he scales the loose rocks on his decent. Ok, I think I have less than ten mins to the top (as he started 10 mins ahead of me) so time to push on. Then I see it, the shell of a hut which sits a bit in front of the church, then the church , I am there. I think wahoo, now's the time where the fun starts, I aimed to pick up a few places on my decent and off I go. There is plenty of traffic still coming up and I try to give some encouragement to them, but soon I stop as I am fully focused on getting down quickly and safely. I pass a few people but then get caught behind more who are being cautions. I zig zag across the mountain to get past them, then off I go again, quick feet quick feet on the hard stone and heel plant on the loose stuff as I go past more competitors, yes they are now competitors to me…. At this stage I am feeling great, I pass out the spirit turn point again and keep descending as fast as possible. Minor congestion again so I take the high road and skip past a few more. They I see the steps come and go and I am back in T2.
Onto the bike with little to no time wasted in T2 and I chase a few cyclist ahead of me on the relatively flat section. I know there are some hard climbs coming but try not to think too much about it. Get into a nice rhythm and keep moving forward is the plan now. We turn left and I know the climbs are coming. I watch the cyclist who I seem to trades places with for a bit and then I see the first hill. A welcoming sign is placed nicely to let you know you are there. As I start the ascent I move down in gears, but a cyclist just in front of me stops, I try to move right but a couple more are just passing so I opt to take my foot off of the straps. Shit, I stopped…now it's a long slog to the top. Disappointed that I had to walk the very first climb section. I try to have a gentle jog to the top and back on the saddle again. Not too much further I see a stream of cyclist ahead who are pushing their bikes up the hill. I try to keep going as long as I can with words of encouragement of those I pass but eventually I give in. Stairs are meant to be walked up…..hmm. Not happy again but feel better as from that point to the top of the 'stairway to heaven' only two on bikes pass. When I do get to the top, some are stopped getting water from a volunteer handing them out, but not for me, I have what I need on my bike and off down the hill race. I keep an eye on the road for any bumps and after a bit of cycling it flattens out (well for mayo its flat) and I keep a steady pace. Legs are starting to feel a bit tight so I try to stretch them on the downhills where possible. Eventually we get back to the main road and I see a sign of Westport 8km….that was a joy as I had no idea how far I was up to that (due to mechanical issues with garmin watch). This section is on a better road and as we near the town we join up with the Spirit cyclists. Must be heart breaking for them I think, as the fella I am with race by them as they are coming uphill while we got a nice little decent to that start of that small climb. One turn left and I am on the road to the final transition, and as I know where I am its gives me a little lift.

Into T3, I remove what is not needed, last drink from the bike and off on the run back to the hotel. Through the muddy patch which is slow as more spirit runners are about with no room to pass and through the car park. Out across the main road and a quick chicane through houses and we are back onto the 'walkway' which from this point is close on 3km of steady incline back towards the start point. This is gruelling to be honest. Lots are walking and the temptation or voice on my shoulder needs to be ignored, no I am not giving in an walking. It's a slow slow pace uphill and I pass a small astro pitch, the balls comes over the fence, how I would love to give chase and kick it back as I would normally would do, but fear of falling over gives in and I keep running. I pass a marshal as I go into a small tunnel who says 'nearly there', I laugh as I have heard this comment loads of time before, but then I can hear cheers on the road the opposite side of the houses. I reach the point of the steep incline at the start which now is an unwelcome descent on my legs but I get to the bottom turn left to a few cheers and claps. I see the finish line a couple of hundred yards ahead and inside I am smiling. I pick up the pace a little I think, well it felt like I was racing on air, and cross the timing mat and in under the inflatable finish line. I have done it. A medal is placed around my neck and I give back my timing chip as I look for my friend and club colleague Loren and like magic he appears holding a soup. He is covered in oil (mechanical failure) and we swap brief stories on our races. He shows me where to get the soup and bread, and we continue on talking about the race.
We leave the finishing area and enjoy a stroll back to where my car is parked as we grab my phone for a 'team' photo. Time for me to get cleaned up and collect my bike and make the journey back home.
On reflection, this race has been mostly fun with some gruelling hills thrown in, but another achievement done. I need to get stronger on the bike but that will come. It is great to be part of a club, who accept those not so fast as other but still push us (well me) further than I thought I could go. Each person has an experience or knowledge of races/courses which they are willing to share which makes us a team/club. Special thanks to Loren for sharing as much information as possible for two races in a row, which has made it easier for me, thanks!.
Philip Purcell
Westport Sea To Summit Race report 2015