A survivor's account of the Art O'Neill Challenge
by Derek Kiely

On Friday January 15th, I packed my gear and headed for Nenagh. I love the hills and I love racing, and I was going to Wicklow with Paul Tierney for the Art O Neill challenge. To say Paul also loves the hills and racing is probably the understatement of the year, so I was in good company. We had the usual chat about gear, strategy and nutrition and then he dropped the bomb – 'I think the GoTri team could get the 3 podium places'…. I took it from the tone of his voice that I was to make up one of those. GULP.
We all parked at the finish line and took a bus to the start line. It really felt like a team event with people sharing gear and ideas. There was a great vibe on the bus and in Dublin castle as everyone made their final preparations. We all went for a quick bite to eat, reviewed the course and headed for the start.
The run out of Dublin is pretty mundane but it allowed everyone to settle into an early rhythm. There was a large contingent of GoTri members near the head of the field and I was starting to think that Paul was right to have high expectations. STL and Martin Carey were in the front group moving very well and looking comfortable. Behind them Alan Webb, Stephen Geraghty, Paul Tierney and myself were going strongly but a little more conservatively. We had a group of other runners with us who we shook off at the first hill. At this stage we were starting to hit snow and ice but all was going to plan. The final few miles before check point 1 involved a loose interpretation of the route and 2 river crossings. Things were starting to get adventurous!
Check point 1 went smoothly for the most part. I couldn't open my laces due to the ice block which had formed on them, but I squeezed out of the road shoes and into the trail shoes. On with a new bag of kit and out of transition in the top 10. Our group had done well and we were back in touch with Carey and STL, who gave great encouragement as we passed. Within a few hundred yards I started a tradition of falling on every bit of ice and into every hole I could find. At this stage myself and Paul were going well so it was a matter of just getting up and keep moving. Out on the first mountain section, a mixture of our excellent progress and great navigation from Paul started paying dividends. We moved up through the field and by check point 2 we were in 2nd and 3rd  position and well clear of the chasers.
As we headed for the last mountain section we were confident and still going well. It was during this tough section where I was tested by the course. We had decided to use the valley route and then tackle the steep incline rather than take a long drawn out climb on the ridge. I really suffered on the steep climb and considered resigning myself to the same fate as Art! As we came over the crest I could see people ahead of us who we were previously leading. The effect this had needed to be witnessed. My morale hit the deck and I temporarily gave up. Paul got mad and took off in pursuit. I once read that anyone can be fit, its being hard that's hard. The phrase came to mind as I watched him ploughing through knee deep snow.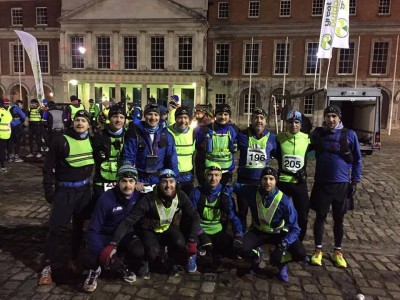 Eventually, after a little soul searching, pride got the better of me and I decided to make a final effort. I set off after 2 head torches which I could see ahead of me on Table Track. I got to the final trail descent with 2 other runners who seemed happy to leave me go. On the run in I was hoping that not many people had gotten ahead of me. As I rounded the last bend and crossed the last river I was elated, regardless of my position.
The Art O Neill challenge started for me when I made conversation with Paul Tierney for the first time last summer and started training with GoTri. It finished standing on the line shaking Pauls hand with him in 2nd and me in 4th.
Team spirit shone through again at the line. Everyone stayed at the line to cheer each team member in before we all went for breakfast and a pint of Guinness.
What a race…
A survivor's account of the Art O'Neill Challenge