I have to begin with a small apology as I've been neglecting my race reporting duties of late!  Of course I have a barrage of excuses as to why I haven't been reporting of the experiences I've been having in the world of an age group triathlete but I know excuses don't really cut it, especially not with sports people so I will just say it's sort of been a whirlwind season so far! Anyway I now seem to have found a few mins to put a few words down on my latest race HOTW 2012.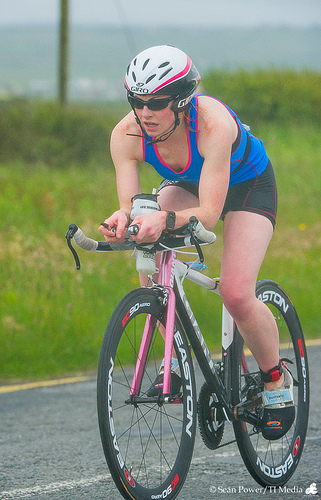 Within the first few weeks of joining Limerick Tri Club I remember hearing about Kilkee or Hell of the West as it's more commonly known.  I remember thinking yikes that's not a very nice name for an event and wondering what it would take to take it on.  As I soon learned HOTW is a race with a lot of history and the club and its members seem to pride themselves on what it takes not only to race it but also organize it!  I think everyone will agree it takes a lot of hard work and effort on both accounts.  
For me I did this race first as a member of a relay team and it was a great way to get an insight into the event.   The following year I gave it a go in full and was happy to break the 3hr mark.  Last year I was at the Europeans in Spain when it was on and to be honest I was secretly delighted to be in sunny Spain when I heard about the awful weather and race conditions.  But for me this was the year I was going to give it a real go.  I worked hard over the winter and laid good solid foundations for what was to be my big race and while the lead into the race wasn't ideal in that life situations have a habit of interfering with best made plans.   I still felt ready for it and was eager to race & take on Hell and all that goes with it.
Race week can be a funny one for most athletes with a little more time on your hands you have time  to question yourself, have I enough work done, do I know the course, do I know the competition, what will I do if this happens, what will I do if that happens and so on…  All I can say is there are some things you just can't prepare for so all you can do is work with the things that you can.  I'm lucky enough not to suffer too badly from race nerves I get more grumpy than nervous I'm toldJ So race week arrived and we had a valuable Q&A session with the Monday Murder Go Tri Crew in ULAC. This really worked on a number of levels and I think everyone got something from this session.    Next up was the entry list release which always causes a foray of emails & coach athlete discussions, a big entry list with some big names, a lot of people want a piece of Hell!  Before I knew it, it was the eve of the race & I found myself in a windy Kilkee.  For me I like to run around a bit before races and have been known to race my race the night before and while I am learning to conserve valuable prerace energy I think I will always be a pre-race runner;)  With my bike mechanic (husband busy paddling around the country) I have some great male friends and teammates who fill in by doing bike mechanics and general "Blue Jobs" as I call themJ On this note I need to thank Mr. Gallagher and Mr. Dillon for their help in this area.   Race morning I always eat,I'm one of those athletes who needs to eat otherwise I get grumpy (I know a grumpy little lady pattern is forming here) So I had my usual big pre race breckie of porriage & wholemeal toast & honey.  I also like to ride my bike to transition which I did and doing so I noticed my tri bars were coming loose and the bolt holding them together was completely sheered.   So coach STL & Gally to the rescue again, this time with a duck tape job that was a little unattractive to say the least.  Now I really think there is a market for Pink duck tape by the way as I wasn't too happy with the ugly silver stuff,  of course I didn't dare mention this at the time but knowing me well I think they both knew what I was thinking! So with that sorted before we knew it it was swim time and well that was a bit of a strange experience. I think pretty much everyone got a bit lost and disorientated out there.  I came out of the water in 7th and knew I had to work hard on the bike to gain back some valuable places.  The bike was the leg I was least looking forward to and rightly so as it was pretty horrendous biking conditions.  The wind came and so did the rain and I think I remember a little bit of hail to add to the misery of it all.  There were moments of questioning sanity while pedaling against the challenging elements.  Yes I am a fair weather athlete I won't deny it.  I just kept reminding myself it was the same conditions for everyone and I was hoping I and everyone else just had a safe race.
I came into T2 in 5th and at this point I knew I had it all to do on the run.  Now this run and I, well we like each other,yes it's a tough one but it's also in my opinion the most scenic one in the country.  I also knew my run is in a good place at the moment and hills well thanks to my Ballycuggaran playground hills & I are friends.  In the first k I overtook into 4th and then into 3rd I felt good and I wanted to be on the podium so pushed up the hills and let myself go on the down hills.  The support on the run was just phenomenal I got such encouragement from people both on the side lines and also people I was overtaking, it was incredible.  I hope I'm as gracious when being over taken!  It was a strange run in that I didn't really hang about with anyone person for very long.   It was one of those days when a 10k off the bike didn't really feel like a 10k off the bike.  Before I knew it I was at the final 2k, at this point in 3rdso I just enjoyed the downhill and the crowd support.  And that was it 3rdin Hell after a tough day out there I was happy to take.   1st and 2nd ladies are both fantastic athletes and I think it was one of those days where sport was fair.  I really couldn't have gotten to 3rd though without a really strong support system, coach, teammates, family& friends.  So that's it for another year and as the saying goes to Hell or to Connaught I think I'd choose Hell every time!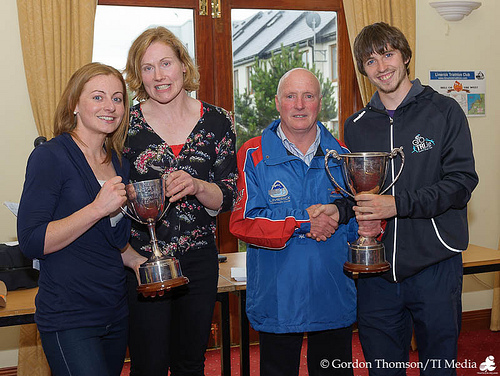 Oh and on a final note well done to my teammate David (not Davy) Richardson who placed 6th is a seriously stacked male field, was great to take home 1st Male & 1st Female Limerick Athlete Trophies, more silver wear for the Go Tri cabinet Go Team!
3rd Overall and 1st Limerick Lady Andree Walkin gives her HOTW Race Report