HOTW2012
How have the last few weeks preparation gone for hotw2012 gone ??
I have been getter stronger every week since Athy at the start of June. I was very happy with the Dunmore East Sprint last week and so was confident heading to Kilkee.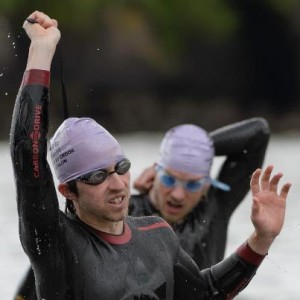 David's favorite pic so far this season – thanks to Gordon

Have you done anything different to previous years ?
No not really. I headed to Kilkee on Friday evening and registered early before relaxing for the evening watching the waves in the bay and the soccer. My nutrition was good and I got a good sleep. About 8 hours, short enough so that I'm awake when I get up!
What was the key to your race this year ?
Getting out with the leaders in the swim and holding a good bike time to give myself a shot at a top placing
How did you find the swim ? Any garmin info showing the length….
We lost Bjorn and Bryan Keane a little easily, but then I stayed on Trevor Woods feet for the whole swim. I was pretty comfortable. Out of the water in a small group with woods and scully for 3rd. Didn' really notice any length difference, we just got a bit lost out to the 1st bouy, I was just following feet!!!
The weather conditions on the day were very challenging how dud you cope ?
I actually felt good cycling into the wind. I was really happy to arrive back into T2 only been caught by Bryan McCrystal!!!!
The run course how did you pace it ? Or race it ??
After a perfect T2, got out running hard. Felt good over he 1st 4k but I was been caught by Eric Wolfe. I ran the final 5k scared. Had to dig deep to put in efforts just before the 2k to go mark and then sprinted home as hard as I could. Really happy I could do that and hold him off and get 6th!!
overall race comments ??
Very happy, if I had a stronger bike then who knows……
Great to read Davy always wanting more, thank you for taking time to catch up with GoTri Stable boy Davy, check back soon for more athlete interviews
Raul Ortega
6th Overall and 1st place Limerick Man David Richardson gives the HOTW2012 lowdown