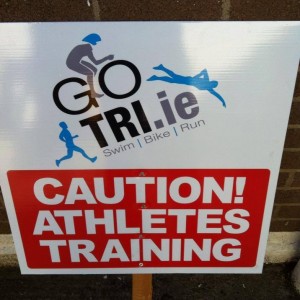 When the going gets tough, the tough get going"
As psychologists debate the roles of genetics, environment, and learned skills in determining mental toughness, they do agree (along with athletes and coaches) that high levels of mental toughness are closely associated with athletic success. It has become clear that the athletes and teams that are most successful in sport have one characteristic in common: mental strength. An average athlete who is mentally tough can win out over an individual with higher natural talent. The mind is stronger than the body, and can help the body to achieve it's full potential. It's hard to define fully but some traits of mental toughness include consistent training effort, self discipline, confidence, focus on the present, stress management and controlled thoughts.
At GoTri we have an opportunity to further develop our skills by having a talk on mental strength from one of Irelands top sports psychologists. Karen Weekes, the founder of ultra-mapfitness.com, has a PhD which explored the coping mechanisms of elite, world class, ultra-endurance athletes (specifically ultra-runners) and an MSc which specifically related to elite triathletes, and therefore has a wealth of knowledge to share with us on how to achieve optimal performance. Karen has offered to give us a group talk providing insight into some of the effective mental coping strategies elite athletes use to overcome challenges during triathlons such as pain, fatigue and boredom. Karen is no stranger to endurance events herself, and has worked with numerous high profile athletes including the Munster Rugby and Clare Senior Hurling teams. One interesting project was supporting Team Battleborn on the Great Pacific Race 2014 (very interesting read if you have a few min). Check out ultra mapfitness on Facebook for other projects that Karen is involved with.
Depending on interest there is potential for further individual or group sessions and testing ( including some high level fitness testing). We will run this group talk Wednesday, June 10th, at 8pm in the GoTri clubhouse, Smithstown, Shannon. Cover charge €5.