We've all done races that have moved us…..normally to profanity….. but not every race can say that it moved someone to compose poetry! Here's the race report to end all race reports, Sarah Boland's experience in Gaelforce West this year. Sit back and enjoy!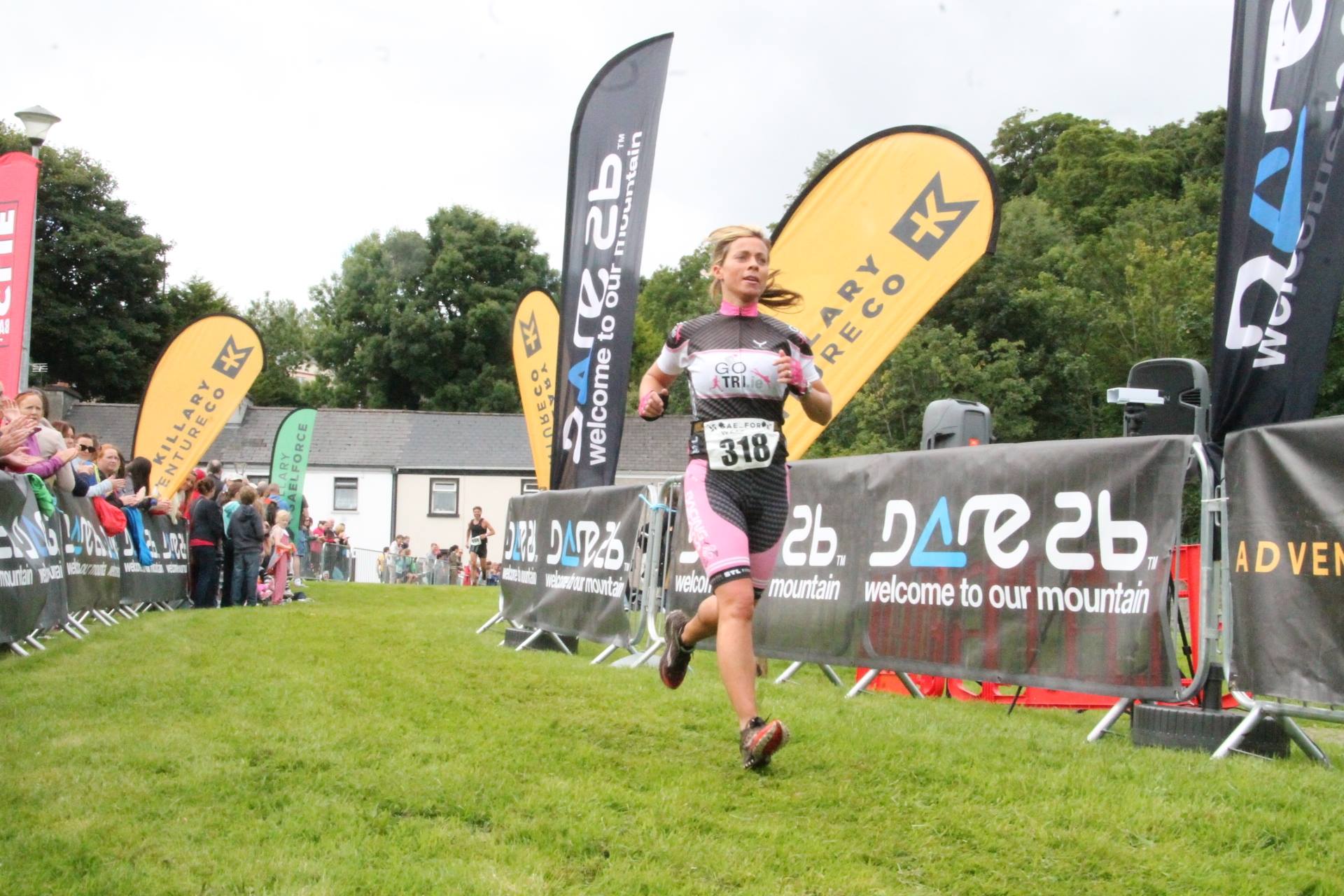 SARAH BOLAND – A poet and we didn't even know it!
We all have our demons and mine was a race
Gaelforce it's called and Westport its base
I tried it before, I didn't succeed
The pain and exhaustion, a torturous deed
I went for the training, advice and support
The nerves they just grew, I longed to abort
Now those that do know me, know I like to run
The roads my companion, but the muck is no fun
The hills they just scare me, the rocks are my foe
I could break a nail, or worse, break a toe!
But pre race day came and I headed up west
The traffic put my clutch through an arduous test
We parked up our bikes, signed on, grabbed some food
The tiredness and nerves played a part in the mood
Back to the house where we tried to get sleep
I shared with a dog, cat, Dean, Becky and Peeps.
Our slumber was short, on account of the start
We ate up some food and for the bus made a dart
I dibbed in as told, took my place at the line
Told myself to enjoy it, t'would all work out fine
Started the run, the road it did suit
Turned up the fjord, not my favourite route
Slipped on the rocks a kilometer in
Unable to keep the expletives in
Helped up by two guys, asking if I was ok
"Yes thanks, Im sure there'll be more falls today"
Contined along running cautiously slow
In my head were Pauls words 'dont have the head facing low'
Arrived at the Kayaks, where I bumped into Dean
We paired up and made a formidable team
Ploughed through the bog, mucky and wet
Feeling quite thirsty and a way to go yet
Ran to transition, picked up my bike
Along with a hundred or so midget bites
Stopped for a drink and to take on a bar
I knew that I hadn't the pep to go far
Started the spin with intentions to gain
As I knew up ahead the road was a pain
The climb wasn't easy, I stood up for the most
The descent not much better, nerves of steel I can't boast
I stayed on the bike til I hit the big Croagh
Whoever threw this in was having a joke!
I started the climb, met at once by Steve G
"Sweet Jesus he's finished and here look at me"
"Just jump it" he shouted as I paused at the dip
"My legs are too short I know that I'll trip"
He laughed and continued, while I made my way
Meeting good company to help I must say
I looked out for team mates, but ye all were too fast
Except for poor Carey high fiving as he passed
I met Joe at the top' fairly vexed with his race
Two punctures had put paid to an impressive pace
"Keep going" he said, "you're up near the top"
"Do you mean it or just saying it so I will not stop"
10 mins later, I arrived at the top
Now the descent, just a jump, skip and hop 🙁
Slowly I picked my way through the stones
Fearful of breaking any more bones
Finally landed on heather and moss
Sped up the legs to decrease the time loss
Back on the bike for the part I feared most
At this point I just wanted some boiled eggs and toast 🙂
Cycled with care, taking time off the bike
To walk it where needed, felt more like a hike
At last a main road where the legs could push hard
Some sign of town life and the finishing yard
Dropped down the bike made a start for the run
More muck to contend with, oh how much fun!
Finally out from the trees I could hear
The sound of the clapping and audience cheer
Ran round the corner, confusion set in
Where is the finish, I'm late for the win
Directed by team mates the route became clear
Gaelforce completed for another year.
Well dones exchanged, debriefings began
Becky with hoodies, our number one fan
Later the drinks flowed along with the laughs
While everyone ached from their tightening calves
The singing was woeful, the dancing not great
Except Becky who's twerking you just couldn't 'bate
My final word on Gaelforce fifteen
"its way more rewarding to race as part of a team"
Sarah Boland
An Ode to Gaelforce West 2015 – By Sarah Boland