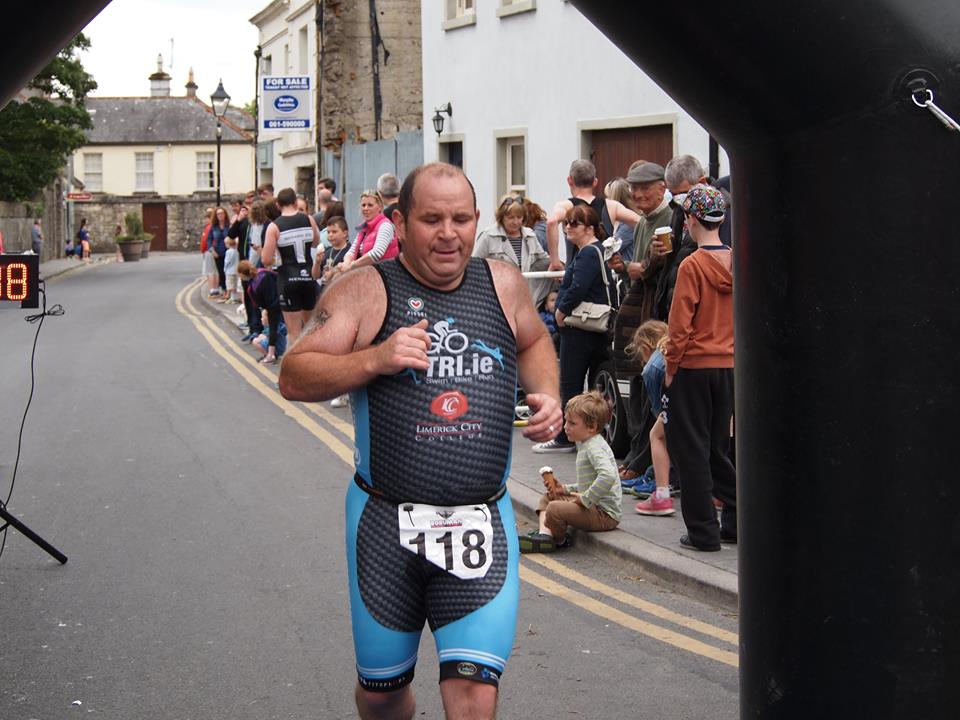 Gerry Speaks …..
It's July 2013 and the lovely Mags Jones introduces me to the world of triathlon and GoTri.I am instantly hooked and a week later I bring a friend of mine called Brendan to see what this craic is all about.I played sport all my life but hadn't been in the water sober since I was in school and the last time I was on a bike it had five gears.I had a few 10k's and two half marathons under my belt and was mad to give triathlon a go.Brendan had also been involved in sport all his life and always kept himself fit.This guy loved a challenge but don't ask him go near water.I remember him telling me he used to be afraid inside in the bath.A lovely girl called Ailbhe was tasked with getting us some bit ready for the Castleconnell Try a Tri at the end of August.Thankfully Ailbhe was blessed with patience and thanks to her we survived Castleconell and were hooked there and then.Put the clock forward two years and myself and Brendan are on the road to Dublin for Ironman 70.3….How the hell did we get here!!
We pull in halfway up where we have arranged to meet a few more of the lads for coffee and from there travel in convoy to the Phoenix Park for registration.When we pulled in and saw all the Ironman trucks and everything set up it suddenly became very real.T2 was also here so we registered got the briefing out of the way before dropping our runners and things into our red bags and into the T2 tent.We then left for Dun Laoghaire to drop our bikes in T1 and we thought we would get this done fairly fast but crossing the city on a Saturday proved otherwise and all of a sudden the day was passing us by.We finally got everything sorted so myself,Brendan and Erin traveled back to our hotel where we were meeting up with Laura,Anna and our families.It turns out without my guidance and sense of direction the race would have been over before we found the hotel.Those two wouldn't find water in a Well:)
It was ten o clock before we knew it and considering we were up at 4am it was time to get some rest.It felt like only five minutes in bed when the alarm went off and we met downstairs for breakfast.I wouldn't be a great traveler on a bus but I thought we would never get to Dun Laoghaire.I just wanted to get there and get started.I put the final touches together on the bike,visited the loo sand began putting on the wet suit.Myself and Brendan were strolling over when we heard our wave been called to start in two minutes.The problem was we were five minutes walk away so off we took as quick as we could jumped a barrier and of course were the last two into the water.I took my time and settled in and even do it was big numbers I managed to find room and stay out of trouble.I got through 1k and was going ok but it went downhill shortly afterwards.After turning another buoy I could see the pontoon so started swimming towards it.There was bodies everywhere and thought I was going ok until I met a guy on a boat(I don't know if he was fishing or part of the race) and he informed me that I had to swim in around two buoys that I hadn't spotted.I was like someone going the wrong way down a one way street cutting across swimmers as I tracked back towards the buoy.Finally I've that sorted and head for dry land.The relief when I got into T1 was brilliant and I stuck to the plan of not rushing and just doing things right.
I grab the bike and I'm off to get this 90k done and dusted.The bike is the only thing I do half right in Triathlon so I'm really looking forward to it.It was my first time racing on closed roads and I got some buzz going through closed tolls and the streets of Dublin before heading out into the countryside.I felt great on the bike and felt like giving it more but I was so worried about the run I held myself back from going all out.Anna had told me to eat or take something every half hour and that's what I did.I knew if I didn't do this I wouldn't finish the race but it was still driving me mad having to break the momentum.They said at 85k there would be a very steep but short climb and they were not lying.At this stage I felt every bit of my seventeen and a half stone but it was short and with the crowds roaring you on it was over quickly.We went in the back gate of the park and all I was telling myself was to finish the run no matter what happens.I parked up the bike and into T2 to get changed.I met my brother on the way out,he was roaring me on through a fence like a lunatic but it gave me the push I needed.The longest run I had done in the previous few months was 10k because of a hip problem but I knew if I could get the first two 7k laps done I'd get home.The first 5k was horrible but as we ran down towards the finish line and the end of lap 1 the noise and support of the crowd was something else.Seeing my family and friends who had gone to the trouble of coming up to support me gave me a huge lift.By 10k the hip had started playing up but I just told myself I'd run to every water station get my drink and go again.I came in to finish the second lap and I could see my wife G'ee and son Michael going nuts.They knew if I got this far I was going to get home.The hip did its best to ruin the party on the last lap but the adrenaline was pumping and I headed for home.I'll never forget the feeling of the last k and the run to the line.I didn't think I would be but I was a bit emotional.I guess I never thought this day was possible.
As we crossed the line one by one in typical GoTri fashion everyone was there together to congratulate each other and make sure everyone got home alright.As I said earlier I've being involved in sport all my life but I've never seen a team of people to support and encourage each other like they do in GoTri.It does 't matter if your at the top or the bottom the support is the same.Before I finish and for those of you that are still awake I just want to say a few thank you's.
To STL who from day one has been telling me I could do it if I just put my mind to it and for all the help and advice.To Liam Kennedy for all his tips and for always been happy to help whenever it was needed.To everyone at GoTri thank ye for everything and to our many friends in Limerick,Ennis and Tipperary Tri clubs thank ye for all the encouragement.
To Anna for all those late nights and early mornings and all your help and support you were brilliant.To two people who played a massive part in getting me over the line.We laughed our way through many training days together and there loyalty and friendship knows no bounds.Brendan & Laura thank ye both so very much.
Lastly and most importantly to my wife G'ee,the two boys and all my family this one is for ye.Ye put up with all the training and long hours with me not been around but ye also went through the ups and downs with me and never once gave me anything but encouragement.Thanks for everything because without ye there would have been no report to write.
All the best,
Gerry O Brien.
Gerry O Briens 70.3 Report