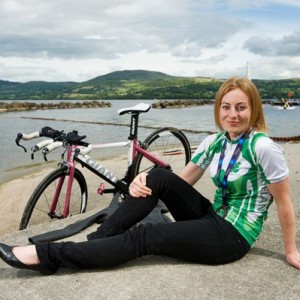 Racing season 2013 TRI- BIKE – RUN (Have Fun )
Race 6: Joey Hannon Memorial Tri
5th place. Training for later races in the season has its ups and downs. Ups being you still get to race but unfortunately not racing as a priority. There are no big races for A until June according to a little birdie. As an athlete used to leading and competing to win this can sometimes be hard, But Andree used Joey to her advantage and pushed on for a good swim and bike workout. Leading athletes understand little goals within training and signs are things are looking good to late season. The pink kitten is begging to pur as the sunshine and heat come to Ireland.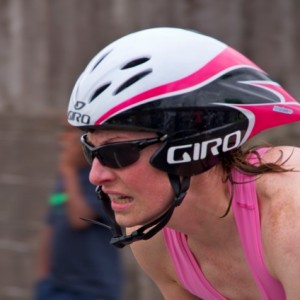 race 5: Nenagh Tri Clubs North Sprint Tri
4th place in a highly competitive ladies field. Most would be happy but not our A.Hind sight is great foresight and living and learning are very important in a sport that demands so much. An ok swim and ok bike left a lot of work to do on the run. First race of the Tri season is always hard to gage for any athlete, but we know Andree is one of the the hardest triathletes in the game in Ireland. Fingers crossed for the next event. onwards and upwards.
Click here to read Andree's Clare Duathlon series  report
Race 4 : Boru Duathlon and the final race in the clare duathlon series
Andree took the race out hard on the first run to test the opposition there on the day, and although push along on the first run stole a march on her competitors with some fine bike racing skills to saunter home on the second run of the day along the lovely marina in Killaloe.
"a fantastic race venue and a great course, its home for Mike and I so it was great to get the win in front of family and friends" Andree no doubt is looking forward to some great racing this season.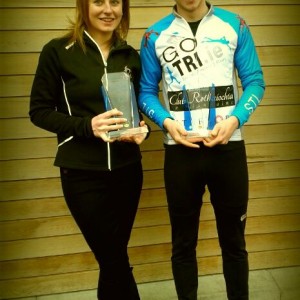 not the best of photos but it is David richardson along side her and the last time this happened – they were both first limerick folk home in kilkee – an omen if ever there was one

Race 3: Clare Duathlon series race 2 Ennis Tri Duathlon march 24
Gold

The Kitten amongst the hounds. Andree took first prize in the ladies race and even managed a top 20 overall race result, that most male age-groupers would be happy with. A cold and blustery day out in Ennis. Andree had a great bike leg and second run to take home the gold on the day.
short race distances over tuff roads will give Andree confidence heading into her next race and final race of the Clare Duathlon series events.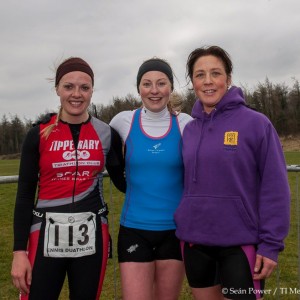 Race 2 : Clare Duathlon series race 1 Doonbeg Duathlon.
Andree gets an A for effort in her first serious outing of the year. Taking to the roads around the infamous hell of the west triathlon course. Battling high winds and cold temperature, the flyer from killaloe co.clare got her season off to a fine start. Running off the bike and chasing the males ahead of her bodes well for the season ahead.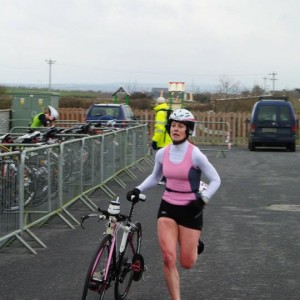 Race 1 : Irish Long course masters swimming gala
Result = Gold 1st place female 30-34 Irish champion 2013
A big improvement all round in Andree's Swimming from this time last year bodes well for the 2013 triathlon season. "Coach was happy, my tumble turns have improved" was all Miss Jones would say after the race. Andree joined a big group of Shannon Masters Swimming in action over the weekend in Ul 50m pool.Fingers crossed for a good start to the multi-sport racing season in a few weeks time.
Inside Cobh's fitness queen Carmel O'Regan interviews Andree Walkin
The Great swim experience – Race Report
Coach STL interviews Andree Walkin
 some recent photo's and results
1st place Castleconnel Triathlon- Worlds end
2nd place Boru Triathlon
3RD Place limerick Hell of the west 2012 report here