I am always nervous before a race. Whether its a 5KM road race, a TT or a triathlon the nerves always set in. But certain races have a reputation and this is one of them.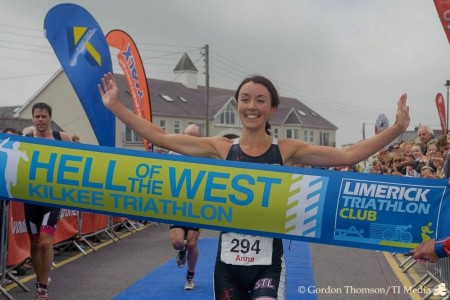 When I first moved to Ireland I was told that HOTW was the race to do. I first did this race 2 years ago, my first Olympic race in Ireland and I still remember how hard it was. I was 5th that year and very much a newbie. The thing about this race is you never know what to expect but you know it will be hard. If its your goal to complete or your goal to compete when you stand on the beach looking out into the sea I think everyone is in the same boat.
Talking to people before the race I realised what a big deal this was to everyone. I am so impressed by people in the club such as Mags, Trevor, Triona, Martina, Becky, Olivia and Dermot (to mention but a few) who have trained so hard and aimed high to complete one of the hardest races in the calender.
For me this race was a big deal, the line up for the men and the women was incredible and I knew it would be a tough day for everyone.
The Swim:
Wow…..waves! The start was a bit messy and the swim to the first buoy was like a battle. I am always happy to finish the swim as its my least favorite of the three but I actually enjoyed it in a strange way and was happy with my position.
The Bike:
Wind! I think everyone would agree they felt like they were flying heading out then at the turn you realised just how windy it was. Its hard to know where you are on this course because of the loop but it was just a case of head down and keep peddling.
The Run:
The run is one of the hardest you will face. After the bike your legs feel tired and to be faced with a hill in the first 1KM is tough. I was 4th coming into T2 so I had a lot of work to do. I caught and passed 3rd in the first 3KM but it took me until 4KM to pass Jen Duffy. I was lying in 2nd but didn't see Joyce Wolfe until the turn around point. It was only then I started to think I might be able to pull this off. 6KM mark came and I passed Wolfe, it was just a matter of trying to hold it together now.
My only thought in the last 4KM was do not mess this up now STL will kill you!
What a finish line…I think everyone finishing was cheered just as much as the winners. Its a great feeling to see that line and know you put everything into the race and you have finished such a tough race.
Well done to everyone who raced and to all those who supported, it makes such a difference to hear your name shouted. It was a great race for Go Tri. Dave, STL, Mairtin, Mark and Andree all had great races to put the Go Tri team on the map again and the relay team did us proud winning gold!
What a weekend for everyone. The amount of work everyone has put in really showed and it was great to see so many happy faces at the finish.
Anna Crooks Killkee Tri report