This weekend I lined up for my second race of 2014, Letterkenny Duathlon, I was determined to have a solid race and back up my win at Limerick duathlon.
I knew the race would be fast from the get go, there would be a good field of athletes on the start line and in fact news had leaked who would be on the start line via facebook!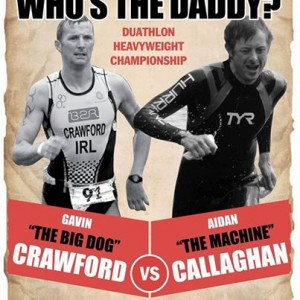 I started the race beginning on the Letterkenny running track which then branched off and headed for a mile out and back course to transition.
Starting the run I knew I would have some company, as the Letterrkenny men were hungry to sort out their own battle. For the first two mile, we ran together, it was like iron war all over, only in County Donegal and only two mile.
We all arrived to transition together and it would be onto the bikes that the race would really begin in earnest.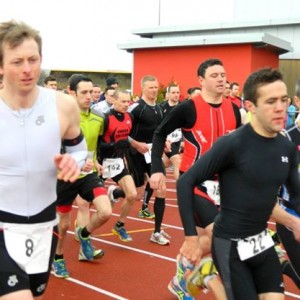 Out on to the bike with a brief spell at the front, Aidan Callaghan and myself were chopping and changing 1st position, on reflection I was under the illusion that 1st and 2ndwas tied up by about mile 4 or 6.43km for my southern friends. Killian Heery came past fast just before the turn around and put some time into Aidan and myself.
Approaching T2, 4th was close by, I knew I would need to run hard, now to maintain a podium position.
Race photos are always good value im getting my moneys worth with this one.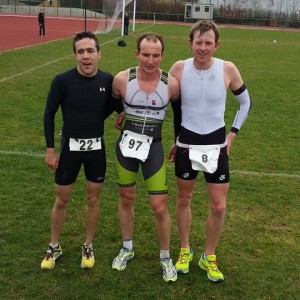 Out onto the second run I was able to maintain 3rd place but couldn't gain any ground on Aidan who was running well off the bike, at the turn around I realized I had comfortable gap on fourth position.
Back to finishing on the track, I could see 1st and 2nd on the track at the same time as we finished there was 45sec's separating the podium, I was pleased with my performance
Fair play to Killian Heery who raced to his strengths brilliantly.
Well done to Letterkenny triathlon club who hosted a brilliant event.
And finally thanks to STL my coach who I've been working with since I moved to limerick, two races and two podiums
Bernard McCullagh – 2 from 2