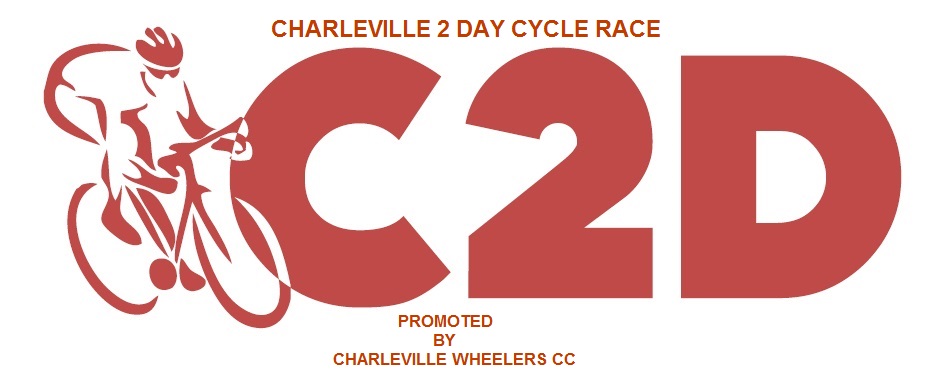 Cathal Russell's Thoughts 
My Charleville 2 Day, finished 62nd of 125 starter's (94 finishers) eight & a half minutes off the winner L. Having finished last year's Charleville 2 Day A4 race in 4th & been upgraded to A3 I approached the race this year with no expectation – once I saw the quality of the field.
How the stages unfolded for me:
· Stage 1: Distance 89km (flat stage), finished in the bunch with my average pace 39.8kmph with the first 3km of that neutralized. Positioning vital as if you were at the back you were in trouble due to yo yoing. My max speed on this stage was over 70kmph – on a so called flat stage!! Best Memory – getting to the front & "helping" to line it out
· Stage 2: Distance 6.2km (TT) – garmin gave me issues, official time of 9mins + 21secs. You don't need a TT bike to be the best Clare time trialist – I even beat STL!!!!!!
· Stage 3: Distance 95km (climbing stage), finished in a chase bunch with my average pace 37.1kmph with 2km of that neutralized. You don't need to weigh 8 stone to climb with the juniors – Clyde managed it & he's a big lad 😉 Again positioning leading into climb vital to allow for slippage & in my case lots of it 🙁 . Descending at speed & cornering vital – max speed over 75kmph. Best Memory – looking ahead to see the bunch (about 70 cyclists) lined out stretching 200m at over 60kmph on a relatively flat open road.
How I achieved finishing the race:
· Training – needs to be structured but not too serious to not have a laugh. The CRNS Tuesday race training is a must for anyone considering racing next year – you get out what you put in, you hide, you lose on race day as there is no hiding place at A3 level. Long weekend rides with the pace of these rides increasing during the race season – with so called "friends" that encourage you to raise your heart rate to A & E levels.
· Ask loads of questions of club mates – with loads of experienced racers in the club there is plenty of level heads in the cycling, tri & adventure clubs – ask questions as these guys & gals are more than willing to share their experience. Always be willing to learn otherwise you'll stop improving – i felt i was poorly positioned in the (large) bunch on stage 1 & asked my team mates for advice. On Stage 3 this advice enabled me to sit in the sweet spot of the group – cheers lads.
· A very understanding wife & kids that won't divorce you when she sees you pulling the bike out of the shed for a 3 to 4 hour weekend spin
· Be great to see more of the club members at Cycling Ireland races in 2016.
Cathal.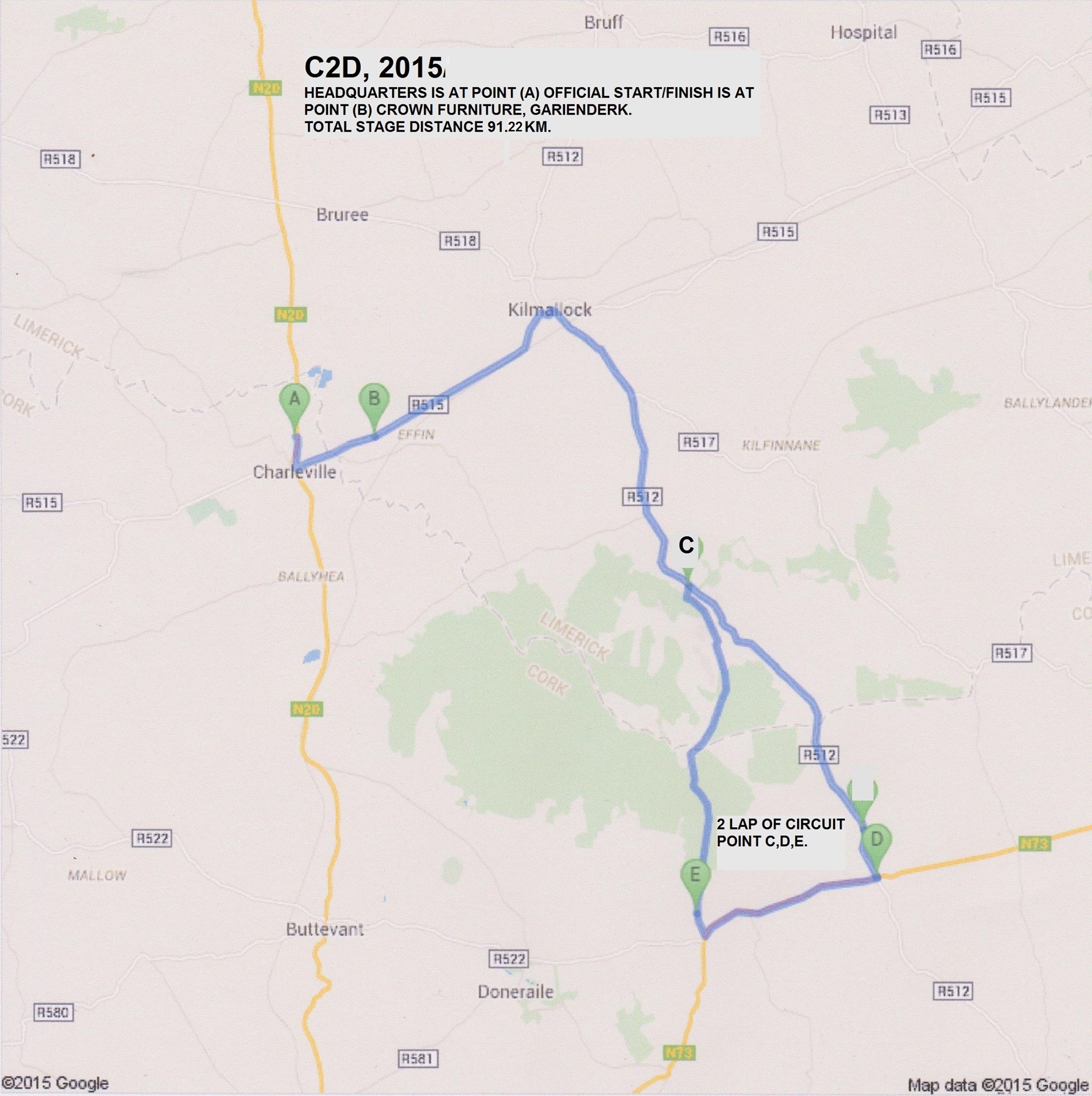 STL'S version of events
51st overall
Stage 1
I rode a few races at the start of the season but in all honesty my head wasn't in it, Having not done the winter training, I just wasn't fit and suffering in the freezing rain wishing you had winter miles done doesn't lead to fun times. I enjoyed the racing though. Looking back on the Charleville 2 day and the gains we have made as a club of riders through the season is mammoth. Look we didn't win anything but we were as a group ( except the hill 🙂 we were always near the front and that made me happy.
The goal going into Charleville was to see where I was at for the winter ahead, could I still keep up was the major question. Having raced a long time ago and knowing what it takes to compete at a good level, I just wanted to take confidence going into the winter and towards the last tri races of the season.
At the start of Stage one I started way to far back and took my time moving up through the lines before settling in the top 20, by this stage the break had gone, but hey I wasn't going to be in it so this was not my worry, having spoke to a few people as I moved up, they all said that it normally ended in a sprint. The course was hard enough but nothing too major, the speeds where very high but it was enjoyable so much so I had a few tentative digs of the front and did some rotations at the front of the bunch with Clyde. It was good to remind the legs of what they were once capable of. Im a few mars bars overweight still but in enjoyed the craic with Clyde and a few of the Dolmen lads in the bunch. When you can have banter and race hard things are always looking good. We all rolled in across the line happily ever after 🙂
well a few of the break crashed out but in general the TT would decide the fate of many.
Stage 2
The TT
Normally my strength, and something I would relish in a stage race, But you have to have the time put in on the tt bike and I haven't rode or trained for a tt in the better part of 3 years, Something this short needs preparation and i haven't done it. I enjoyed it though, the screaming lungs the dry throat, the feeling of lactate overload from not warming up correctly …… but then again who does a tt at 8:30 in the morning and expects to be flying it ! Scarily though, I enjoyed it. The time was irrelevant, remember the goal of Charleville
Stage 3
There is a hill in this course I was told positioning is what we will need then lads and don't let wheel go!
The speeds where high all day until we hit the glen, its a long steady climb with a little peak, realistically though nothing major. The hairy parts are the kamikaze riders trying to move you into the ditch so that they can claim some extra slippage room on the fall back or the fatiguing  rider dying a death on the final slopes weaving and zigzagging their way to the top. I went over in the front group on the first lap and felt good. There was a hairy crash in the town on the second lap, that shook me a bit and if I'm honest the tiredness was slipping in as we approached the second lap of the climb of the Glen of Aherlow. I was badly placed going into it, i was 500m off the back of the front group and Clyde's lovely arse as they crested the hill, but thats a life time away, in a chase group of close to 25 riders we came in 2mins plus down but a happy STL.
I don't like taking kickings but I was happy with the kicking I gave the body. Happy with the lads, Clyde has come a long way this year, Cathal is ever improving the energiser bunny Richie has gone from a4 to a3 this year and will come good once he rides a few more events.
PEDAL HAPPY
STL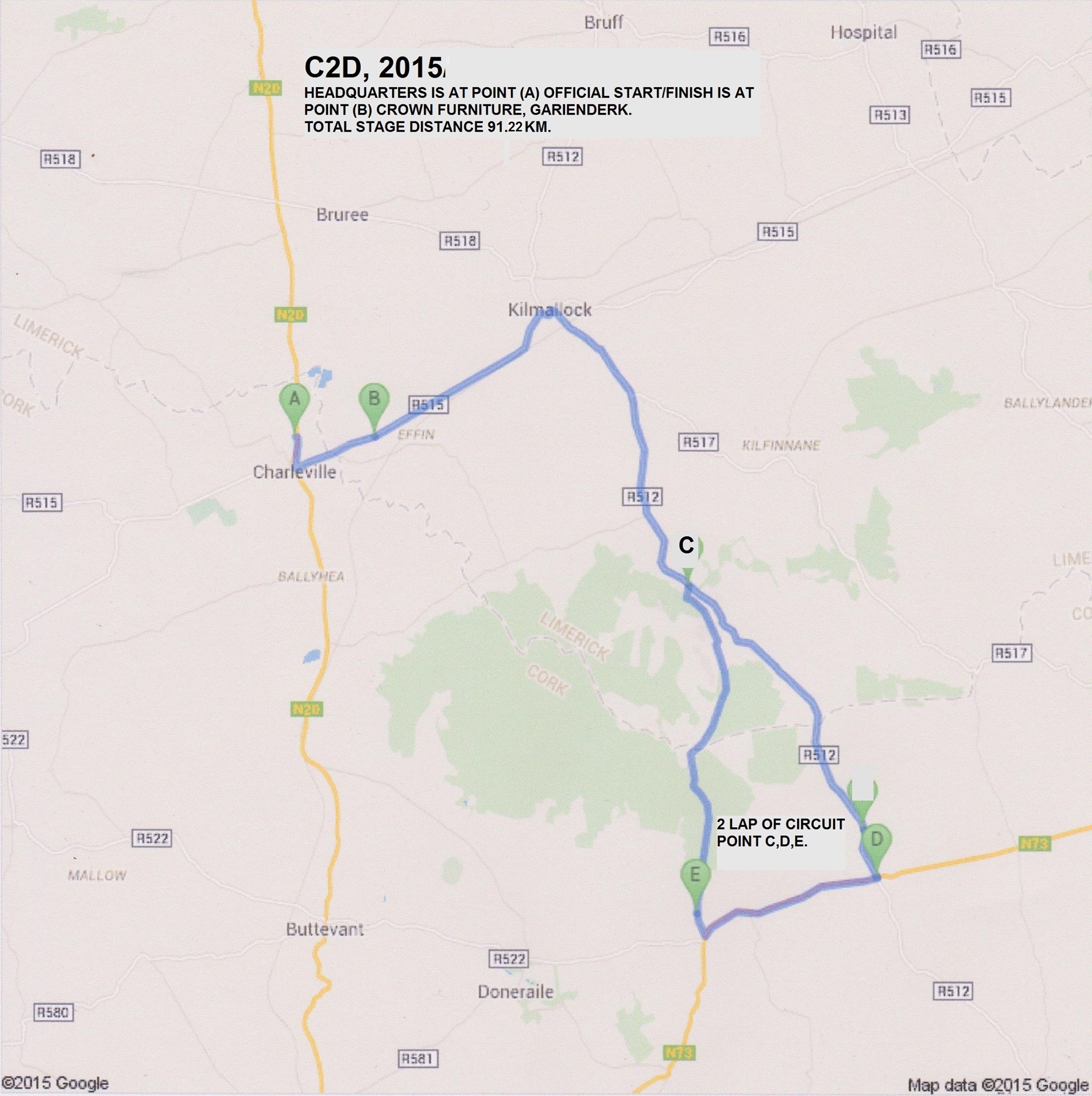 Richard Quin
Eyes wide shut
Ref Charleville:
Having done kilmallock race the week before I knew 2 things! 1) I didn't seem to be in form and 2) after having my first DNF ever in bike racing in kilmallock I knew Charleville wasn't going to be easy,
I had hoped for was I could survive stage one, do a reasonable TT and OK maybe lose some time in the hill in stage three but minimise losses and finish C2D. What u didn't bank on was the speed and surges which take so much it off the legs you can't take you eye of the race for one sec or they are gone. I clearly wasn't ready for C2D BUT I WILL BE REéADY NEXT YEAR!!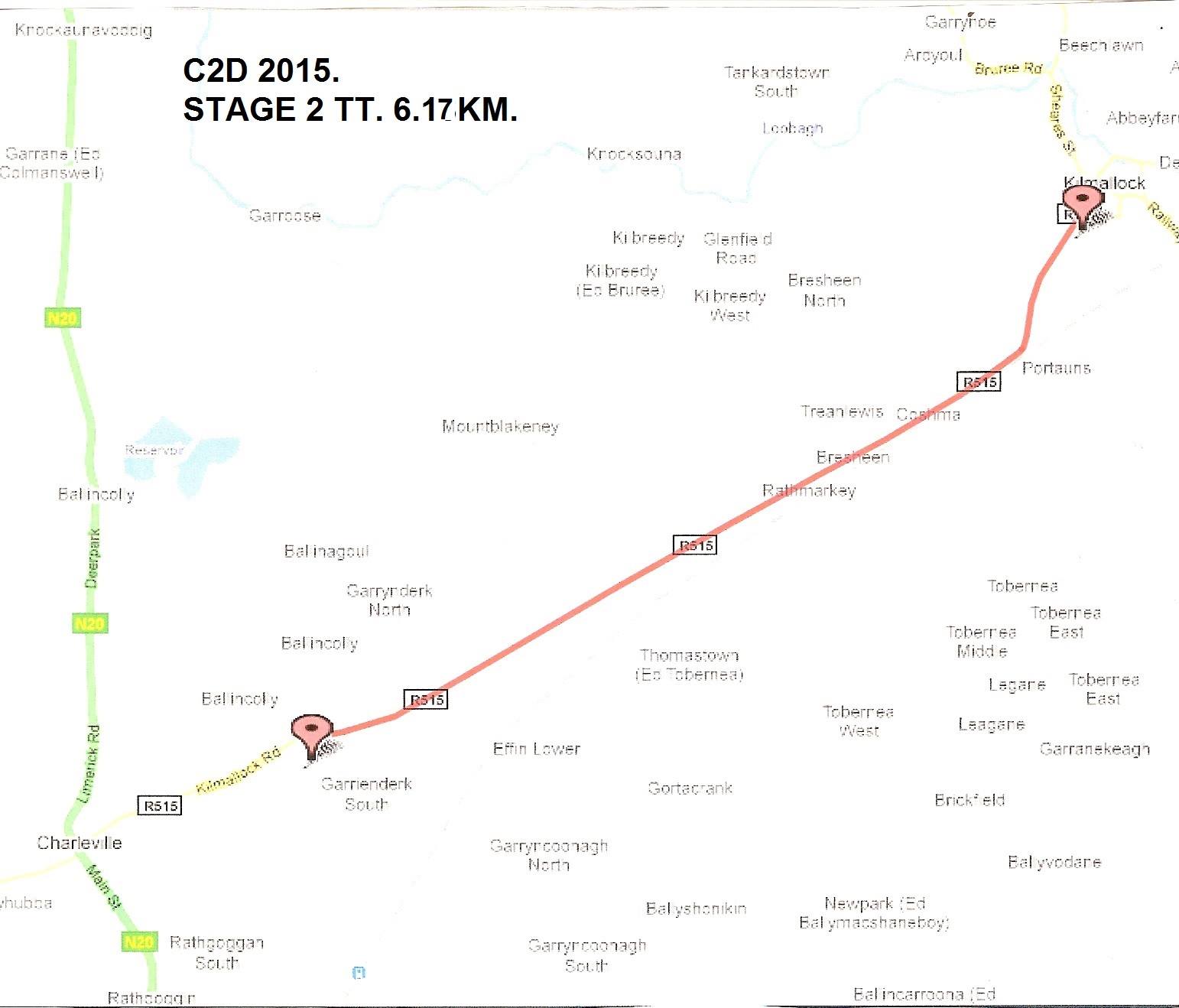 Clyde's side order of Redbull n Powerbars 
C2d stage 1: very fast from the start till the break got away, as I learned that day it's all about positioning even from the neutralized zone I was in the wrong position and took a lot of energy to get to the sweet spot, happy with the way it went had a few digs at the front and a bit of crack with the lads in the bunch,home safe in the main bunch.
Stage 2:6.5k tt, I may look like some body who can tt but I can, 2k into it I was looking across the fields praying for the pain to stop (thank God for red bull):-)
Stage 3. This was to be the hard one and boy they were right, the stage started fast but my positioning was good Stephen was stuck to my ass but was happy to have the company in the suffering, first big climb went well we went over the top with the main bunch and into the second lap, legs were feeling good at this stage I thought, back into the climb for the second time were I sold my soul to the devil,i came over the top about 500m off the lead group, I chased back on with 10 lads and finished in the bunch.
All in all very happy 36 GC went there to race not just survive with great lad's and had great crack. (Would like to thank power bar and redbull for getting me through it, I may need a new liver :-D)
James Bullman Speaks the Journey
A fitness buzz turned into some serious training once the guys at Club-Rothaíochta Na-Sionainna got their claws into me all it took was 1 Sunday spin and I was hooked on meeting these guys every week then every couple of days.
I was then introduced to the sportive after a few of these I wanted something more the only way to go was racing. After not much persuasion I decided to give it a go so I put in a good winters training as the season starts in March. The advice the training and the help this great group of people at Club-Rothaíochta Na-Sionainna gave really helped me on my journey to A4.
My first 2 races did'nt go to plan a mechanical in the first saw me finish down the field a did not finish in the second were probably the only low points for me so going into the third which was Ras luimni I wasn't feeling too confident luckily I was wrong now I was able to see what the lads were talking about being in the bunch jostling for position the speed this is it now I'm even more hooked. I finished 15th in this race out of 140 starting I was chuffed and raring to go for the next 1. It doesn't get much more exciting than being there at end of a race thinking you are in with a shout. That was the start of the confidence building to take into the next few races which helped as I never finished outside the top 20 in the rest of them until the last of the season which was my first 2day which did'nt dissapoint either after a great first day I was exactly where I wanted to be a good TT came after that and going into stage 3 I was sitting 24th in gc stage 3 was tough after yesterday's efforts so slipping back was expected finishing 40th out of 86 starting was a great finish to a super first year in racing A4 I loved every minute and can't wait for next year thanks to everyone that has helped me on this journey
James bullman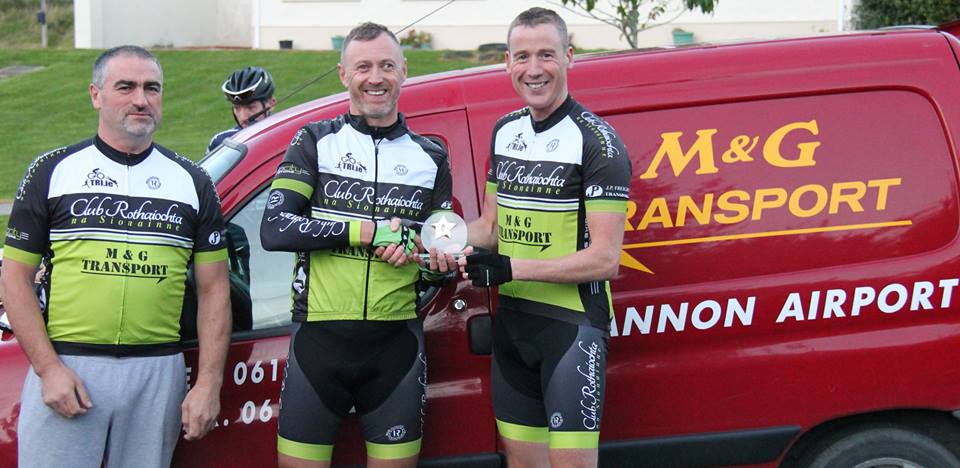 Charleville 2 day Cycling race