Andree Walkin
Immediate excitement hit me when this new series popped up on the Tri Ireland calendar for 2013.  I loved the idea of 3 Clare Tri Clubs joining forces to host 3 different events over the course of a month. The fact that it was all taking place in my residing county intrigued me all the more.  So the clubs in question West Clare, Ennis and Boru are 3 very strong active tri clubs and each of whom I have connections and some really good friends and training buddies in.   The series kicked off with a still wintery feel in lovely West Clare.  The location was the pretty village of Doonbeg and the bike route took in some of the renowned HOTW course.   This was the season opener for a lot of people and by rights we should have all stayed in hibernation as the weather was not kind to us, but we battled though the wind rain and hail and all got through the tough bike course.  It was great to see so many new faces braving the weather to get this first race under their belt and believe me if you can race in these conditions you can race in any.  My race went well, it was nice to dust off the race cobwebs and switch the brain back to race mode.  A win which is always nice and my West Clare Friends set the bar high with a good honest course, some great marshals and a strong coffee by a big open fire in the local pub for the prize giving.  The Go Tri Team were there in force with coach STL having some mechanical problems on the bike so ended up joining both me and Mags on our last run sections of the race (which was a great thing to do as it pushed us but I think we are both hoping he doesn't make this a regular thing;) Overall a great day of racing in a lovely part of Co Clare.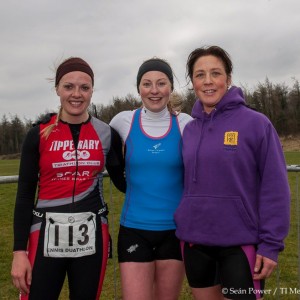 Next up was Ennis, again in pretty freezing conditions the Ennis gang are pro's at this event at this stage.  It's a lovely course that draws me every year with the trail run particularly appealing.  I didn't have it so easy at this one I got a good run from some of the Tri Hard and Dooneen AC girls in the opening run and the bike was definitely a little tougher with Liam and Trevor shouting encouragement as they both powered past me.  I love running on trail and I ended up using my skills here to my advantage and coming home first lady with a 40sec lead.  The post race spread put on by the club was second to none so many delicious homemade treats it led me to believe that a post race "bake off" competition should be a new introduction to the tri Ireland calendar[Symbol]
So to the final in the series which was the Boru event in my now home town of lovely Killaloe. This one really excited me as the course took in the roads and areas that I regularly train on.  While the temperatures were still not overly friendly the atmosphere certainly was and a great race unfolded taking in Killaloe both past and present. The run featured both the historical area of Brian Boru's Fort and also the newly developed impressive canal way.  It really showcased the town both new and old.  Again the guys and gals of Boru Tri Club stepped up to the bakers mark with the post race treats and really topped it off with a huge series cake which David Richardson and I proudly got to cut, wedding style! Sorry Eva it was good practice for him;)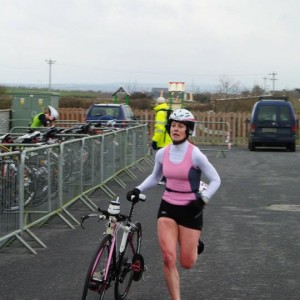 So that was it The female and inaugural winner of the Clare Duathlon Series 2013 with Go Tri Racing taking the Male and Female titles along with a whole lot of pb's and smiling faces  from teammates.  This is really what I feel the club ethos is all about, showing up on race day and knowing you can rely on a teammate for an encouraging smile, an elastic band or a shared bag of nerves;)  People like Mags, Trish, Olivia, Grainne, Trev, Liam and Dermot to name a few are so important to the positivity of the club and of course thanks to the coach who pushes us along (and even joins in on sections of our races every now and then…be warned folks!!!)  Thanks to all for the support, encouragement and laughs throughout the series and to our new sponsors Askin Costcutters and Squeezy Sports Nutrition its gonna be a great Tri season ahead I can feel it!!  Now lets' get it started!!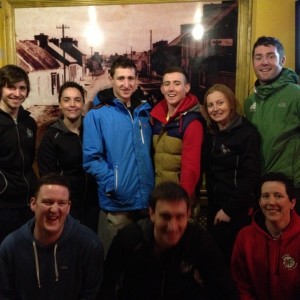 Clare Duathlon series report